TERNI. Ternana overcomes Perugia 1-0 after A. Partipilo scored just 1 goal (45′).
S. Di Carmine didn't score a decisive penalty (27′). That would have allowed Perugia to draw the match.​
The match was played at the Stadio Libero Liberati stadium in Terni on Sunday and it started at 4:15 pm local time. The referee was Marco Di Bello who was helped by Mauro Vivenzi and Sergio Ranghetti. The 4th official was Alessandro Di Graci. The weather was clear. The temperature was pleasant at 19.3 degrees Celsius or 66.67 Fahrenheit. The humidity was 43%.​
Match Statistics​
Ball possession
There was not much difference in terms of ball possession. Ternana was in possession of the ball for 51% of the time vs. Perugia that controlled the ball for 49% of the time.
Attitude and shots
Ternana was more pushing with 49 dangerous attacks and 14 shots of which 3 were on target. This is one of the reasons why Ternana won the match​.
Ternana shot 14 times, 3 on target, 11 off target. Talking about the opposition, Perugia shot 12 times, 5 on target, 7 off target.
Cards
Ternana received 3 yellow cards (M. Coulibaly, A. Partipilo and D. Agazzi). Talking about the opposition, Perugia received 2 yellow cards (L. Strizzolo and T. Casasola).
Match Timeline
27'
S. Di Carmine
- missed penalty
A. Partipilo
(goal)
A. Palumbo
45'
57'
L. Strizzolo
- sub ->
S. Santoro
57'
A. Beghetto
- sub ->
Y. Paz
F. Cassata
- sub ->
M. Coulibaly
64'
65'
F. Melchiorri
- sub ->
S. Di Carmine
70'
M. Olivieri
- sub ->
A. Rosi
A. Celli
- sub ->
A. Palumbo
76'
S. Diakite
- sub ->
N. Corrado
77'
A. Donnarumma
- sub ->
A. Partipilo
85'
R. Moro
- sub ->
A. Favilli
85'
Standings
After playing this contest, Ternana will have 10 points like Cagliari to hold in the 7th place. Talking about the opposition, Perugia will stay with 4 points to hold in the 17th place.
Next matches
In the next match in the Serie B, Ternana will host Bari 1908 on the 18th of March with a 8-3 head to head statistic in favor of Bari 1908 (3 draws).
Perugia will play away agasint Bari 1908 on the 28th of January with a 5-1 head to head in favor of Bari 1908 (4 draws).
Ternana – Formation

Ternana
Substitutes
Ternana started with a christmas tree line-up (4-3-2-1).
The manager Cristiano Lucarelli decided to play with the following team: Antony Iannarilli (8.6), Valerio Mantovani (7.5), Frederik Sørensen (7.3), Marco Capuano (7.2), Niccolò Corrado (7.1), Mamadou Coulibaly (6.0), Francesco Di Tacchio (6.9), Davide Agazzi (7.1), Anthony Partipilo (7.7), Antonio Palumbo (7.6) and Andrea Favilli (6.9).
The home team had on the bench: Raúl Moro (6.2), Salim Diakite (6.5), B. Martella, Alfredo Donnarumma (6.2), P. Rovaglia, F. Paghera, Francesco Cassata (6.8), Alessandro Celli (6.2), L. Ghiringhelli, M. Defendi, M. Proietti and T. Krapikas.
Substitutions
Ternana made 5 changes: M. Coulibaly for F. Cassata (64′), A. Palumbo for A. Celli (76′), N. Corrado for S. Diakite (77′), A. Partipilo for A. Donnarumma (85′) and A. Favilli for R. Moro (85′).
Best player: Antony Iannarilli​
The most impressive player for Ternana was the goalkeeper: Antony Iannarilli. His rating is 8.60. He saved 1 penalty. He performed 5 saves.
Perugia – Formation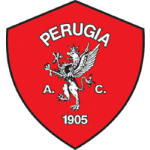 Perugia
Substitutes
Perugia started with a 3-5-1-1 line-up (3-5-1-1).
Fabrizio Castori played with: Stefano Gori (7.0), Filippo Sgarbi (6.4), Cristian Dell'Orco (7.3), Aleandro Rosi (6.4), Tiago Casasola (7.4), Gregorio Luperini (7.3), Paolo Bartolomei (7.1), Simone Santoro (6.8), Yeferson Paz (6.4), Christian Kouan (6.2) and Samuel Di Carmine (6.0).
The following players were sitting on the bench: J. Furlan, G. Di Serio, Luca Strizzolo (7.0), Andrea Beghetto (6.3), Federico Melchiorri (6.6), M. Vulić, Marco Olivieri (6.8), E. Iannoni, G. Angella, L. Moro, S. Righetti and S. Vulikić.
Substitutions
Perugia made 4 changes: S. Santoro for L. Strizzolo (57′), Y. Paz for A. Beghetto (57′), S. Di Carmine for F. Melchiorri (65′) and A. Rosi for M. Olivieri (70′).
Best player: Tiago Casasola​
The most impressive player for Perugia was Tiago Casasola.
His rating is (7.4) with 27 passes (22% accurate) and 0 key passes. He was won 5 duels out of 11. He performed 6 crosses.
Results of the day
These are the results of the day in the Serie B.​