HELSINKI. HJK bested SJK to win 2-1. A goal from P. Hetemaj was decisive in the 87min. It was HJK to strike first with an early goal of P. Soiri at the 8′. Then it was a goal in the 19′ minute to make things even for 1-1. Eventually, P. Hetemaj gave the win to HJK in the 87′ minute with a goal.
The match was played at the Bolt Arena stadium in Helsinki on Sunday and it started at 6:30 pm local time. The referee was Ville Nevalainen with the collaboration of Mika Lamppu and Jan Peter Aravirta. The 4th official was Kaarlo Oskari Hämäläinen. The weather was cloudy. The temperature was cold at 12.3 degrees Celsius or 54.12 Fahrenheit. The humidity was 85%.​
Match Statistics​
Ball possession
HJK had a superior ball possession 55% while SJK was struggling with a 45% ball possession.
Attitude and shots
HJK was more aggressive with 76 dangerous attacks and 9 shots of which 5 were on target. This is one of the reasons why HJK won the match​.
HJK shot 9 times, 5 on target, 4 off target. On the other side, SJK shot 5 times, 4 on target, 1 off target.
Cards
HJK received 2 yellow cards (L. Lingman and M. Abubakari). On the other side, SJK received 3 yellow cards (D. Rojas, T. Kaukua and B. Fati).
Match Timeline
P. Soiri
(goal)
A. Olusanya
8'
19'
J. Jervis
(goal)
Pablo Andrade
D. Browne
- sub ->
P. Soiri
57'
M. Abubakari
- sub ->
S. Hostikka
65'
P. Hetemaj
- sub ->
A. Tanaka
65'
70'
B. Fati
- sub ->
Pablo Andrade
M. Peltola
- sub ->
N. Boujellab
81'
P. Hetemaj
(goal)
L. Lingman
87'
90'
J. Monreal
- sub ->
J. Dunwoody
90'
K. Ofori
- sub ->
F. Aspegren
Standings
After playing this match, HJK will have 49 points to sit in the 1st place. Talking about the opposition, SJK will stay with 31 points to remain in the 6th place.
Next matches
In the next match in the Veikkausliiga, HJK will host KuPS on the 16th of October with a 22-8 head to head in favor of HJK (15 draws).
SJK will play away agasint Inter Turku on the 16th of October with a 11-7 head to head record in favor of SJK (6 draws).
HJK – Formation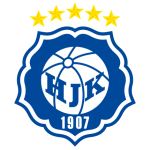 HJK
Substitutes
HJK started with a 3-3-1-3 line-up (3-3-1-3).
The manager Toni Koskela decided to play with the following team: Conor Hazard, Arttu Hoskonen, Miro Tenho, Jukka Raitala, Casper Terho, Lucas Lingman, Pyry Soiri, Nassim Boujellab, Atomu Tanaka, Anthony Olusanya and Santeri Hostikka.
The home team had on the bench: Joona Toivio, Jakob Tånnander, Matti Peltola, Santeri Väänänen, David Browne, Përparim Hetemaj and Malik Abubakari.
Substitutions
HJK made 4 changes: P. Soiri for D. Browne (57′), S. Hostikka for M. Abubakari (65′), A. Tanaka for P. Hetemaj (65′) and N. Boujellab for M. Peltola (81′).
SJK – Formation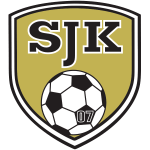 SJK
Substitutes
SJK started with a aggressive line-up (4-3-3).
Joaquín Gómez played with: Jesse Öst, Felipe Aspegren, Ville Tikkanen, Matej Hradecky, Pablo Andrade, Jake Dunwoody, Moshtagh Yaghoubi, Pyry Hannola, Jake Jervis, Diego Rojas and Tuomas Kaukua.
These were the players on the bench: Matias Vainionpää, Babacar Fati, Josepablo Monreal, Kingsley Ofori, Nooa Laine, Samson Ebuka Obioha and Markus Uusitalo.
Substitutions
SJK made 4 changes: D. Rojas for N. Laine (70′), Pablo Andrade for B. Fati (70′), J. Dunwoody for J. Monreal (90′) and F. Aspegren for K. Ofori (90′).
Results of the day
These are the results of the day in the Veikkausliiga.​