DEINZE. Dender conquers Deinze with a 2-0 win with a goal from N. Rajsel (30′) and a goal from M. Lallemand (77′).
The match was played at the Burgermeester Van De Wiele Stadion stadium in Deinze on Friday and it started at 8:00 pm local time. The referee was Tom Stevens with the collaboration of Thibault Holvoet and David Symons. The 4th official was Arne De Beuckelaer. The weather was rainy. The temperature was cold at 10.4 degrees Celsius or 50.76 Fahrenheit. The humidity was 89%.​
Match Statistics​
Ball possession
None of the teams was particularly dominant in terms of ball possession. Deinze was in possession of the ball for 47% of the time vs. Dender that controlled the ball for 53% of the time.
Attitude and shots
Dender was more pushing with 40 dangerous attacks and 14 shots of which 7 were on target. This is one of the reasons why Dender won the match.​
Deinze shot 7 times, 3 on target, 4 off target. On the opposite side, Dender shot 14 times, 7 on target, 7 off target.
Cards
Deinze received 1 yellow card (J. Schryvers). Talking about the opposition, Dender received 3 yellow cards (N. Rajsel, K. Borry and R. M'barki).
Match Timeline
T. Quintero
- sub ->
K. Schuermans
23'
L. Fraser
- sub ->
S. De Ridder
46'
D. De Belder
- sub ->
J. Schryvers
56'
J. Gonzalez
- sub ->
L. Balaj
61'
C. Janssens
- sub ->
J. van Landschoot
72'
84'
R. M\'barki
- sub ->
N. Rajsel
85'
Z. Atteri
- sub ->
T. Cukur
Standings
After playing this match, Deinze will stay with 5 points like KRC Genk II to sit in the 11th place. On the opposite side, Dender will have 4 points to sit in the 12th place.
Next matches
In the next match in the First Division B, Deinze will play away against Beerschot-Wilrijk on the 1st of October with a 0-0 head to head statistic.
Dender will host Waasland-Beveren on the 7th of October with a 4-2 head to head statistic in favor of Waasland-Beveren (2 draws).
Deinze – Formation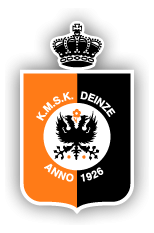 Deinze
Substitutes
The manager Takahisa Shiraishi decided to play with the following team: Ortolá, D. Prychynenko, J. Vansteenkiste, K. Schuermans, S. De Ridder, G. Hendrickx, A. Staelens, J. Schryvers, J. Van Landschoot, L. Balaj and B. Dansoko.
The home team had on the bench: Teo Quintero, L. Fraser, J. Carcela-Gonzalez, D. De Belder, C. Janssens, A. El Bouchataoui and Nacho Mirás.
Substitutions
Deinze made 5 changes: K. Schuermans for T. Quintero (23′), S. De Ridder for L. Fraser (46′), J. Schryvers for D. De Belder (56′), L. Balaj for J. Gonzalez (61′) and J. van Landschoot for C. Janssens (72′).
Dender – Formation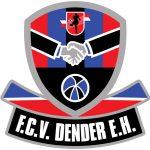 Dender
Substitutes
Regi Van Acker played with: X. Gies, M. Smet, K. Borry, K. Cools, K. Houdret, O. Myny, L. Hens, N. Rôdes, M. Lallemand, N. Rajsel and T. Çukur.
The following players were sitting on the bench: S. Marzo, J. Rowell, R. M'Barki, Z. Atteri, J. Devriendt, D. Ragolle and J. Jourquin.
Substitutions
Dender made 4 changes: O. Myny for S. Marzo (46′), L. Hens for J. Rowell (72′), N. Rajsel for R. M'barki (84′) and T. Cukur for Z. Atteri (85′).
Results of the day
These are the results of the day in the First Division B.​