SINT TRUIDEN. Sint-Truiden beats Zulte-Waregem with a 2-0 win with a goal from D. Hayashi (28′) and a goal from G. Bruno (70′). Sint-Truiden was much superior in terms of ball possession (63%) and that was among the factors of its victory.​
The match was played at the Stadion Stayen stadium in Sint Truiden on Tuesday and it started at 8:00 pm local time. The referee was Jonathan Lardot who was helped by Quentin Lesceux and Quentin Blaise. The 4th official was Michiel Allaerts.
Match Statistics​
!

63

Ball Possession

37
Shots
14

Total

5

4

On Target

2

10

Off Target

3

0

Shots blocked

0
151

Attack

81

44

Dangerous attack

24

0

Ball safe​

0
0

Penalties

0

6

Corners

3

3

Off Sides

2
Fouls
10

Total

10

0

Yellow Cards

1

0

Double Yellow

0

0

Red Card

1
Other
Ball possession
Sint-Truiden was in firm control of the ball 63% while Zulte-Waregem was struggling with a 37% ball possession.
Attitude and shots
Sint-Truiden was more pushing with 44 dangerous attacks and 14 shots of which 4 were on target. This is one of the reasons why Sint-Truiden won the match​.
Sint-Truiden shot 14 times, 4 on target, 10 off target. Talking about the opposition, Zulte-Waregem shot 5 times, 2 on target, 3 off target.
Cards
Sint-Truiden didn't receive any yellow card. Talking about the opposition, Zulte-Waregem received 1 yellow card (Moudou Tambedou).
Also, Zulte-Waregem didn't end the match with 11 players after Bent Sormo (Zulte-Waregem) was sent off after receiving a straight red card in the (36′).
Match Timeline
Daichi Hayashi
(goal)
Shinji Okazaki
28'
58'
Pape Demba Diop
- sub ->
Nicolas Rommens
58'
Novatus Dismas
- sub ->
Alioune Ndour
Stan Van Dessel
- sub ->
Eric Bocat
61'
Gianni Bruno
(goal)
Christian Bruls
70'
Standings
After playing this match, Sint-Truiden will have 26 points like OH Leuven and Cercle Brugge to remain in the 10th place. On the other side, Zulte-Waregem will stay with 13 points to remain in the 17th place.
Next matches
In the next match in the Pro League, Sint-Truiden will play away against Standard Liège on the 6th of January with a 13-7 head to head stats in favor of Sint-Truiden (10 draws).
Zulte-Waregem will host Club Brugge on the 29th of January with a 28-10 head to head stats in favor of Club Brugge (8 draws).
Sint-Truiden – Formation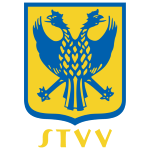 Sint-Truiden
Substitutes
Sint-Truiden started with a 3-5-2 line-up (3-5-2).
The manager Bernd Hollerbach decided to play with the following team: Daniel Schmidt (6.8), Matte Smets (7.2), Toni Leistner (7.6), Wolke Janssens (6.9), Daiki Hashioka (7.3), Shinji Okazaki (6.1), Frank Boya (7.3), Christian Brüls (7.8), Eric Bocat (6.2), Daichi Hayashi (7.0) and Gianni Bruno (7.2).
The home team had on the bench: Olivier Dumont, Fábio Baptista, Robert Bauer, Ferre Slegers, Jo Coppens, Stan Van Dessel (7.0) and Andrea Librici.
Substitutions
Sint-Truiden made only 1 change substituting Eric Bocat for Stan Van Dessel (61′)​.
Best player: Christian Brüls​
As per our analysis, the most impressive player for Sint-Truiden was Christian Brüls even if he didn't score any goal.
His rating is (7.8) with 53 passes (81% accurate) and 2 key passes. He was won 3 duels out of 5. He performed 7 crosses.
Zulte-Waregem – Formation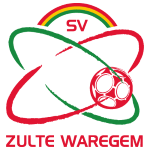 Zulte-Waregem
Substitutes
Zulte-Waregem started with a 5-3-2 line-up (5-3-2).
M'Baye Leye played with: Louis Bostyn (6.8), Alessandro Ciranni (6.6), Bent Sormo (6.2), Timothy Derijck (6.6), Borja López (6.3), Alieu Fadera (6.7), Abdoulaye Sissako (6.4), Moudou Tambedou (6.6), Nicolas Rommens (6.6), Zinho Gano (6.9) and Alioune Ndour (6.7).
These were the players on the bench: Cheikh Thiam, Dani Ramirez, Lasse Vigen Christensen, Novatus Dismas (6.8), Nnamdi Chinonso Offor (6.4), Sammy Bossut and Pape Diop (6.2).
Substitutions
Zulte-Waregem made 3 changes: Nicolas Rommens for Pape Demba Diop (58′), Alioune Ndour for Novatus Miroshi (58′) and Abdoulaye Sissako for Chinonso Offor (75′).
Best player: Zinho Gano​
The most impressive player for Zulte-Waregem was Zinho Gano.
His rating is (6.9) with 24 passes (79% accurate) and 1 key pass. He was won 7 duels out of 10.
Results of the day
These are the results of the day in the Pro League.​