CANTON. Guangzhou R&F topped Hebei CFFC to win 2-1. S. Wenjie was the key player for his team after scoring 2 goals. It was Guangzhou R&F to strike first with a goal of Song Wenjie at the 35′. Then Song Wenjie scored again for Guangzhou R&F in the 45′ minute scoring a double. Eventually, Y. Zhang reduced the distance for Hebei CFFC (90′). Finally, that was it, and the result remained 2-1.
The match was played at the Yuexiushan Stadium stadium in Canton on Tuesday and it started at 3:30 pm local time. The referee was Zheng Li with the support of Ji Ma and Delin Yang. The 4th official was Shengyu Sun. The weather was clear. The temperature was hot at 25 degrees Celsius or 76.95 Fahrenheit. The humidity was 41%.​
Match Statistics​
Shots
14

Total

12

9

On Target

1

5

Off Target

11

1

Shots blocked

1
79

Attack

144

39

Dangerous attack

51

91

Ball safe​

75
0

Penalties

0

4

Corners

1

3

Off Sides

1
Fouls
18

Total

12

1

Yellow Cards

2

0

Double Yellow

0

0

Red Card

0
Other
Ball possession
There was not much difference in terms of ball possession. Guangzhou R&F was in possession of the ball for 48% of the time vs. Hebei CFFC that controlled the ball for 52% of the time.
Attitude and shots
Hebei CFFC was more aggressive with 51 dangerous attacks and 12 shots of which 1 were on target. Notwithstanding, Guangzhou R&F succeeded in find the solution to win this match.​
Guangzhou R&F shot 14 times, 9 on target, 5 off target. On the opposite side, Hebei CFFC shot 12 times, 1 on target, 11 off target.
Cards
Guangzhou R&F received 1 yellow card (Chen Zhizhao). On the other side, Hebei CFFC received 2 yellow cards (Y. Zhang and Jin Qiang).
Match Timeline
Yongjun Wen
- sub ->
Song Wenjie
46'
Yunlong Fan
- sub ->
Zhizhao Chen
63'
Standings
After this encounter, Guangzhou R&F will have 29 points to hold in the 13th place. On the other side, Hebei CFFC will stay with 25 points to remain in the 16th place.
Next matches
Guangzhou R&F – Formation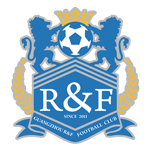 Guangzhou R&F
Substitutes
Guangzhou R&F started with an extremely aggressive line-up (3-4-3).
The manager Jean-Paul van Gastel decided to play with the following team: Jiaqi Han (7.1), Jihong Jiang (7.0), Teng Yi (6.2), Ruibao Hu (6.9), Wang Huapeng (6.4), Zhengyu Huang (7.1), Zhizhao Chen (7.0), Xiaotian Yang (6.8), Chun Lok Tan (6.8), Jown Cardona (8.8) and Song Wenjie (8.4).
The home team had on the bench: Wenhao Long, Yunlong Fan (7.1), Wen Yongjun (6.0), Liangkuan Jin, Yuelei Cheng, Gong Zhang (7.0), Su Yuliang and Pengfei Han.
Substitutions
Guangzhou R&F made 3 changes: Song Wenjie for Y. Wen (46′), C. Tan for G. Zhang (63′) and Chen Zhizhao for Fan Yunlong (63′).
Best player: Jown Cardona​
As per our analysis, the most impressive player for Guangzhou R&F was Jown Cardona even if he didn't score any goal.
His rating is (8.8) with 42 passes (90% accurate) and 3 key passes. He was won 8 duels out of 15. He performed 1 cross.
Hebei CFFC – Formation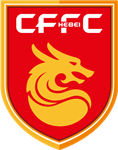 Hebei CFFC
Substitutes
Hebei CFFC started with a conservative line-up (4-4-2).
Jong-Boo Kim played with: Yaxiong Bao (7.3), Zhang Hui (7.1), Yu Zhang (7.8), Qiang Jin (6.6), Haifeng Ding (6.8), Liao Wei (7.4), Daogang Yao (7.4), Samir Memisevic (8.0), Tianyuan Xu (7.0), Leonardo (6.5) and Huaze Gao (6.2).
The following players were sitting on the bench: Quile Gong, Wenjun Jiang, Song Xintao (7.0), Xuchen Yao (6.6), Yang Yixuan, Lin Cui, Zhang Wei, Pang Jiajun, Rentian Hu, Hongbo Yin and Gang Feng.
Substitutions
Hebei CFFC made 2 changes: Gao Huaze for X. Yao (66′) and T. Xu for X. Song (66′).
Best player: Samir Memisevic​
The player that probably impressed the most for Hebei CFFC was Samir Memisevic.
His rating is (8.0) with 57 passes (84% accurate) and 2 key passes. He was won 14 duels out of 20.
Results of the day
These are the results of the day in the Super League.​