WAALWIJK. RKC Waalwijk managed to reverse the scoreline against AZ. It was AZ to score first with a goal from J. Karlsson. Nonetheless, later RKC Waalwijk found the way to reverse the scoreline scoring 3 consecutive goals with I. Bel Hassani (32′), Z. Bakkali (87′) and Z. Bakkali (90′).
The match was played at the Mandemakers Stadion stadium in Waalwijk on Sunday and it started at 4:45 pm local time. The referee was Martin van den Kerkhof with the assistance of Rogier Honig and Jan Derk Kleinjan. The 4th official was Stan Teuben. The weather was rainy. The temperature was cold at 8.1 degrees Celsius or 46.56 Fahrenheit. The humidity was 75%.​
Match Statistics​
Shots
16

Total

12

7

On Target

6

9

Off Target

6

2

Shots blocked

5
93

Attack

109

52

Dangerous attack

40

68

Ball safe​

69
0

Penalties

0

8

Corners

5

2

Off Sides

2
Fouls
7

Total

8

1

Yellow Cards

3

0

Double Yellow

0

0

Red Card

0
Other
Ball possession
There was not much difference in terms of ball possession. RKC Waalwijk was in possession of the ball for 46% of the time vs. AZ that controlled the ball for 54% of the time.
Attitude and shots
RKC Waalwijk had a more offensive attitude with 52 dangerous attacks and 16 shots of which 7 were on target. This is one of the reasons why RKC Waalwijk won the match​.
RKC Waalwijk shot 16 times, 7 on target, 9 off target. On the other side, AZ shot 12 times, 6 on target, 6 off target.
Cards
RKC Waalwijk received 1 yellow card (V. Anita). On the other side, AZ received 3 yellow cards (J. Clasie, M. de Wit and J. Karlsson).
Match Timeline
55'
P. Koopmeiners
- sub ->
R. Bazoer
55'
V. Pavlidis
- sub ->
M. Dekker
74'
M. de Wit
- sub ->
M. Kerkez
Z. Bakkali
- sub ->
D. Van den Buijs
80'
S. Bakari
- sub ->
P. Clement
84'
R. Kuijpers
- sub ->
J. Lobete
90'
L. Nieuwpoort
- sub ->
I. Bel Hassani
90'
Standings
After playing this match, RKC Waalwijk will have 17 points to sit in the 9th place. Regarding the opposition, AZ will stay with 26 points like FC Twente to hold in the 5th place.
Next matches
In the next match in the Eredivisie, RKC Waalwijk will host FC Emmen on the 28th of January with a 9-5 head to head record in favor of FC Emmen (4 draws).
AZ will play away agasint PSV on the 12th of November with a 21-10 head to head in favor of PSV (5 draws).
RKC Waalwijk – Formation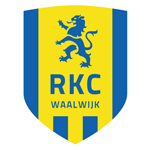 RKC Waalwijk
Substitutes
RKC Waalwijk started with a 5-3-2 line-up (5-3-2).
The manager Joseph Oosting decided to play with the following team: Etienne Vaessen (7.3), Julian Lelieveld (7.4), Jurien Gaari (6.7), Shawn Adewoye (6.9), Dario Van Den Buijs (6.5), Thierry Lutonda (6.4), Yassin Oukili (6.8), Vurnon Anita (6.4), Pelle Clement (6.2), Iliass Bel Hassani (8.4) and Julen Lobete (6.6).
The home team had on the bench: Zakaria Bakkali (7.6), Patrick Vroegh, Luuk Wouters, Saïd Bakari, Mark Spenkelink, Kevin Felida, Sebbe Augustijns, Florian Jozefzoon, Roy Kuijpers, Joel Pereira and Lars Nieuwpoort.
Substitutions
RKC Waalwijk made 4 changes: D. Van den Buijs for Z. Bakkali (80′), P. Clement for S. Bakari (84′), J. Lobete for R. Kuijpers (90′) and I. Bel Hassani for L. Nieuwpoort (90′).
Best player: Iliass Bel Hassani​
As per our analysis, the most impressive player for RKC Waalwijk was Iliass Bel Hassani.
His rating is (8.4) with 1 goal, 42 passes (66% accurate) and 4 key passes. He was won 5 duels out of 8. He performed 6 crosses.
AZ – Formation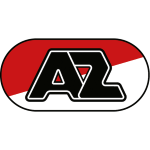 AZ
Substitutes
AZ started with a aggressive line-up (4-3-3).
Pascal Jansen played with: Hobie Verhulst (6.5), Pantelis Hatzidiakos (6.8), Sam Beukema (7.6), Maxim Dekker (6.6), Miloš Kerkez (6.5), Jordy Clasie (6.3), Riechedly Bazoer (6.4), Tijjani Reijnders (6.5), Yukinari Sugawara (7.1), Jens Odgaard (7.4) and Jesper Karlsson (7.3).
The following players were sitting on the bench: Sem Westerveld, Zico Buurmeester, Myron Van Brederode, Peer Koopmeiners (6.5), Peter Vindahl Jensen, Mayckel Lahdo, Vangelis Pavlidis (6.4), Yusuf Barasi, Mees de Wit (6.6) and Fedde De Jong.
Substitutions
AZ made 3 changes: R. Bazoer for P. Koopmeiners (55′), M. Dekker for V. Pavlidis (55′) and M. Kerkez for M. de Wit (74′).
Best player: Sam Beukema​
The most impressive player for AZ was Sam Beukema.
His rating is (7.6) with 43 passes (90% accurate) and 0 key passes. He was won 5 duels out of 9.
Results of the day
These are the results of the day in the Eredivisie.​