PLOVDIV. Botev Plovdiv conquers OFK Pirin 3-1. Botev Plovdiv was just to good to grab a decisive 3-0 lead with P. Konate (20′), E. Manu (33′) and E. Toku (63′). OFK Pirin reduced the distance with a goal (70′) by A. Yordanov, but there was not much to do for them.
The match was played at the Sporten kompleks Botev 1912 stadium in Plovdiv on Saturday and it started at 5:00 pm local time. The weather was cloudy. The temperature was pleasant at 18 degrees Celsius or 64.47 Fahrenheit. The humidity was 48%.​
Match Statistics​
Shots
17

Total

9

7

On Target

5

10

Off Target

4

0

Shots blocked

0
109

Attack

86

66

Dangerous attack

55

0

Ball safe​

0
0

Penalties

0

2

Corners

5
Fouls
1

Yellow Cards

2

0

Double Yellow

0

0

Red Card

0
Other
Ball possession
Botev Plovdiv was in firm control of the ball 55% while OFK Pirin was struggling with a 45% ball possession.
Attitude and shots
Botev Plovdiv was more pushing with 66 dangerous attacks and 17 shots of which 7 were on target. This is one of the reasons why Botev Plovdiv won the match​.
Botev Plovdiv shot 17 times, 7 on target, 10 off target. On the opposite side, OFK Pirin shot 9 times, 5 on target, 4 off target.
Cards
Botev Plovdiv received 1 yellow card (S. Souprayen). Talking about the opposition, OFK Pirin received 2 yellow cards (V. Velev and A. Dyulgerov).
Match Timeline
8'
Viacheslav Veliev
- Yellow
17'
Ivan Kostadinov Tasev
- sub ->
K. Takahashi
Pa Konate
(goal)
M. Brahimi
20'
46'
Ventsislav Bengyuzov
- sub ->
S. Shokolarov
46'
Andrey Yordanov Yordanov
- sub ->
P. Zanev
Dylan Mertens
- sub ->
R. Rabei
69'
70'
Andrey Yordanov Yordanov
(goal)
R. Tsonev
71'
Yulian Popev
- sub ->
N. Bodurov
Tochukwu Nadi
- sub ->
J. Eyenga
81'
Roei Herman
- sub ->
M. Brahimi
82'
Martin Sekulić
- sub ->
E. Manu
87'
Umeh Umeh Emmanuel
- sub ->
E. Toku
87'
90'
Aleksandar Dyulgerov
- Yellow
Standings
After playing this match, Botev Plovdiv will have 13 points to remain in the 10th place. On the opposite side, OFK Pirin will stay with 8 points to sit in the 15th place.
Next matches
In the next match in the Parva Liga, Botev Plovdiv will play away with Arda on the 12th of November with a 4-2 head to head record in favor of Arda (2 draws).
OFK Pirin will host Spartak Varna on the 11th of November with a 3-1 head to head statistic in favor of Spartak Varna (3 draws).
Botev Plovdiv – Formation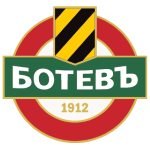 Botev Plovdiv
Substitutes
Botev Plovdiv started with a 3-4-1-2 line-up (3-4-1-2).
The manager Željko Kopić decided to play with the following team: Hidajet Hankić, Samuel Souprayen, Jasper Van Heertum, Roberto Punčec, James Eto'o, Reda Rabeï, Dimitar Tonev, Pa Konate, Emmanuel Toku, Mohamed Amine Brahimi and Elvis Manu.
The home team had on the bench: Georgi Argilashki, Roy Herman, Biser Bonev, Tochukwu Nadi, Dylan Mertens and Martin Sekulić.
Substitutions
Botev Plovdiv made 5 changes: R. Rabei for D. Mertens (69′), J. Eyenga for T. Nadi (81′), M. Brahimi for R. Herman (82′), E. Manu for M. Sekulic (87′) and E. Toku for U. Emmanuel (87′).
OFK Pirin – Formation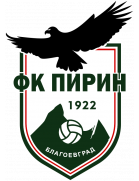 OFK Pirin
Substitutes
OFK Pirin started with a 3-5-2 line-up (3-5-2).
Krasimir Petrov played with: Yanko Georgiev, Aleksandar Dyulgerov, Nikolay Bodurov, Petar Zanev, Vyacheslav Velev, Slavcho Shokolarov, Radoslav Tsonev, Kazuki Takahashi, Hristofor Hubchev, Cebrail Makreckis and Preslav Yordanov.
These were the players on the bench: Maksym Kovalov, Yulian Popev, Emil Yanchev, Ventsislav Bengiusov, Ivan Tasev, Andrey Yordanov and Stanislav Kostov.
Substitutions
OFK Pirin made 5 changes: K. Takahashi for I. Tasev (17′), P. Zanev for A. Yordanov (46′), S. Shokolarov for V. Benguzov (46′), P. Yordanov for S. Kostov (64′) and N. Bodurov for Y. Popev (71′).
Results of the day
These are the results of the day in the Parva Liga.​