SITTARD. Fortuna Sittard snatched a late win Excelsior 1-0 after R. Vita scored just 1 goal (87′). Excelsior lost this match even if it was superior in terms of ball possession (59%).
Fortuna Sittard remained with 10 players after M. Seuntjens received a double yellow card in the 77′. Still, Fortuna Sittard still was able to win this contest playing only in 10​.
The match was played at the Fortuna Sittard Stadion stadium in Sittard on Saturday and it started at 9:00 pm local time. The referee was Edwin van de Graaf with the support of Jan Derk Kleinjan and Joey Waleveld. The 4th official was Alex Bos. The weather was cloudy. The temperature was cold at 11.7 degrees Celsius or 53.02 Fahrenheit. The humidity was 78%.​
Match Statistics​
Shots
14

Total

15

6

On Target

3

8

Off Target

12

4

Shots blocked

3
73

Attack

128

18

Dangerous attack

42

84

Ball safe​

78
0

Penalties

0

1

Corners

5

3

Off Sides

1
Fouls
10

Total

9

4

Yellow Cards

3

1

Double Yellow

0

1

Red Card

0
Other
Ball possession
Excelsior had a strong ball possession 59% while Fortuna Sittard was struggling with a 41% ball possession.
Attitude and shots
Excelsior was more pushing with 42 dangerous attacks and 15 shots of which 3 were on target. Nonetheless, Fortuna Sittard was able to find the solution to win this match.​
Fortuna Sittard shot 14 times, 6 on target, 8 off target. Regarding the opposition, Excelsior shot 15 times, 3 on target, 12 off target.
Cards
Fortuna Sittard received 2 yellow cards (M. Seuntjens and B. Yilmaz). On the opposite side, Excelsior received 3 yellow cards (Y. Ayoub, J. Eijgenraam and R. Kharchouch).
M. Seuntjens (Fortuna Sittard) was sent off after receiving a second yellow card (77′).
Match Timeline
U. Embalo
- sub ->
T. Noslin
55'
O. Ozyakup
- sub ->
D. Duarte
55'
56'
L. Lamprou
- sub ->
A. Fein
R. Vita
- sub ->
I. Cordoba
61'
68'
J. Eijgenraam
- sub ->
Y. Ayoub
R. Janssen
- sub ->
D. Siovas
73'
81'
R. Kharchouch
- sub ->
M. van Duinen
82'
N. Markelo
- sub ->
C. Driouech
Standings
After this match, Fortuna Sittard will have 4 points like SC Cambuur and FC Emmen to hold in the 15th place. On the opposite side, Excelsior will stay with 9 points like RKC Waalwijk, SC Heerenveen and FC Utrecht to remain in the 10th place.
Next matches
In the next match in the Eredivisie, Fortuna Sittard will play away with FC Groningen on the 13th of November with a 4-2 head to head in favor of FC Groningen (1 draw).
Excelsior will play away agasint Feyenoord on the 13th of November with a 15-4 head to head statistic in favor of Feyenoord (0 draws).
Fortuna Sittard – Formation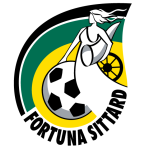 Fortuna Sittard
Substitutes
Fortuna Sittard started with a conservative line-up (4-4-2).
The manager Julio Velázquez Santiago decided to play with the following team: Ivor Pandur (7.1), Ivo Pinto (6.8), Rodrigo Guth (8.0), Dimitrios Siovas (6.4), George Cox (7.2), Tijjani Noslin (6.8), Deroy Duarte (6.8), Arianit Ferati (6.8), Iñigo Cordoba (6.2), Burak Yılmaz (7.0) and Mats Seuntjens (6.8).
The home team had on the bench: Oğuzhan Özyakup (7.0), M. van Beijnen, Úmaro Embaló (7.1), V. Sourlis, Roel Janssen (6.8), Rémy Vita (7.5), Y. van Osch, T. Hendriks, P. Gladon, Ximo Navarro, T. Taşçı and C. Bassett.
Fortuna Sittard could not rely on the presence of R. Janssen (injured).
Substitutions
Fortuna Sittard made 4 changes: T. Noslin for U. Embalo (55′), D. Duarte for O. Ozyakup (55′), I. Cordoba for R. Vita (61′) and D. Siovas for R. Janssen (73′).
Best player: Rodrigo Guth​
Following our analysis, the most impressive player for Fortuna Sittard was Rodrigo Guth even if he didn't score the decisive goal.
His rating is (8.0) with 48 passes (81% accurate) and 0 key passes. He was won 6 duels out of 6. He performed 1 cross.
Excelsior – Formation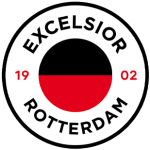 Excelsior
Substitutes
Excelsior started with a 4-2-3-1 line-up (4-2-3-1).
Marinus Dijkhuizen played with: Stijn van Gassel (6.6), Siebe Horemans (7.0), Redouan El Yaakoubi (6.8), Serano Seymor (7.5), Nathan Tjoe-A-On (7.4), Adrian Fein (6.4), Yassin Ayoub (6.6), Julian Baas (7.1), Kenzo Goudmijn (6.9), Couhaib Driouech (7.0) and Mike van Duinen (6.6).
These were the players on the bench: Reda Kharchouch (6.4), Nathan Markelo (6.1), Lazaros Lamprou (6.9), N. Alblas, M. Awoudja, Joshua Eijgenraam (6.4) and R. Eyongo.
Substitutions
Excelsior made 4 changes: A. Fein for L. Lamprou (56′), Y. Ayoub for J. Eijgenraam (68′), M. van Duinen for R. Kharchouch (81′) and C. Driouech for N. Markelo (82′).
Best player: Serano Seymor​
The player that probably impressed the most for Excelsior was Serano Seymor.
His rating is (7.5) with 60 passes (88% accurate) and 0 key passes. He was won 7 duels out of 8.
Results of the day
These are the results of the day in the Eredivisie.​