TóRSHAVN. Austria tops Faroe Islands with a 2-0 win with a goal from M. Sabitzer (48′) and a goal from K. Laimer (26′). Its vastly superior ball possession (67%) was among the key factors of its victory.​
The match was played at the Tórsvøllur stadium in Tórshavn on Saturday and it started at 6:45 pm local time. The referee was Irfan Peljto with the help of Senad Ibrišimbegović and Davor Beljo. The 4th official was Miloš Gigović. The weather was cloudy. The temperature was cold at 10.7 degrees Celsius or 51.19 Fahrenheit. The humidity was 87%.​
Match Statistics​
!

33

Ball Possession

67
Shots
7

Total

21

4

On Target

8

3

Off Target

13

1

Shots blocked

3
95

Attack

131

43

Dangerous attack

74

80

Ball safe​

85
0

Penalties

0

4

Corners

8

2

Off Sides

2
Fouls
14

Total

5

3

Yellow Cards

1

0

Double Yellow

0

0

Red Card

0
Other
Austria was in firm control of the ball 67% while Faroe Islands was struggling with a 33% ball possession.
Austria was more aggressive with 74 dangerous attacks and 21 shots of which 8 were on target. This is one of the reasons why Austria won the encounter.​
Faroe Islands shot 7 times, 4 on target, 3 off target. On the opposite side, Austria shot 21 times, 8 on target, 13 off target.
Cards
Faroe Islands received 3 yellow cards (R. Joensen, O. Faero and V. Davidsen). On the other side, Austria received 1 yellow card (F. Kainz).
Match Timeline
Standings
Standings
Group A
Group B
Group C
Group D
Group E
Group F
Group G
Group H
Group I
Group J
After playing this match, Faroe Islands will stay with 4 points to stay in the 5th place. On the other side, Austria will have 10 points like Israel to stay in the 4th place.
Next matches
In the next match in the WC Qualification Europe, Faroe Islands will host Scotland on the 12th of October with a 4-0 head to head in favor of Scotland (0 draws).
Austria will play away agasint Denmark on the 12th of October with a 2-1 head to head record in favor of Denmark (0 draws).
Faroe Islands – Formation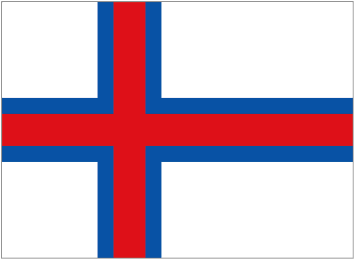 Faroe Islands
Substitutes
Faroe Islands started with a conservative line-up (4-5-1).
The manager Håkan Ericsson decided to play with the following team: Teitur Gestsson (7.1), Gilli Rólantsson (6.1), Odmar Færø (6.3), Sonni Nattestad (7.2), Viljormur Davidsen (6.3), René Shaki Joensen (6.2), Hallur Hansson (7.0), Gunnar Vatnhamar (7.0), Brandur Hendriksson Olsen (6.2), Ári Mohr Jónsson (5.9) and Jóan Edmundsson (6.8).
The home team had on the bench: Sølvi Vatnhamar, Hørður Askham, Petur Knudsen, Gunnar Nielsen, J. Danielsen, Jóannes Bjartalíð (6.2), Mattias Lamhauge, John Johannesen Frederiksen (6.1), Hannes Agnarsson (6.6), Tróndur Jensen, Klæmint Olsen (6.4) and Heini Vatnsdal.
Substitutions
Faroe Islands made 4 changes: R. Joensen for J. Bjartalid (67′), O. Faero for K. Olsen (68′), V. Davidsen for H. Agnarsson (68′) and J. Edmundsson for J. Frederiksen (86′).
Best player: Sonni Nattestad​
The player that probably impressed the most for Faroe Islands was Sonni Nattestad.
His rating is (7.2) with 15 passes (66% accurate) and 0 key passes. He was won 5 duels out of 6.
Austria – Formation

Austria
Substitutes
Austria started with a christmas tree line-up (4-3-2-1).
On the opposite side, Franco Foda played with: Daniel Bachmann (7.2), Christopher Trimmel (8.1), Stefan Ilsanker (7.2), Martin Hinteregger (7.1), David Alaba (7.3), Konrad Laimer (7.1), Florian Grillitsch (7.1), Marcel Sabitzer (8.0), Karim Onisiwo (7.7), Florian Kainz (7.1) and Ercan Kara (7.1).
They had on the bench: Louis Schaub (6.9), Alessandro Schöpf, Phillipp Mwene, Marco Grüll, Stefan Posch (7.2), Maximilian Wöber, Michael Gregoritsch, Yusuf Demir, Kevin Danso, Heinz Lindner, Dejan Ljubičić (6.8) and Alexander Schlager.
Substitutions
Austria made 5 changes: M. Hinteregger for S. Posch (65′), K. Laimer for D. Ljubicic (77′), K. Onisiwo for L. Schaub (77′), E. Kara for M. Gregoritsch (88′) and F. Kainz for Y. Demir (88′).
Best player: Christopher Trimmel​
The player that probably impressed the most for Austria was Christopher Trimmel even if he didn't score any goal.
His rating is (8.1) with 38 passes (78% accurate) and 2 key passes. He was won 4 duels out of 4. He performed 4 crosses.
Results of the day
These are the results of the day in the WC Qualification Europe.​