ZHIGULYOVSK. Akron and Tom' Tomsk played a scintillating incredible match before drawing 3-3. Akron was vastly superior in terms of ball possession (65%)​
The match was played at the Stadion Kristall Zhigulyovsk stadium in Zhigulyovsk on Sunday and it started at 11:00 am local time. The referee was Anastasia Pustovoitova who had the assistance of Dmitri Koloskov and Stanislav Popkov. The 4th official was Yan Marushko.
Match Statistics​
!

65

Ball Possession

35
Shots
18

Total

14

11

On Target

9

7

Off Target

5

0

Shots blocked

0
105

Attack

86

61

Dangerous attack

43

62

Ball safe​

67
1

Penalties

0

8

Corners

3
Fouls
2

Yellow Cards

4

0

Double Yellow

1

0

Red Card

1
Other
Ball possession
Akron was in firm control of the ball 65% while Tom' Tomsk was struggling with a 35% ball possession.
Attitude and shots
Akron was was putting more pressure with 61 dangerous attacks and 18 shots of which 11 were on target. Nevertheless, that was not enough Akron to win the match​.
Akron shot 18 times, 11 on target, 7 off target. On the other side, Tom' Tomsk shot 14 times, 9 on target, 5 off target.
Cards
Akron received 2 yellow cards (A. Potapov and I. Zuev). Regarding the opposition, Tom' Tomsk received 4 yellow cards (M. Dmitriev, K. Korzh, D. Savinykh and A. Gordyushenko).
Also, Tom' Tomsk didn't finish the match with 11 players after D. Savinykh (Tom' Tomsk) was sent off after receiving a second yellow card (90′).
Match Timeline
Ivan Rogač
- sub ->
I. Zuev
55'
85'
Konstantin Antipov
- sub ->
K. Korzh
90'
Danil Savinykh
(yellowred)
Standings
After this match, Akron will have 36 points to remain in the 9th place. On the opposite side, Tom' Tomsk will have 30 points like Krasnodar II and Spartak Moskva II to soar in the 14th place.
Next matches
In the next match in the Tom' Tomsk will host Neftekhimik on the 27th of November with a 2-1 head to head stats in favor of Neftekhimik (1 draw).
Akron – Formation Akron
Substitutes
The manager Vladimir Jăpălău decided to play with the following team: S. Volkov, I. Zuev, D. Sagutkin, I. Chudin, A. Kilin, V. Azarov, K. Savichev, A. Bosov, G. Ekra, A. Delkin and K. Bazelyuk.
The home team had on the bench: I. Rogač, A. Gazdanov, V. Marukhin, A. Potapov, A. Nesterov, K. Giraev, E. Pesegov, N. Goylo, N. Chistyakov, S. Biblyk and V. Nihaev.
Substitutions
Akron made 5 changes: I. Zuev for I. Rogac (55′), G. D. Ekra for A. Potapov (68′), A. Bosov for V. Marukhin (68′), V. Azarov for A. Gazdanov (68′) and D. Sagutkin for A. Nesterov (76′).
Tom' Tomsk – Formation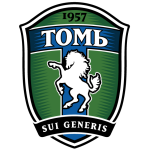 Tom\' Tomsk
Substitutes
Sergey Zhukov played with: D. Arapov, I. Klimov, A. Seraskhov, S. Zuykov, D. Savinykh, A. Stavpets, I. Kubyshkin, A. Gordyushenko, N. Korobov, P. Kudryashov and K. Korzh.
They had on the bench: V. Pochivalin, A. Semeykin, M. Dmitriev, K. Antipov, S. Radostev, A. Stanisavljević, V. Bezzubov and O. Leonov.
Substitutions
Tom' Tomsk made 4 changes: P. Kudryashov for V. Pochivalin (46′), I. Klimov for A. Semeykin (69′), A. Stavpets for M. Dmitriev (85′) and K. Korzh for K. Antipov (85′).
Results of the day
These are the results of the day in the FNL.​