CRAIOVA. U Craiova 1948 and Sepsi draw 1-1. C. Balan scored the first goal (51′) for U Craiova 1948. K. Luckassen made it even (57′).
The match was played at the Stadionul CFR, Craiova stadium in Craiova on Saturday and it started at 6:30 pm local time. The referee was Ovidiu Alin Hațegan assisted by Mircea Mihail Grigoriu and Ciprian Florin Danșa. The 4th official was Horațiu Mircea Feșnic. The weather was cloudy. The temperature was cold at 13.1 degrees Celsius or 55.49 Fahrenheit. The humidity was 90%.​
Match Statistics​
Shots
6

Total

10

3

On Target

3

3

Off Target

7

2

Shots blocked

2
113

Attack

134

63

Dangerous attack

92

108

Ball safe​

106
0

Penalties

0

2

Corners

9

2

Off Sides

1
Fouls
18

Total

14

3

Yellow Cards

1

0

Double Yellow

0

0

Red Card

0
Other
Ball possession
No teams had a vastly superior advantage in terms of ball possession. U Craiova 1948 was in possession of the ball for 46% of the time vs. Sepsi that controlled the ball for 54% of the time.
Attitude and shots
Sepsi was putting more pressure with 92 dangerous attacks and 10 shots of which 3 were on target. However, that was not enough Sepsi to win the match​.
U Craiova 1948 shot 6 times, 3 on target, 3 off target. Talking about the opposition, Sepsi shot 10 times, 3 on target, 7 off target.
Cards
U Craiova 1948 received 3 yellow cards (B. Van Durmen, C. Balan and C. Albu). On the other side, Sepsi received 1 yellow card (N. I. Paun).
Match Timeline
42'
Nicolae Ionuț Păun
- Yellow
Benjamin van Durmen
- Yellow
55'
62'
Adnan Aganović
- sub ->
N. I. Paun
Vlad Achim
- sub ->
C. Balan
72'
Terell Ondaan
- sub ->
S. Sidibe
72'
Juan Bauza
- sub ->
C. Albu
80'
89'
Petar Bojić
- sub ->
K. Luckassen
Standings
After this match, U Craiova 1948 will have 14 points like Sepsi to hold in the 13th place. On the opposite side, Sepsi will have 14 points like U Craiova 1948 to remain in the 12th place.
Next matches
U Craiova 1948 – Formation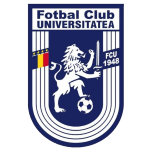 U Craiova 1948
Substitutes
U Craiova 1948 started with a conservative line-up (4-4-2).
The manager Flavius Vladimir Stoican decided to play with the following team: Robert Popa, Radu Negru, Dominik Kovačić, Jeremy Huyghebaert, Sorin Marian Buşu, Sekou Sidibe, Samuel Asamoah, Catalin Albu, Benjamin van Durmen, Claudiu Balan and Andrea Compagno.
The home team had on the bench: Alberto Cobrea, Vlad Achim, Alexandru Blidar, Francois Marquet, Juan Bauza, Terell Ondaan, Antonio Miutescu, Vlad Pop and Alexandru Raicea.
Substitutions
U Craiova 1948 made 4 changes: C. Balan for V. Achim (72′), S. Sidibe for T. Ondaan (72′), B. Van Durmen for A. N. Raicea (80′) and C. Albu for J. Bauza (80′).
Sepsi – Formation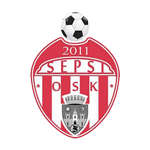 Sepsi
Substitutes
Sepsi started with a aggressive line-up (4-3-3).
On the opposite side, Cristiano Bergodi played with: Roland Niczuly, Radoslav Dimitrov, Branislav Niňaj, Bogdan Mitrea, Andres Dumitrescu, Eder González, Nicolae Păun, Marius Ștefănescu, Anass Achahbar, Kevin Luckassen and Cristian Bărbuț.
The following players were sitting on the bench: Răzvan Began, Rareș Sebastian Ispas, Răzvan Tincu, Adnan Aganović, Stefan Aškovski, Petar Bojić, Tsvetelin Chunchukov, Cătălin Golofca and Nándor Tamás.
Substitutions
Sepsi made 5 changes: M. Stefanescu for C. Golofca (61′), N. I. Paun for A. Aganovic (62′), A. Achahbar for T. Chunchukov (70′), C. Barbut for S. Ashkovski (70′) and K. Luckassen for P. Bojic (89′).
Results of the day
These are the results of the day in the Liga 1.​