STARA ZAGORA. CSKA 1948 Sofia overcomes Beroe 3-1. CSKA 1948 Sofia got an early 2-0 lead with 2 goals from Ivaylo Chochev (10′) and Héliton (35′). Beroe tried to recover with a goal from Vinni Triboulet (37′). Nevertheless, the match was closed by a goal (86′) scored by Georgi Rusev for CSKA 1948 Sofia.
The match was played at the Stadion Beroe stadium in Stara Zagora on Saturday and it started at 12:00 pm local time. The weather was cloudy. The temperature was cold at 7.5 degrees Celsius or 45.46 Fahrenheit. The humidity was 37%.​
Match Statistics​
Shots
8

Total

12

4

On Target

6

4

Off Target

3

0

Shots blocked

3
99

Attack

69

57

Dangerous attack

59

0

Ball safe​

0
0

Penalties

0

4

Corners

5

1

Off Sides

1
Fouls
22

Total

14

2

Yellow Cards

4

0

Double Yellow

0

1

Red Card

0
Other
Ball possession
None of the teams had a clear upper hand in terms of ball possession. Beroe was in possession of the ball for 54% of the time vs. CSKA 1948 Sofia that controlled the ball for 46% of the time.
Attitude and shots
CSKA 1948 Sofia was putting more pressure with 59 dangerous attacks and 12 shots of which 6 were on target. This is one of the reasons why CSKA 1948 Sofia won the match.​
Beroe shot 8 times, 4 on target, 4 off target. On the opposite side, CSKA 1948 Sofia shot 12 times, 6 on target, 3 off target.
Cards
Beroe received 2 yellow cards (Saná Gomes and Cascardo). Talking about the opposition, CSKA 1948 Sofia received 4 yellow cards (Parvizdzhon Umarbaev, Héliton, Yevhenii Serdiuk and Georgi Rusev).
Cascardo (Beroe) was sent off after receiving a second yellow card (79′).
Match Timeline
10'
Ivaylo Chochev
(goal)
Pedrinho
P. Alves Santana
- sub ->
Bozhidar Penchev
46'
Filip Krastev
- sub ->
Tonislav Yordanov
46'
46'
Angel Lyaskov
- sub ->
Steeve Furtado
57'
Parvizdzhon Umarbaev
- Yellow
75'
Reyan Daskalov
- sub ->
Parvizdzhon Umarbaev
Standings
After playing this contest, Beroe will stay with 21 points to hold in the 13th place. On the opposite side, CSKA 1948 Sofia will have 48 points to hold in the 3rd place.
Next matches
In the next match in the First League, Beroe will play away against Spartak Varna on the 9th of April with a 2-2 head to head.
CSKA 1948 Sofia will play away agasint Septemvri Sofia on the 14th of April with a 2-1 head to head record in favor of Septemvri Sofia (0 draws).
Beroe – Formation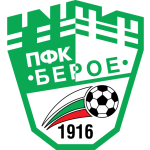 Beroe
Substitutes
Beroe started with a mid-fielder-oriented line-up (4-1-4-1).
The manager Nikolay Kirov decided to play with the following team: Ivan Karadzhov, Gustavo Cascardo, Zarija Lambulić, Maks Juraj Čelić, Sana, Klaidher Macedo, Spas Georgiev, Bozhidar Penchev, Simeon Mechev, Vinni Triboulet and Tonislav Yordanov.
The home team had on the bench: Ivan Goshev, Pedro Henrique, Georgi Dinkov, Yoan Baurenski, Serkan Ussein, Kaloyan Krastev, Denislav Stanchev, Vasilev Vasil and Atanas Yordanov.
Substitutions
Beroe made 2 changes: Bozhidar Penchev for P. Alves Santana (46′) and Tonislav Yordanov for Filip Krastev (46′).
CSKA 1948 Sofia – Formation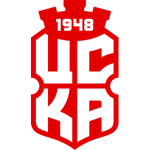 CSKA 1948 Sofia
Substitutes
CSKA 1948 Sofia started with a 4-2-3-1 line-up (4-2-3-1).
Todor Yanchev played with: Daniel Naumov, Steve Furtado, Simeon Petrov, Héliton, Jonathan Souza, Parvizdzhon Umarbaev, Ivajlo Chochev, Birsent Karagaren, Angel Bastunov, Pedrinho and Yevhen Serdyuk.
The following players were sitting on the bench: Gennadiy Ganev, Angel Lyaskov, Emil Tsenov, Lazar Marin, Reyan Daskalov, Svetoslav Dikov, Georgi Rusev and Radoslav Kirilov.
Substitutions
CSKA 1948 Sofia made 5 changes: Steeve Furtado for Angel Lyaskov (46′), Birsent Karagaren for Georgi Rusev (46′), Pedrinho for Radoslav Kirilov (64′), Angel Bastunov for Emil Tsenov (64′) and Parvizdzhon Umarbaev for Reyan Daskalov (75′).
Results of the day
These are the results of the day in the First League.​