STRASBOURG. Angers SCO overcomes Strasbourg Koenigshoffen 1-0 after M. Blazic scored just 1 goal (16′). Angers SCO was unquestionably superior in terms of ball possession (74%) and that was among the factors of its victory.​
The match was played at the Stade de la Meinau stadium in Strasbourg on Saturday and it started at 8:45 pm local time. The referee was Jérémie Pignard with the collaboration of Aurélien Drouet and Laurent Coniglio. The 4th official was Remi Landry. The weather was cloudy. The temperature was freezing at -0.2 degrees Celsius or 31.66 Fahrenheit. The humidity was 80%.​
Match Statistics​
!

26

Ball Possession

74
Shots
2

Total

4

0

On Target

3

2

Off Target

1

0

Shots blocked

0
82

Attack

145

37

Dangerous attack

88

76

Ball safe​

110
0

Penalties

0

2

Corners

12
Fouls
9

Total

15

0

Yellow Cards

2

0

Double Yellow

0

0

Red Card

0
Other
Ball possession
Angers SCO had a strong ball possession 74% while Strasbourg Koenigshoffen was struggling with a 26% ball possession.
Attitude and shots
Angers SCO was more pushing with 88 dangerous attacks and 4 shots of which 3 were on target. This is one of the reasons why Angers SCO won the match.​
Strasbourg Koenigshoffen shot 2 times, 0 on target, 2 off target. Regarding the opposition, Angers SCO shot 4 times, 3 on target, 1 off target.
Cards
Strasbourg Koenigshoffen didn't receive any yellow card. Regarding the opposition, Angers SCO received 2 yellow cards (Batista Mendy and Amine Salama).
Match Timeline
70'
Yan Valery
- sub ->
L. Rao-Lisoa
75'
Adrien Hunou
- sub ->
S. Thioub
75'
Waniss Taibi
- sub ->
Batista Mendy
Standings
Next matches
Strasbourg Koenigshoffen – Formation Strasbourg Koenigshoffen
Substitutes
F H. Ibrahim
14.
France

Strasbourg Koenigshoffen started with a 5-4-1 line-up (5-4-1).
The manager Amar Ferdjani decided to play with the following team: Corentin Schmittheissler, Ivan Herceg, Fitim Isufi, Alexis Mouakit, Bridges Loumouamou Ngobouma, Wacim Tine, Mohamed Cherief, Ibrahim Touré, Thomas Schall, Soufiane Haddaoui and Kevin Moussa Traore.
The home team had on the bench: Pierre Luc Alliel, Emmanuel Asan, Herman Samuel Kekambus, Habib Ibrahim Sidow, , Paulin Mba Fossi, Wassim Zouitina, Corentin Robin and Adem Boujafaar.
Substitutions
Strasbourg Koenigshoffen made 3 changes: T. Schall for H. Kekambus (65′), F. Isufi for A. Boujafaar (82′) and S. Haddaoui for P. Mba Fossi (86′).
Angers SCO – Formation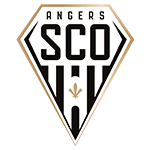 Angers SCO
Substitutes
Angers SCO started with a 4-2-3-1 line-up (4-2-3-1).
Abdelaziz Bouhazama played with: Paul Bernardoni, Miha Blažič, Souleyman Doumbia, Lillian Rao-Lisoa, Ousmane Camara, Nabil Bentaleb, Sada Thioub, Batista Mendy, Himad Abdelli, Abdallah Dipo Sima and Salama Salama.
These were the players on the bench: Waniss Taibi, Adrien Hunou, Jean Matteo Bahoya, Cédric Hountondji, Théo Borne, Yan Valery and Zinédine Ould Khaled.
Substitutions
Angers SCO made 3 changes: L. Rao-Lisoa for Yan Valery (70′), S. Thioub for A. Hunou (75′) and Batista Mendy for W. Taibi (75′).
Results of the day
These are the results of the day in the Coupe de France.​