MACEIó, ALAGOAS. Bahia beat CRB to win 2-1. It was Bahia to strike first with a goal of Daniel at the 26′. Then it was a goal in the 52′ minute to make things even for 1-1. Eventually, Lucas Mugni gave the win to Bahia in the 80′ minute with a penalty.
Also, CRB had 2 players sent off: Diego Ivo (61′ for a red card) and Anselmo (77′ for a red card).
The match was played at the Estádio Universitário da UFAL stadium in Maceió, Alagoas on Sunday and it started at 6:30 pm local time. The referee was Ramon Abatti who had the assistance of Alex dos Santos and Thiago Americano Labes. The 4th official was Denis Ribeiro Serafim. The weather was rainy. The temperature was pleasant at 23.7 degrees Celsius or 74.64 Fahrenheit. The humidity was 100%.​
Match Statistics​
Ball possession
The ball possession was not so different. CRB was in possession of the ball for 47% of the time vs. Bahia that controlled the ball for 53% of the time.
Attitude and shots
Bahia was more pushing with 46 dangerous attacks and 18 shots of which 6 were on target. This is one of the reasons why Bahia won the encounter.​
CRB shot 6 times, 2 on target, 4 off target. On the opposite side, Bahia shot 18 times, 6 on target, 12 off target.
Cards
CRB received 2 yellow cards (Yago and Emerson Negueba). Talking about the opposition, Bahia received 2 yellow cards (Ignacio and Patrick de Lucca).
Match Timeline
Diego Ivo
- sub ->
Wellington Carvalho
4'
Rafael Longuine
- sub ->
David Brall
46'
85'
Matheus Davo
- sub ->
Ricardo Goulart
85'
Gabriel Xavier
- sub ->
Andre
Gabriel Conceicao
- sub ->
Emerson Negueba
89'
90'
Jonathan Copete
- sub ->
Vitor Jacare
90'
H. Rodallega
- sub ->
Caio Vidal
Standings
After playing this contest, CRB will stay with 50 points to sit in the 11th place. Regarding the opposition, Bahia will have 62 points like Vasco da Gama to sit in the 3rd place.
Next matches
CRB – Formation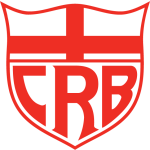 CRB
Substitutes
CRB started with a aggressive line-up (4-3-3).
The manager Daniel Pollo Barioni decided to play with the following team: Vitor Caetano (6.6), Reginaldo (6.6), Matheus Miguel (6.6), Wellington Carvalho, Guilherme Romão (6.7), Yago (6.6), David Brall (6.6), Juninho Valoura (6.7), Fabinho (6.6), Anselmo Ramon (6.3) and Emerson Negueba (7.2).
The home team had on the bench: Eduardo Ramon Ferreira da Silva, Richard, Arthur, Maycon Douglas, Rafael Longuine (7.0), Claudinei, Diego Ivo (6.3), Bruninho, Gabriel Conceição, Guilherme Lopes, Uillian Correia (6.9) and Riquelme dos Santos Silva.
Substitutions
CRB made 4 changes: Wellington Carvalho for Diego Ivo (4′), David Brall for Rafael Longuine (46′), Fabinho for Uillian (66′) and Emerson Negueba for Gabriel Conceicao (89′).
Best player: Emerson Negueba​
Following our analysis, the most impressive player for CRB was Emerson Negueba.
His rating is (7.2) with 1 goal, 15 passes (80% accurate) and 0 key passes. He was won 6 duels out of 11.
Bahia – Formation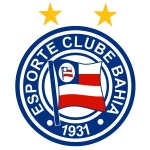 Bahia
Substitutes
Bahia started with a 4-2-3-1 line-up (4-2-3-1).
Eduardo de Souza Barroca played with: Mateus Claus (6.6), André Dhominique (6.3), Ignácio (6.4), Luiz Otávio (7.1), Luiz Henrique (6.4), Patrick Verhon (7.0), Lucas Mugni (7.6), Caio Vidal (6.1), Danielzinho (8.0), Vítor Jacaré (7.1) and Ricardo Goulart (6.8).
They had on the bench: Miqueias, Denis Júnior, Didi, Marco Antônio, Julio César Rezende, Douglas Borel, Hugo Rodallega, Jonathan Copete, Ytalo, Gabriel Xavier, Matheus Bahia and Matheus Davó.
Substitutions
Bahia made 5 changes: Ricardo Goulart for Matheus Davo (85′), Andre for Gabriel Xavier (85′), Daniel for Rezende (88′), Vitor Jacare for Jonathan Copete (90′) and Caio Vidal for H. Rodallega (90′).
Best player: Danielzinho​
The most impressive player for Bahia was Danielzinho.
His rating is (8.0) with 1 goal, 33 passes (75% accurate) and 3 key passes. He was won 6 duels out of 11. He performed 6 crosses.
Results of the day
These are the results of the day in the Serie B.​