POZNAń. Lech Poznań bested Korona Kielce. Lech Poznań was decisively superior in terms of ball possession (71%) and that was among the factors of its victory.​
The match was played at the INEA stadion stadium in Poznań on Sunday and it started at 5:30 pm local time. In front of 12,745 spectators.​ The referee was Bartosz Frankowski with the support of Marcin Boniek and Paulina Baranowska. The 4th official was Sylwester Rasmus. The weather was clear. The temperature was quite cold at 6.3 degrees Celsius or 43.38 Fahrenheit. The humidity was 90%.​
Match Statistics​
!

71

Ball Possession

29
Shots
33

Total

13

17

On Target

7

16

Off Target

6

8

Shots blocked

2
107

Attack

60

104

Dangerous attack

40

78

Ball safe​

68
1

Penalties

2

11

Corners

2

1

Off Sides

1
Fouls
1

Total

0

1

Yellow Cards

4

0

Double Yellow

0

0

Red Card

0
Other
Ball possession
Lech Poznań had a superior ball possession 71% while Korona Kielce was struggling with a 29% ball possession.
Attitude and shots
Lech Poznań had a more offensive attitude with 104 dangerous attacks and 33 shots of which 17 were on target. This is one of the reasons why Lech Poznań won the match​.
Lech Poznań shot 33 times, 17 on target, 16 off target. On the other side, Korona Kielce shot 13 times, 7 on target, 6 off target.
Cards
Lech Poznań received 1 yellow card (J. Amaral). Regarding the opposition, Korona Kielce received 4 yellow cards (D. Takac, M. Trojak, S. Balic and M. Szpakowski).
Match Timeline
66'
J. Podgorski
- sub ->
D. Blanik
66'
M. Szpakowski
- sub ->
D. Takac
F. Szymczak
- sub ->
M. Ishak
66'
A. Milic
- sub ->
J. Pereira
73'
R. Murawski
- sub ->
N. Kvekveskiri
73'
M. Skoras
- sub ->
G. Tsitaishvili
79'
A. Ba Loua
- sub ->
A. Sousa
79'
84'
J. Kielb
- sub ->
J. Lukowski
84'
Y. Shikavka
- sub ->
B. Spiaczka
84'
G. Szymusik
- sub ->
R. Deaconu
F. Szymczak
(goal)
A. Czerwinski
90'
Standings
After playing this match, Lech Poznań will have 25 points like Cracovia Kraków and Wisła Płock to sit in the 8th place. On the opposite side, Korona Kielce will stay with 13 points like Piast Gliwice to hold in the 17th place.
Next matches
In the next match in the Ekstraklasa, Lech Poznań will play away against Jagiellonia Białystok on the 12th of November with a 16-14 head to head in favor of Jagiellonia Białystok (6 draws).
Korona Kielce will host Widzew Lodz on the 12th of November with a 5-5 head to head statistic.
Lech Poznań – Formation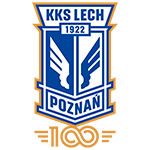 Lech Poznań
Substitutes
Lech Poznań started with a 4-2-3-1 line-up (4-2-3-1).
The manager John van den Brom decided to play with the following team: Filip Bednarek (6.2), Joel Pereira (6.9), Alan Czerwiński (6.6), Filip Dagerstål (6.2), Pedro Rebocho (8.0), Nika Kvekveskiri (7.3), Jesper Karlström (6.2), Giorgi Tsitaishvili (6.5), João Amaral (7.8), Afonso Sousa (7.3) and Mikael Ishak (6.8).
The home team had on the bench: Artur Rudko, Bartosz Salamon, Antonio Milić (6.1), Filip Marchwiński, Radosław Murawski (6.4), Adriel D'Avila Ba Loua (6.8), Michał Skóraś (6.8), Filip Szymczak (6.8) and Artur Sobiech.
Substitutions
Lech Poznań made 5 changes: M. Ishak for F. Szymczak (66′), J. Pereira for A. Milic (73′), N. Kvekveskiri for R. Murawski (73′), G. Tsitaishvili for M. Skoras (79′) and A. Sousa for A. Ba Loua (79′).
Best player: Pedro Rebocho​
The most impressive player for Lech Poznań was Pedro Rebocho even if he didn't score any goal.
His rating is (8.0) with 60 passes (86% accurate) and 5 key passes. He was won 3 duels out of 3. He performed 6 crosses.
Korona Kielce – Formation
Korona Kielce
Substitutes
Korona Kielce started with a mid-fielder-oriented line-up (4-1-4-1).
Leszek Ojrzynski played with: Marcel Zapytowski (9.1), Dawid Więckowski (6.1), Miłosz Trojak (6.5), Piotr Malarczyk (6.6), Saša Balić (6.3), Adam Deja (7.1), Jakub Łukowski (7.1), Dalibor Takáč (6.2), Ronaldo Deaconu (6.8), Dawid Błanik (7.1) and Bartosz Śpiączka (6.6).
These were the players on the bench: Konrad Forenc, Grzegorz Szymusik, Roberto Corral, Marcin Szpakowski (7.3), Yevgeni Shikavka, Jacek Podgórski (7.6), Jacek Kiełb, Łukasz Sierpina and Adam Frączczak.
Substitutions
Korona Kielce made 5 changes: D. Blanik for J. Podgorski (66′), D. Takac for M. Szpakowski (66′), J. Lukowski for J. Kielb (84′), B. Spiaczka for Y. Shikavka (84′) and R. Deaconu for G. Szymusik (84′).
Best player: Marcel Zapytowski​
As per our analysis, the most impressive player for Korona Kielce was the goalkeeper: Marcel Zapytowski. His rating is 9.13. He performed 10 saves.
Results of the day
These are the results of the day in the Ekstraklasa.​