ŁóDź. Radomiak Radom prevails over Widzew Lodz 3-1. Radomiak Radom got an early 2-0 lead with 2 goals from M. Grzybek (2′) and L. Semedo (27′). Widzew Lodz tried to recover with a goal from J. Sanchez (51′). Nevertheless, the match was closed by a goal (90′) scored by L. Machado for Radomiak Radom. Widzew Lodz was definitely better in terms of ball possession (73%).​
The match was played at the Stadion Miejski Widzewa Łódź stadium in Łódź on Sunday and it started at 3:00 pm local time. In front of 17,442 spectators.​ The referee was Paweł Raczkowski who had the assistance of Adam Kupsik and Bartosz Heinig. The 4th official was Piotr Rzucidło. The weather was clear. The temperature was quite cold at 6.9 degrees Celsius or 44.35 Fahrenheit. The humidity was 79%.​
Match Statistics​
!

73

Ball Possession

27
Shots
23

Total

8

11

On Target

4

12

Off Target

4

2

Shots blocked

3
137

Attack

116

97

Dangerous attack

56

95

Ball safe​

69
0

Penalties

0

15

Corners

1
Fouls
16

Total

10

1

Yellow Cards

5

0

Double Yellow

0

0

Red Card

0
Other
Ball possession
Widzew Lodz had a strong ball possession 73% while Radomiak Radom was struggling with a 27% ball possession.
Attitude and shots
Widzew Lodz was more pushing with 97 dangerous attacks and 23 shots of which 11 were on target. Anyhow, Radomiak Radom managed to find the solution to win this match.​
Widzew Lodz shot 23 times, 11 on target, 12 off target. On the other side, Radomiak Radom shot 8 times, 4 on target, 4 off target.
Cards
Widzew Lodz received 1 yellow card (J. Niedzwiedz). On the opposite side, Radomiak Radom received 5 yellow cards (F. Nascimento, Pedro Justiniano, M. Grzybek, D. Abramowicz and G. Kobylak).
Match Timeline
27'
L. Semedo
(goal)
F. Nascimento
D. Kun
- sub ->
K. Danielak
46'
55'
D. Lukasik
- sub ->
J. Nowakowski
64'
D. Pawlowski
- sub ->
L. Semedo
L. Zjawinski
- sub ->
E. Terpilowski
76'
82'
D. Sokol
- sub ->
M. Grzybek
M. Milos
- sub ->
P. Stepinski
89'
J. Shehu
- sub ->
J. Letniowski
89'
P. Lipski
- sub ->
M. Kreuzriegler
89'
Standings
After playing this encounter, Widzew Lodz will stay with 26 points like Pogoń Szczecin and Stal Mielec to sit in the 3rd place. Regarding the opposition, Radomiak Radom will have 23 points to remain in the 10th place.
Next matches
In the next match in the Ekstraklasa, Widzew Lodz will play away with Korona Kielce on the 12th of November with a 5-5 head to head.
Radomiak Radom will host Pogoń Szczecin on the 13th of November with a 1-0 head to head stats in favor of Pogoń Szczecin (1 draw).
Widzew Lodz – Formation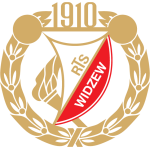 Widzew Lodz
Substitutes
Widzew Lodz started with a 5-4-1 line-up (5-4-1).
The manager Janusz Niedźwiedź decided to play with the following team: Henrich Ravas (6.3), Patryk Stępiński (6.6), Serafin Szota (5.7), Mateusz Żyro (6.8), Martin Kreuzriegler (6.5), Karol Danielak (6.1), Ernest Terpiłowski (7.4), Juliusz Letniowski (7.9), Marek Hanousek (6.6), Bartłomiej Pawłowski (7.0) and Jordi Sánchez (6.3).
The home team had on the bench: Vasil Litvinenko, Bozhidar Chorbadzhiyski, Paweł Zieliński, Mato Miloš, Dominik Kun (6.8), Jakub Sypek, Patryk Lipski, Juljan Shehu and Łukasz Zjawiński (6.4).
Substitutions
Widzew Lodz made 5 changes: K. Danielak for D. Kun (46′), E. Terpilowski for L. Zjawinski (76′), P. Stepinski for M. Milos (89′), J. Letniowski for J. Shehu (89′) and M. Kreuzriegler for P. Lipski (89′).
Best player: Juliusz Letniowski​
The most impressive player for Widzew Lodz was Juliusz Letniowski.
His rating is (7.9) with 62 passes (74% accurate) and 4 key passes. He was won 6 duels out of 7. He performed 10 crosses.
Radomiak Radom – Formation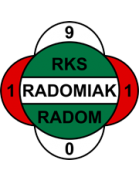 Radomiak Radom
Substitutes
Radomiak Radom started with an extremely aggressive line-up (3-4-3).
Mariusz Lewandowski played with: Gabriel Kobylak (8.1), Pedro Justiniano (6.9), Raphael Rossi (7.1), Mateusz Cichocki (6.2), Mateusz Grzybek (7.1), Filipe Nascimento (7.7), Jakub Nowakowski (6.8), Dawid Abramowicz (6.8), Lisandro Semedo (7.6), Maurides (7.4) and Luís Machado (6.8).
They had on the bench: Jakub Ojrzyński, Tiago Matos, Damian Jakubik, Dominik Sokół, Leândro, Nikolas Korzeniecki, Daniel Łukasik (6.6), Dariusz Pawłowski (6.8) and Michal Feliks.
Substitutions
Radomiak Radom made 3 changes: J. Nowakowski for D. Lukasik (55′), L. Semedo for D. Pawlowski (64′) and M. Grzybek for D. Sokol (82′).
Best player: Gabriel Kobylak​
The most impressive player for Radomiak Radom was the goalkeeper: Gabriel Kobylak. His rating is 8.10. He performed 7 saves.
Results of the day
These are the results of the day in the Ekstraklasa.​