MELBOURNE. Melbourne City liquidates Perth Glory 4-0 with goals of J. Maclaren (49′), J. Maclaren (75′ pen), M. Tilio (82′) and M. Leckie (90′). Melbourne City was surely superior in terms of ball possession (63%) and that was among the factors of its victory.​
The match was played at the AAMI Park stadium in Melbourne on Saturday and it started at 5:00 pm local time. The referee was Jack Morgan with the assistance of Daniel Illievski and Peter Jaworski. The 4th official was Lachlan Keevers. The weather was clear. The temperature was pleasant at 24.1 degrees Celsius or 75.36 Fahrenheit. The humidity was 84%.​
Match Statistics​
!

63

Ball Possession

37
Shots
18

Total

0

7

On Target

0

11

Off Target

0

3

Shots blocked

0
120

Attack

49

45

Dangerous attack

12

99

Ball safe​

88
1

Penalties

0

4

Corners

0

1

Off Sides

1
Fouls
17

Total

13

0

Yellow Cards

5

0

Double Yellow

0

0

Red Card

0
Other
Ball possession
Melbourne City had a strong ball possession 63% while Perth Glory was struggling with a 37% ball possession.
Attitude and shots
Melbourne City had a more offensive attitude with 45 dangerous attacks and 18 shots of which 7 were on target. This is one of the reasons why Melbourne City won the match​.
Melbourne City shot 18 times, 7 on target, 11 off target. Regarding the opposition, Perth Glory shot 0 times, 0 on target, 0 off target.
Cards
Melbourne City didn't receive any yellow card. Talking about the opposition, Perth Glory received 5 yellow cards (J. Forde, R. Williams, Z. Duncan, B. Azubel and M. Beevers).
Match Timeline
46'
L. Ivanovic
- sub ->
B. Azubel
46'
S. Colakovski
- sub ->
G. Colli
A. Nabbout
- sub ->
V. Berisha
63'
69'
M. Oxborrow
- sub ->
L. Bodnar
69'
A. Zimarino
- sub ->
S. Khelifi
S. Jamieson
- sub ->
N. Reis
80'
Standings
After playing this match, Melbourne City will have 13 points to hold in the 1st place. On the other side, Perth Glory will stay with 3 points to hold in the 11th place.
Next matches
In the next match in the A-League, Melbourne City will host Western Sydney Wanderers on the 28th of April with a 11-10 head to head record in favor of Western Sydney Wanderers (6 draws).
Perth Glory will host Western United on the 29th of April with a 5-1 head to head in favor of Western United (1 draw).
Melbourne City – Formation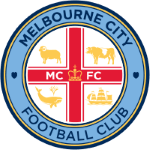 Melbourne City
Substitutes
Melbourne City started with a conservative line-up (4-4-2).
The manager Patrick Kisnorbo decided to play with the following team: Tom Glover (6.8), Callum Talbot (7.1), Nuno Reis (6.8), Curtis Good (7.1), Jordan Bos (7.4), Marco Tilio (8.1), Richard van der Venne (6.2), Aiden O'Neill (6.8), Mathew Leckie (7.2), Valon Berisha (6.9) and Jamie MacLaren (8.1).
The home team had on the bench: Scott Jamieson, Kerrin Stokes, Scott Galloway, Matthew Sutton, Jordon Hall, Andrew Nabbout (6.2) and Taras Gomulka.
Substitutions
Melbourne City made 2 changes: V. Berisha for A. Nabbout (63′) and N. Reis for S. Jamieson (80′).
Best player: Jamie MacLaren​
Following our analysis, the most impressive player for Melbourne City was Jamie MacLaren.
His rating is (8.1) with 2 goals, 7 passes (100% accurate) and 1 key pass.
Perth Glory – Formation
Perth Glory
Substitutes
Perth Glory started with a 4-2-3-1 line-up (4-2-3-1).
Ruben Zadkovich played with: Liam Reddy (6.1), Joseph Forde (6.1), Darryl Lachman (6.6), Mark Beevers (5.9), Jack Clisby (5.9), Zachary Duncan (6.4), Luke Bodnar (6.7), Ryan Williams (6.6), Giordano Colli (6.3), Salim Khelifi (6.5) and Aaron McEneff, Ben Azubel (6.6).
The following players were sitting on the bench: Luke Ivanovic (6.4), Stefan Colakovski (6.2), Jacob Muir, Pierce Clark, Adam Zimarino (6.6) and Mitchell Oxborrow (5.3).
Substitutions
Perth Glory made 4 changes: B. Azubel for L. Ivanovic (46′), G. Colli for S. Colakovski (46′), L. Bodnar for M. Oxborrow (69′) and S. Khelifi for A. Zimarino (69′).
Best player: Luke Bodnar​
The player that probably impressed the most for Perth Glory was Luke Bodnar.
His rating is (6.7) with 30 passes (76% accurate) and 0 key passes. He was won 2 duels out of 3.
Results of the day
These are the results of the day in the A-League.​