BUCHAREST. FCSB prevailed over UTA Arad to win 2-1. A goal from C. Keseru was decisive in the 90min. It was FCSB to strike first with a goal of D. Olaru at the 16′. Then A. Compagno scored again for FCSB in the 88′ minute with a penalty. Eventually, C. Keseru reduced the distance for UTA Arad (90′). Eventually, that was it, and the result remained 2-1.
The match was played at the Arena Naţională stadium in Bucharest on Sunday and it started at 8:30 pm local time. The referee was Constantin Sebastian Colțescu with the collaboration of Daniel Mitruți and Ferencz Tunyogi. The 4th official was Iulian Dima. The weather was clear. The temperature was cold at 11.7 degrees Celsius or 53.02 Fahrenheit. The humidity was 60%.​
Match Statistics​
The overall ball possession was identical with both teams controlling the ball for 50% of the time.
Ball possession
None of the teams was particularly dominant in terms of ball possession. FCSB was in possession of the ball for 50% of the time vs. UTA Arad that controlled the ball for 50% of the time.
Attitude and shots
UTA Arad was more pushing with 54 dangerous attacks and 11 shots of which 3 were on target. Anyway, FCSB found a way to find the solution to win this encounter.​
FCSB shot 13 times, 7 on target, 6 off target. On the opposite side, UTA Arad shot 11 times, 3 on target, 8 off target.
Cards
FCSB received 3 yellow cards (A. Pantea, B. Nikolov and A. Cordea). On the opposite side, UTA Arad received 2 yellow cards (J. Bautista and A. Benga).
Match Timeline
Răzvan Oaidă
- sub ->
B. Omrani
55'
69'
Claudiu Negoescu
- sub ->
Rareș Mihai Pop
69'
Desley Ubbink
- sub ->
Philip Otele
70'
Mihai Dobrescu
- sub ->
A. Abeid
78'
Claudiu Keșerü
- sub ->
Bautista Cascini
Octavian Popescu
- sub ->
F. Coman
78'
Octavian Popescu
- sub ->
Florinel Coman
78'
90'
Claudiu Keșerü
(goal)
Florin Iacob
David Miculescu
- sub ->
Andrea Compagno
90'
Standings
After playing this match, FCSB will have 17 points like Voluntari, Petrolul 52, Argeş and Botoşani to remain in the 7th place. On the opposite side, UTA Arad will stay with 16 points to sit in the 12th place.
Next matches
In the next match in the Liga 1, FCSB will play away against Universitatea Cluj on the 31st of October with a 11-1 head to head record in favor of FCSB (1 draw).
UTA Arad will host Argeş on the 30th of October with a 4-2 head to head record in favor of Argeş (2 draws).
FCSB – Formation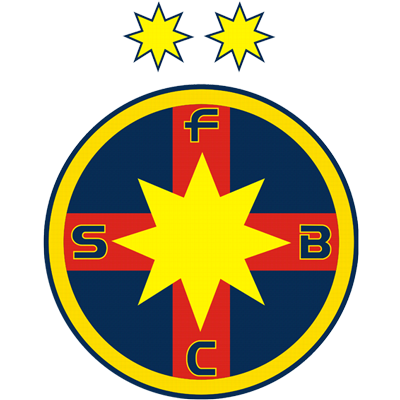 FCSB
Substitutes
FCSB started with a 4-1-3-2 line-up (4-1-3-2).
The manager Nicolae Constantin Dică decided to play with the following team: Ștefan Târnovanu, Valentin Iulian Crețu, Joonas Tamm, Joyskim Dawa, Gregory Pantea, Malcom Edjouma, Darius Dumitru Olaru, Andrei Cordea, Abdel Slem Billel Omrani, Florinel Teodor Coman and Andrea Compagno.
The home team had on the bench: Eduard Gabriel Radaslavescu, Radu Ştefăniţă Boboc, Ianis Stoica, Denis Graţian Haruţ, David Raul Miculescu, Octavian Popescu, Boban Nikolov, Andrei Daniel Vlad and Răzvan Constantin Oaidă.
Substitutions
FCSB made 4 changes: B. Omrani for R. Oaida (55′), M. Edjouma for B. Nikolov (78′), F. Coman for O. Popescu (78′) and A. Compagno for D. Miculescu (90′).
UTA Arad – Formation

UTA Arad
Substitutes
UTA Arad started with a aggressive line-up (4-3-3).
Ilie Poenaru played with: Florin Iacob, Alexandru Constantin Benga, Yacoub Aly Abeid, Andrei Chindriş, Paul Viorel Anton, Marko Vukčević, Juan Bautista Cascini, Albert Tivadar Stahl, Rareș Mihai Pop, Virgiliu Postolachi and Philip Otele.
These were the players on the bench: Wesley Jobello, Desley Ubbink, Erion Hoxhallari, Mihai Dobrescu, Dragoș Balauru, Claudiu Negoescu, Idriz Batha, Erico Constantino da Silva and Claudiu Andrei Keșerü.
Substitutions
UTA Arad made 5 changes: A. Stahl for W. Jobello (46′), P. Otele for D. Ubbink (69′), R. Pop for C. Negoescu (70′), A. Abeid for M. Dobrescu (70′) and J. Bautista for C. Keseru (78′).
Results of the day
These are the results of the day in the Liga 1.​