ESBO. Haka was capable to capture a draw against Honka with a late goal from J. Arthur scored in the (87′) after Honka got a lead with a goal from R. Modesto (15′).
The match was played at the Tapiolan Urheilupuisto stadium in Esbo on Sunday and it started at 5:00 pm local time. The referee was Joni Hyytiä who had the assistance of Veli-Matti Leppänen and Mikko Alakare. The 4th official was Dennis Antamo. The weather was cloudy. The temperature was cold at 11.9 degrees Celsius or 53.47 Fahrenheit. The humidity was 92%.​
Match Statistics​
Ball possession
None of the teams had a clear upper hand in terms of ball possession. Honka was in possession of the ball for 47% of the time vs. Haka that controlled the ball for 53% of the time.
Attitude and shots
Haka had a more offensive attitude with 92 dangerous attacks and 10 shots of which 3 were on target. Nonetheless, that was not enough Haka to win the match​.
Honka shot 7 times, 3 on target, 4 off target. On the opposite side, Haka shot 10 times, 3 on target, 7 off target.
Cards
Honka received 4 yellow cards (F. Baak, J. Levanen, R. Paunio and K. Jansen). Talking about the opposition, Haka received 2 yellow cards (D. Acka and A. Herbert).
F. Baak (Honka) was sent off after receiving a second yellow card (70′).
Match Timeline
58'
Henri Malundama
- sub ->
E. Collin
Henri Aalto
- sub ->
J. Levanen
62'
Saku Heiskanen
- sub ->
D. Tammilehto
62'
Florian Krebs
- sub ->
J. Voutilainen
62'
Aldayr Hernández Basanta
- sub ->
O. Koskinen
72'
85'
Konsta Mervelä
- sub ->
L. Rogerson
85'
Thomas Saarinen
- sub ->
O. Whyte
Standings
After playing this match, Honka will have 41 points to sit in the 3rd place. Regarding the opposition, Haka will have 37 points to remain in the 4th place.
Next matches
Honka – Formation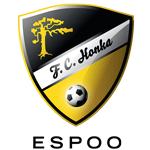 Honka
Substitutes
Honka started with a conservative line-up (4-5-1).
The manager Vesa Vasara decided to play with the following team: Roope Paunio, Jonas Levänen, Ville Koski, Florian Baak, Elias Äijälä, Rui Modesto, Jerry Voutilainen, Duarte Tammilehto, Kevin Jansen, Otso Koskinen and Agon Sadiku.
The home team had on the bench: Maksim Rudakov, Henri Aalto, Florian Krebs, Edmund Arko-Mensah, Saku Heiskanen, Aldayr Hernández and Dražen Bagarić.
Substitutions
Honka made 5 changes: J. Levanen for H. Aalto (62′), D. Tammilehto for S. Heiskanen (62′), J. Voutilainen for F. Krebs (62′), A. Sadiku for D. Bagaric (68′) and O. Koskinen for A. Hernandez (72′).
Haka – Formation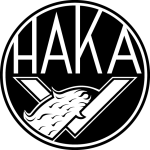 Haka
Substitutes
Haka started with a aggressive line-up (4-3-3).
Teemu Tainio played with: Mika Hilander, Seth Saarinen, Atte Sihvonen, Anthony Herbert, Elias Collin, Tino Purme, Janne-Pekka Laine, Donaldo Açka, Logan Rogerson, Salomo Ojala and Oliver Whyte.
These were the players on the bench: Aatu Hakala, Elias Mastokangas, Henri Malundama, Thomas Saarinen, Konsta Mervelä and Jude Arthur.
Substitutions
Haka made 5 changes: D. Acka for E. Mastokangas (58′), E. Collin for H. Malundama (58′), S. Saarinen for J. Arthur (78′), L. Rogerson for K. Mervela (85′) and O. Whyte for T. Saarinen (85′).
Results of the day
These are the results of the day in the Veikkausliiga.​