SOFIA. CSKA 1948 Sofia had a surprising win over Spartak Varna with a 2-0 win with a goal from Y. Serdyuk (33′) and a goal from P. Umarbaev (38′). CSKA 1948 Sofia was truly superior in terms of ball possession (66%) and that was among the factors of its victory.​
The match was played at the Tsarsko Selo Sports Complex stadium in Sofia on Sunday and it started at 6:15 pm local time. The referee was Vladimir Valkov assisted by Nikolay Chakarov and Svetoslav Enchev. The 4th official was Vasil Minev. The weather was clear. The temperature was cold at 10.7 degrees Celsius or 51.28 Fahrenheit. The humidity was 70%.​
Match Statistics​
!

66

Ball Possession

34
Shots
19

Total

8

7

On Target

3

12

Off Target

5

0

Shots blocked

0
128

Attack

63

126

Dangerous attack

38

0

Ball safe​

0
0

Penalties

0

13

Corners

4
Fouls
3

Yellow Cards

1

0

Double Yellow

0

0

Red Card

0
Other
Ball possession
CSKA 1948 Sofia had a strong ball possession 66% while Spartak Varna was struggling with a 34% ball possession.
Attitude and shots
CSKA 1948 Sofia was more pushing with 126 dangerous attacks and 19 shots of which 7 were on target. This is one of the reasons why CSKA 1948 Sofia won the match​.
CSKA 1948 Sofia shot 19 times, 7 on target, 12 off target. On the opposite side, Spartak Varna shot 8 times, 3 on target, 5 off target.
Cards
CSKA 1948 Sofia received 3 yellow cards (Heliton, Y. Serdyuk and Octavio). Talking about the opposition, Spartak Varna received 1 yellow card (Emanuel).
Match Timeline
Parvizdzhon Umarbaev
(goal)
38'
Angel Georgiev Bastunov
- sub ->
P. Umarbaev
67'
Henrique
- sub ->
R. Kirilov
67'
Mario Topuzov
- sub ->
G. Rusev
83'
Reyan Daskalov
- sub ->
Y. Serdyuk
83'
86'
Daniel Nachev
- sub ->
M. Toshev
86'
Liandro Martis
- sub ->
R. Ivey
90'
Georgi Babaliev
- sub ->
J. Andreev
Standings
After playing this match, CSKA 1948 Sofia will have 30 points to hold in the 1st place. On the opposite side, Spartak Varna will stay with 5 points to hold in the 16th place.
Next matches
In the next match in the Parva Liga, CSKA 1948 Sofia will host OFK Pirin on the 5th of November with a 1-1 head to head statistic.
Spartak Varna will play away agasint OFK Pirin on the 11th of November with a 3-1 head to head in favor of Spartak Varna (3 draws).
CSKA 1948 Sofia – Formation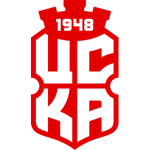 CSKA 1948 Sofia
Substitutes
CSKA 1948 Sofia started with a mid-fielder-oriented line-up (4-1-4-1).
The manager Lyuboslav Mladenov Penev decided to play with the following team: Daniel Naumov, Steve Furtado, Simeon Petrov, Héliton, Jonathan Souza, Parvizdzhon Umarbaev, Georgi Rusev, Ivajlo Chochev, Octávio, Radoslav Kirilov and Yevhen Serdyuk.
The home team had on the bench: Gennadiy Ganev, Angel Lyaskov, Reyan Daskalov, Lazar Marin, Mario Topuzov, Angel Bastunov and Henrique.
Substitutions
CSKA 1948 Sofia made 4 changes: P. Umarbaev for A. Bastunov (67′), R. Kirilov for Henrique (67′), G. Rusev for M. Topuzov (83′) and Y. Serdyuk for R. Daskalov (83′).
Spartak Varna – Formation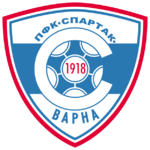 Spartak Varna
Substitutes
Spartak Varna started with a 3-4-2-1 line-up (3-4-2-1).
Todor Kiselichkov played with: Ivan Dichevski, Nikola Borisov, Plamen Dimov, Emanuel Moura, Mehmed Sabri, Tsvetan Iliev, Yancho Andreev, Viktor Mitev, Romeesh Ivey, Rodney Antwi and Martin Toshev.
The following players were sitting on the bench: Sami El Anabi, Prosper Mendy, Daniel Nachev, Georgi Babaliev, Zdravko Dimitrov, Liandro Martis and Hristiyan Hristov.
Substitutions
Spartak Varna made 5 changes: R. Antwi for Z. Dimitrov (63′), M. Toshev for D. Nachev (86′), R. Ivey for L. Martis (86′), V. Mitev for S. El Anabi (90′) and J. Andreev for G. Babaliev (90′).
Results of the day
These are the results of the day in the Parva Liga.​