ANTWERP. Beerschot-Wilrijk and Dender draw 1-1. R. Sanusi scored the first goal (51′) for Beerschot-Wilrijk. S. Marzo settled the score (72′). Beerschot-Wilrijk was not able to win even if it was superior in terms of ball possession (60%)
The match was played at the Olympisch Stadion stadium in Antwerp on Sunday and it started at 8:00 pm local time. The referee was Jordy Vermeire with the collaboration of Michele Seeldraeyers and Lennert Jans. The 4th official was Maarten Toeback. The weather was clear. The temperature was cold at 14.9 degrees Celsius or 58.73 Fahrenheit. The humidity was 90%.​
Match Statistics​
Shots
8

Total

5

4

On Target

1

4

Off Target

4

0

Shots blocked

0
67

Attack

54

37

Dangerous attack

34

0

Ball safe​

0
0

Penalties

0

7

Corners

3
Fouls
4

Yellow Cards

2

0

Double Yellow

0

0

Red Card

0
Other
Ball possession
Beerschot-Wilrijk was in firm control of the ball 60% while Dender was struggling with a 40% ball possession.
Attitude and shots
Beerschot-Wilrijk was more aggressive with 37 dangerous attacks and 8 shots of which 4 were on target. Notwithstanding, that was not enough Beerschot-Wilrijk to win the match​.
Beerschot-Wilrijk shot 8 times, 4 on target, 4 off target. Talking about the opposition, Dender shot 5 times, 1 on target, 4 off target.
Cards
Beerschot-Wilrijk received 4 yellow cards (T. Baeten, R. Sanusi, M. Weymans and ). Regarding the opposition, Dender received 3 yellow cards (O. Myny, K. Borry and Z. Atteri).
Match Timeline
Thibaud Verlinden
- sub ->
R. Vaca
46'
Marco Weymans
- sub ->
L. Seydoux
61'
Dante Rigo
- sub ->
L. Meisl
61'
64'
Nicolas Antoine Rajsel
- sub ->
O. Myny
80'
Z. Atteri
- sub ->
M. Lallemand
Ilias Sebaoui
- sub ->
T. Baeten
87'
Standings
After this match, Beerschot-Wilrijk will have 14 points to sit in the 5th place. Talking about the opposition, Dender will have 8 points like KRC Genk II and Deinze to hold in the 12th place.
Next matches
In the next match in the First Division B, Beerschot-Wilrijk will play away against Deinze on the 17th of December with a 1-0 head to head record in favor of Beerschot-Wilrijk (0 draws).
Dender will host RSC Anderlecht II on the 20th of November with a 0-0 head to head stats.
Beerschot-Wilrijk – Formation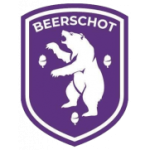 Beerschot-Wilrijk
Substitutes
The manager Andreas Wieland decided to play with the following team: Bill Lathouwers, Frédéric Frans, Hervé Matthys, Jan Van den Bergh, Luca Emanuel Meisl, Mardochee Nzita, Léo Seydoux, Ryan Sanusi, Ramiro Vaca Ponce, Nökkvi Þeyr Þórisson and Thibo Baeten.
The home team had on the bench: Thibaud Verlinden, Marco Weymans, Dante Rigo, Ilias Sebaoui, Andi Koshi, Davor Matijaš and Abdullahi Ibrahim Alhassan.
Substitutions
Beerschot-Wilrijk made 4 changes: R. Vaca for T. Verlinden (46′), L. Seydoux for M. Weymans (61′), L. Meisl for D. Rigo (61′) and T. Baeten for I. Sebaoui (87′).
Dender – Formation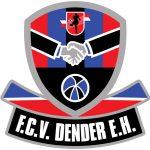 Dender
Substitutes
Regi Van Acker played with: Xavier Gies, Mike Smet, Stefano Marzo, Dylan Ragolle, Kjetil Borry, Olivier Myny, Lennard Hens, Nathan Rodes, Jasper van Oudenhove, Michaël Lallemand and Tiago Cukur.
The following players were sitting on the bench: Nicolas Rajsel, Zakaria Atteri, Ridwane M'Barki, Antoine De Bodt, Brent Gabriel, Jonathan Rowell and Valerii Dubko.
Substitutions
Dender made 2 changes: O. Myny for N. Rajsel (64′) and M. Lallemand for Z. Atteri (80′).
Results of the day
These are the results of the day in the First Division B.​