ROTTERDAM. Sparta Rotterdam tops NEC with a 2-0 win with a goal from D. Abels (7′) and a goal from J. de (29′). NEC lost this match even if it was superior in terms of ball possession (60%).
The match was played at the Sparta-Stadion Het Kasteel stadium in Rotterdam on Sunday and it started at 12:15 pm local time. The referee was Robin Hensgens with the help of Bas van Dongen and Dave Goossens. The 4th official was Jannick van der Laan. The weather was cloudy. The temperature was pleasant at 17.3 degrees Celsius or 63.1 Fahrenheit. The humidity was 68%.​
Match Statistics​
Shots
15

Total

15

5

On Target

4

10

Off Target

11

3

Shots blocked

4
92

Attack

107

39

Dangerous attack

51

80

Ball safe​

87
0

Penalties

0

4

Corners

3
Fouls
13

Total

10

2

Yellow Cards

3

0

Double Yellow

0

0

Red Card

0
Other
Ball possession
NEC was in firm control of the ball 60% while Sparta Rotterdam was struggling with a 40% ball possession.
Attitude and shots
NEC was putting more pressure with 51 dangerous attacks and 15 shots of which 4 were on target. Notwithstanding, Sparta Rotterdam was able to find the solution to win this encounter.​
Sparta Rotterdam shot 15 times, 5 on target, 10 off target. On the opposite side, NEC shot 15 times, 4 on target, 11 off target.
Cards
Sparta Rotterdam received 2 yellow cards (V. van Crooij and T. Lauritsen). On the other side, NEC received 3 yellow cards (S. El Karouani, O. Tannane and C. Verdonk).
Match Timeline
25'
Souffian El Karouani
- Yellow
57'
Marques
- sub ->
M. Mattsson
Vito van Crooy
- sub ->
K. Saito
68'
71'
Ibrahim Cissoko
- sub ->
S. El Karouani
Jeremy van Mullem
- sub ->
J. de Guzman
82'
Mario Engels
- sub ->
T. Lauritsen
90'
Standings
After this match, Sparta Rotterdam will have 17 points to hold in the 6th place. Talking about the opposition, NEC will stay with 10 points like Excelsior to remain in the 11th place.
Next matches
In the next match in the Eredivisie, Sparta Rotterdam will host FC Twente on the 11th of November with a 13-7 head to head stats in favor of FC Twente (3 draws).
NEC will host RKC Waalwijk on the 13th of November with a 15-7 head to head in favor of NEC (3 draws).
Sparta Rotterdam – Formation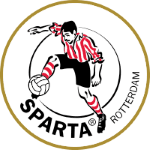 Sparta Rotterdam
Substitutes
Sparta Rotterdam adopted the 4-2-3-1 line-up (4-2-3-1).
The manager Maurice Steijn decided to play with the following team: Nick Olij (7.3), Dirk Abels (8.4), Bart Vriends (6.9), Adil Auassar (7.3), Mica Pinto (7.2), Joshua Kitolano (7.3), Jonathan de Guzmán (7.4), Sven Mijnans (7.5), Arno Verschueren (6.8), Koki Saito (6.8) and Tobias Lauritsen (6.8).
The home team had on the bench: Mohammed Tahiri, Mario Engels, Mike Eerdhuijzen, Jeremy Van Mullem, Vito van Crooij (6.2), Augustin Drakpe, Delano van Crooy, Youri Schoonderwaldt, Aaron Meijers, Omar Rekik and Patrick Brouwer.
Substitutions
Sparta Rotterdam made 4 changes: K. Saito for V. van Crooij (68′), J. de Guzman for J. Van Mullem (82′), S. Mijnans for O. Rekik (90′) and T. Lauritsen for M. Engels (90′).
Best player: Dirk Abels​
Following our analysis, the most impressive player for Sparta Rotterdam was Dirk Abels.
His rating is (8.4) with 1 goal, 25 passes (72% accurate) and 2 key passes. He was won 9 duels out of 9. He performed 1 cross.
NEC – Formation
NEC
Substitutes
Also NEC adopted the 4-2-3-1 line-up (4-2-3-1).
Rogier Meijer played with: Jasper Cillessen (6.4), Bart van Rooij (7.1), Iván Márquez (7.4), Calvin Verdonk (6.7), Souffian El Karouani (5.9), Dirk Proper (6.8), Lasse Schøne (6.5), Elayis Tavsan (6.0), Oussama Tannane (7.0), Magnus Mattsson (6.6) and Landry Dimata (6.8).
These were the players on the bench: Pedro Marques (6.1), Ilias Bronkhorst, Mikkel Duelund (6.4), Robin Roefs, Nils Rossen, Philippe Sandler, Mattijs Branderhorst, Ibrahim Cissoko (6.3) and Terry Sanniez.
Substitutions
NEC made 3 changes: M. Mattsson for P. Marques (57′), D. Proper for M. Duelund (71′) and S. El Karouani for I. Cissoko (71′).
Best player: Iván Márquez​
The most impressive player for NEC was Iván Márquez.
His rating is (7.4) with 54 passes (87% accurate) and 1 key pass. He was won 7 duels out of 10.
Results of the day
These are the results of the day in the Eredivisie.​