RIZE. Rizespor and Eyüpspor didn't manage to score any goal on Saturday..
The match was played at the Çaykur Didi Stadyumu stadium in Rize on Saturday and it started at 4:00 pm local time. The referee was Yiğit Arslan assisted by Hüsnü Emre Çelimli and Gökmen Baltacı. The 4th official was Murat Türkoğlu. The weather was rainy. The temperature was cold at 7.7 degrees Celsius or 45.91 Fahrenheit. The humidity was 86%.​
Match Statistics​
Ball possession
There was not much difference in terms of ball possession. Rizespor was in possession of the ball for 47% of the time vs. Eyüpspor that controlled the ball for 53% of the time.
Attitude and shots
Eyüpspor was more pushing with 71 dangerous attacks and 8 shots of which 1 were on target. Notwithstanding, that was not enough Eyüpspor to win the match​.
Rizespor shot 7 times, 1 on target, 6 off target. Talking about the opposition, Eyüpspor shot 8 times, 1 on target, 7 off target.
Cards
Rizespor received 2 yellow cards (S. Yilmaz and K. Altinay). Talking about the opposition, Eyüpspor received 2 yellow cards (J. Sekidika and O. Bayram).
Match Timeline
46'
Ryan Babel
- sub ->
J. Sekidika
65'
Taşkın İlter
- sub ->
S. Kurt
66'
Mehmet Uçar
- sub ->
P. Dibba
Emircan Altıntaş
- sub ->
B. Keser
74'
Deniz Hümmet
- sub ->
S. Yilmaz
82'
Ercan Coşkun
- sub ->
A. Koc
83'
Standings
After this match, Rizespor will have 13 points like Samsunspor to hold in the 6th place. Talking about the opposition, Eyüpspor will have 18 points like Keçiörengücü to remain in the 2nd place.
Next matches
In the next match in the 1. Lig, Rizespor will play away against Manisa BBSK on the 22nd of October with a 0-0 head to head.
Eyüpspor will host Tuzlaspor on the 2nd of December with a 1-1 head to head.
Rizespor – Formation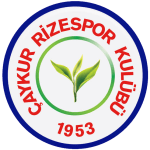 Rizespor
Substitutes
Rizespor started with a mid-fielder-oriented line-up (4-1-4-1).
The manager Bülent Korkmaz decided to play with the following team: Tarık Çetin, Koray Altınay, Bahadır Öztürk, Alberk Koç, Emir Han Topçu, Kerem Kalafat, Sefa Yılmaz, Alper Potuk, Benhur Keser, Mithat Pala and Kubilay Kanatsızkuş.
The home team had on the bench: Seyfettin Anıl Yaşar, Ercan Coşkun, Emircan Altıntaş, Deniz Hümmet, Enriko Papa, Anthony van den Hurk, Berkay Uzun, Zafer Görgen, Emre Ezen and Srđan Grahovac.
Substitutions
Rizespor made 5 changes: B. Keser for E. Altintas (74′), S. Yilmaz for D. Hummet (82′), A. Koc for E. Coskun (83′), K. Kanatsizkus for A. van den Hurk (90′) and A. Potuk for E. Papa (90′).
Eyüpspor – Formation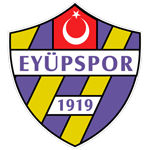 Eyüpspor
Substitutes
Eyüpspor started with a 4-2-3-1 line-up (4-2-3-1).
İbrahim Üzülmez played with: Harun Tekin, Uğur Demirok, Ömer Bayram, Luccas Claro dos Santos, Cenk Ahmet Alkılıç, Recep Niyaz, İbrahim Akdağ, Sinan Kurt, Pa Amat Dibba, Jesse Tamunobaraboye Sekidika and Emeka Friday Eze.
The following players were sitting on the bench: Taşkın İlter, Ryan Guno Babel, Mehmet Murat Uçar, Arda Yumurtacı, Ahmet Özkaya, Mete Kaan Demir, Erdem Gökçe, Alpaslan Öztürk, Cengiz Alp Köseer and Ahmed Ildız.
Substitutions
Eyüpspor made 5 changes: J. Sekidika for R. Babel (46′), S. Kurt for T. Ilter (65′), P. Dibba for M. Ucar (66′), I. Akdag for A. Ildiz (88′) and C. Alkilic for M. K. Demir (88′).
Results of the day
These are the results of the day in the 1. Lig.​