MANISA. Altay succeeded in capture a draw against Manisa BBSK with a late goal from M. Paixao scored in the (88′) after Manisa BBSK got a lead with a goal from M. Uysal (70′). Manisa BBSK was much superior in terms of ball possession (61%)​
The match was played at the Mümin Özkasap Spor Tesisleri stadium in Manisa on Saturday and it started at 1:30 pm local time. The referee was Alper Akarsu with the assistance of Gökhan Memişoğlu and Erkan Akbulut. The 4th official was Mustafa Hakan Belder. The weather was cloudy. The temperature was pleasant at 21.4 degrees Celsius or 70.48 Fahrenheit. The humidity was 45%.​
Match Statistics​
!

61

Ball Possession

39
Shots
20

Total

7

8

On Target

3

12

Off Target

4

0

Shots blocked

0
87

Attack

60

71

Dangerous attack

56

0

Ball safe​

0
0

Penalties

1

8

Corners

4

4

Off Sides

1
Fouls
17

Total

14

1

Yellow Cards

3

0

Double Yellow

0

0

Red Card

0
Other
Ball possession
Manisa BBSK had a strong ball possession 61% while Altay was struggling with a 39% ball possession.
Attitude and shots
Manisa BBSK was putting more pressure with 71 dangerous attacks and 20 shots of which 8 were on target. Notwithstanding, that was not enough Manisa BBSK to win the match​.
Manisa BBSK shot 20 times, 8 on target, 12 off target. On the other side, Altay shot 7 times, 3 on target, 4 off target.
Cards
Manisa BBSK received 1 yellow card (A. Karapo). On the opposite side, Altay received 3 yellow cards (Y. Tekin, M. Gunduz and S. Sarikaya).
Match Timeline
Mehmet Uysal
- sub ->
T. Sahin
64'
71'
Mehmet Gündüz
- sub ->
E. Yetkin
Marvin Gakpa
- sub ->
B. Kor
74'
Eros Grezda
- sub ->
N. Caliskan
90'
90'
Kutay Yokuşlu
- sub ->
M. Paixao
Standings
After this contest, Manisa BBSK will have 12 points like Bandırmaspor and Sakaryaspor to remain in the 10th place. On the opposite side, Altay will have 7 points to hold in the 16th place.
Next matches
In the next match in the 1. Lig, Manisa BBSK will host Rizespor on the 22nd of October with a 0-0 head to head stats.
Altay will play away agasint Denizlispor on the 10th of December with a 4-2 head to head statistic in favor of Denizlispor (1 draw).
Manisa BBSK – Formation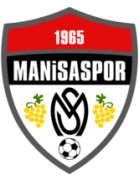 Manisa BBSK
Substitutes
Manisa BBSK started with a aggressive line-up (4-3-3).
The manager Levent Eriş decided to play with the following team: Ömer Kahveci, David Domgjoni, Çağrı Giritlioğlu, Muhammet Taha Şahin, Ayberk Karapo, Nizamettin Çalışkan, Yannick Stark, Burak Altıparmak, Adem Büyük, Batuhan Kör and ‪Demba Diallo.
The home team had on the bench: Muhammed Birkan Tetik, Firat Sari, Kadir Kaan Yurdakul, Oktay Gürdal, Mehmet Uysal, Selim Ilgaz, Sidi Berat Haroun, Eros Grezda, Mert Kuyucu and Marvin Gakpa.
Substitutions
Manisa BBSK made 3 changes: T. Sahin for M. Uysal (64′), B. Kor for M. Gakpa (74′) and N. Caliskan for E. Grezda (90′).
Altay – Formation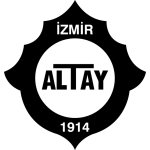 Altay
Substitutes
Altay started with a 3-5-2 line-up (3-5-2).
Sinan Kaloglu played with: Ozan Evrim Özenç, İbrahim Öztürk, Eric Björkander, Salih Sarıkaya, Mohammad Naderi, Yusuf Tekin, Efe Sarıkaya, Ceyhun Gülselam, Arda Gezer, Enes Yetkin and Marco Filipe Lopes Paixão.
The following players were sitting on the bench: Erdem Özcan, Tugay Gündem, Sefa Özdemir, Eren Karataş, Mustafa Çalışkan, Nurettin Küçükdeniz, Kutay Yokuşlu, Murat Uluç, Mehmet Gündüz and Ege Parmaksız.
Substitutions
Altay made 4 changes: E. Yetkin for M. Gunduz (71′), Y. Tekin for E. Ozcam (79′), A. Gezer for N. Kucukdeniz (79′) and M. Paixao for K. Yokuslu (90′).
Results of the day
These are the results of the day in the 1. Lig.​