OSIJEK. Osijek beats Istra 1961 with a 2-0 win with a goal from R. Mierez (62′) and a goal from M. Caktas (90′). Osijek capitalized on its superior ball possession (60%).
The match was played at the Stadion Gradski vrt stadium in Osijek on Saturday and it started at 4:55 pm local time. The referee was Goran Pečarić who was helped by Ivan Mihalj and Anto Marić. The 4th official was Ante Čuljak. The weather was clear. The temperature was pleasant at 16.3 degrees Celsius or 61.34 Fahrenheit. The humidity was 67%.​
Match Statistics​
Shots
21

Total

7

11

On Target

4

10

Off Target

3

0

Shots blocked

0
138

Attack

82

80

Dangerous attack

20

0

Ball safe​

0
0

Penalties

0

7

Corners

1
Fouls
2

Yellow Cards

4

0

Double Yellow

0

0

Red Card

1
Ball possession
Osijek had a superior ball possession 60% while Istra 1961 was struggling with a 40% ball possession.
Attitude and shots
Osijek had a more offensive attitude with 80 dangerous attacks and 21 shots of which 11 were on target. This is one of the reasons why Osijek won the match​.
Osijek shot 21 times, 11 on target, 10 off target. On the other side, Istra 1961 shot 7 times, 4 on target, 3 off target.
Cards
Osijek received 2 yellow cards (A. Barisic and M. Zaper). Talking about the opposition, Istra 1961 received 4 yellow cards (M. Rovis, M. Perkovic, A. Erceg and O. Petrusenko).
Also, Istra 1961 didn't end the match with 11 players after F. Antovski (Istra 1961) was sent off after receiving a straight red card in the (90′).
Match Timeline
Ramón Mierez
- sub ->
M. Leovac
46'
61'
Oleksandr Petrusenko
- Yellow
Ramón Mierez
(goal)
D. Nejasmic
62'
79'
Monsef Bakrar
- sub ->
F. Mlinar
Josip Špoljarić
- sub ->
D. Drena Beljo
84'
Standings
After this match, Osijek will have 24 points to sit in the 3rd place. Regarding the opposition, Istra 1961 will stay with 13 points to remain in the 6th place.
Next matches
In the next match in the 1. HNL, Osijek will play away with Gorica on the 8th of April with a 7-5 head to head stats in favor of Osijek (6 draws).
Istra 1961 will host Gorica on the 20th of May with a 7-3 head to head statistic in favor of Gorica (8 draws).
Osijek – Formation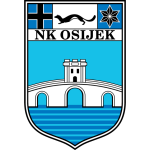 Osijek
Substitutes
Osijek started with a 3-4-2-1 line-up (3-4-2-1).
The manager Nenad Bjelica decided to play with the following team: Ivica Ivušić (6.7), Adrian Leon Barišić (7.2), Mihael Žaper (7.2), Yevgen Cheberko (7.8), Šime Gržan (7.3), Darko Nejašmić (7.6), Vedran Jugović (6.9), Marin Leovac (6.8), Mijo Caktaš (7.7), László Kleinheisler (8.5) and Dion Drena Beljo (6.5).
The home team had on the bench: Marko Malenica, Karlo Bartolec, Mario Jurčevič, Danijel Lončar, Slavko Bralić, Diego Barri, Amer Hiroš, Petar Brlek, Ognjen Bakić, Ramón Miérez (7.4), Mihret Topčagić and Josip Špoljarić.
Substitutions
Osijek made 3 changes: M. Leovac for R. Mierez (46′), D. Drena Beljo for J. Spoljaric (84′) and L. Kleinheisler for A. Hiros (90′).
Best player: László Kleinheisler​
The most impressive player for Osijek was László Kleinheisler even if he didn't score any goal.
His rating is (8.5) with 28 passes (82% accurate) and 3 key passes. He was won 9 duels out of 13. He performed 5 crosses.
Istra 1961 – Formation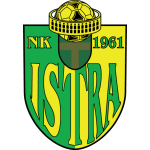 Istra 1961
Substitutes
Istra 1961 started with a 3-5-2 line-up (3-5-2).
Gonzalo Manuel García García played with: Lovro Majkić (7.9), Dario Marešić (6.4), Einar Galilea (7.1), Mauro Perković (6.6), Luka Marin (6.7), Frano Mlinar (6.4), Oleksandr Petrusenko (7.1), Facundo Cáseres (7.3), Mihael Rovis (6.7), Ante Erceg (6.5) and Reda Boultam (6.3).
They had on the bench: Ivan Lučić, Filip Antovski (6.6), Luka Bradarić, Prince Mumba (6.4), Kristijan Kopljar, Antonio Maurić, Monsef Bakrar (6.4), Marin Žgomba and Vinko Petković (6.2).
Istra 1961 could not rely on the presence of V. Petkovic (injured).
Substitutions
Istra 1961 made 4 changes: D. Maresic for P. Mumba (71′), R. Boultam for V. Petkovic (71′), M. Rovis for F. Antovski (79′) and F. Mlinar for M. Bakrar (79′).
Best player: Lovro Majkić​
The player that probably impressed the most for Istra 1961 was the goalkeeper: Lovro Majkić. His rating is 7.92. He performed 7 saves.
Results of the day
These are the results of the day in the 1. HNL.​