SITTARD. Fortuna Sittard and RKC Waalwijk didn't manage to score any goal on Saturday..
The match was played at the Fortuna Sittard Stadion stadium in Sittard on Saturday and it started at 6:45 pm local time. The referee was Joey Kooij assisted by Freek Vandeursen and Dyon Fikkert. The 4th official was Luuk Timmer. The weather was cloudy. The temperature was cold at 14.4 degrees Celsius or 57.94 Fahrenheit. The humidity was 94%.​
Match Statistics​
Shots
9

Total

12

2

On Target

4

7

Off Target

8

5

Shots blocked

2
93

Attack

96

43

Dangerous attack

43

89

Ball safe​

81
0

Penalties

0

8

Corners

5

2

Off Sides

3
Fouls
9

Total

10

3

Yellow Cards

2

0

Double Yellow

0

0

Red Card

0
Other
Ball possession
Fortuna Sittard was in firm control of the ball 55% while RKC Waalwijk was struggling with a 45% ball possession.
Attitude and shots
Fortuna Sittard was putting more pressure with 43 dangerous attacks and 9 shots of which 2 were on target. However, that was not enough Fortuna Sittard to win the match​.
Fortuna Sittard shot 9 times, 2 on target, 7 off target. On the opposite side, RKC Waalwijk shot 12 times, 4 on target, 8 off target.
Cards
Fortuna Sittard received 3 yellow cards (U. Embalo, X. Navarro and O. Ozyakup). On the other side, RKC Waalwijk received 2 yellow cards (R. Kuijpers and M. Kramer).
Match Timeline
Remi Vita
- sub ->
I. Cordoba
46'
60'
Patrick Vroegh
- sub ->
D. Van den Buijs
60'
Roy Kuijpers
- sub ->
I. Bel Hassani
70'
Mika Bieveth
- sub ->
J. Lobete
70'
Yassin Oukili
- sub ->
P. Clement
Muhammet Taşçı
- sub ->
U. Embalo
73'
Paul Gladon
- sub ->
M. Seuntjens
79'
Dogan Erdogan
- sub ->
A. Ferati
79'
83'
Luuk Wouters
- sub ->
T. Lutonda
Standings
After this match, Fortuna Sittard will have 11 points to hold in the 10th place. On the other side, RKC Waalwijk will have 14 points like Sparta Rotterdam and SC Heerenveen to sit in the 6th place.
Next matches
In the next match in the Eredivisie, Fortuna Sittard will play away with FC Groningen on the 13th of November with a 4-2 head to head record in favor of FC Groningen (1 draw).
RKC Waalwijk will host FC Emmen on the 28th of January with a 9-5 head to head record in favor of FC Emmen (4 draws).
Fortuna Sittard – Formation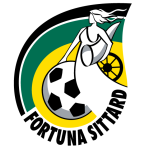 Fortuna Sittard
Substitutes
Fortuna Sittard started with a conservative line-up (4-4-2).
The manager Julio Velázquez Santiago decided to play with the following team: Ivor Pandur (7.4), Ivo Pinto (7.1), Ximo Navarro (6.8), Rodrigo Guth (7.0), George Cox (7.0), Úmaro Embaló (6.6), Oğuzhan Özyakup (7.2), Arianit Ferati (7.4), Iñigo Cordoba (6.8), Mats Seuntjens (6.5) and Burak Yılmaz (6.8).
The home team had on the bench: Paul Gladon (6.4), Doğan Erdoğan (6.4), Muhammet Tunahan Tasci (6.6), Dimitrios Siovas, Vasilios Sourlis, Yanick van Osch, Mike Johannes Hendrikus Josephus van Beijnen, Cole Bassett, Rémy Vita (6.2), Roel Janssen and Tom Hendriks.
Substitutions
Fortuna Sittard made 5 changes: I. Cordoba for R. Vita (46′), U. Embalo for T. Tasci (73′), M. Seuntjens for P. Gladon (79′), A. Ferati for D. Erdogan (79′) and O. Ozyakup for C. Bassett (88′).
Best player: Ivor Pandur​
The player that probably impressed the most for Fortuna Sittard was the goalkeeper: Ivor Pandur. His rating is 7.40. He performed 3 saves.
RKC Waalwijk – Formation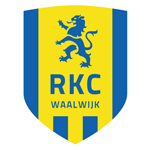 RKC Waalwijk
Substitutes
RKC Waalwijk started with a 5-3-2 line-up (5-3-2).
Joseph Oosting played with: Etienne Vaessen (7.4), Julian Lelieveld (7.6), Jurien Gaari (7.1), Shawn Adewoye (6.9), Dario Van Den Buijs (7.1), Thierry Lutonda (6.8), Iliass Bel Hassani (7.2), Vurnon Anita (6.8), Pelle Clement (6.5), Michiel Kramer (6.6) and Julen Lobete (7.0).
These were the players on the bench: Patrick Vroegh (6.8), Sebbe Augustijns, Roy Kuijpers (6.4), Zakaria Bakkali, Lars Nieuwpoort, Saïd Bakari, Yassin Oukili (6.7), Kevin Felida, Mark Spenkelink, Luuk Wouters, Joel Pereira Castro and Mika Biereth (6.8).
Substitutions
RKC Waalwijk made 5 changes: D. Van den Buijs for P. Vroegh (60′), I. Bel Hassani for R. Kuijpers (60′), J. Lobete for M. Biereth (70′), P. Clement for Y. Oukili (70′) and T. Lutonda for L. Wouters (83′).
Best player: Julian Lelieveld​
As per our analysis, the most impressive player for RKC Waalwijk was Julian Lelieveld.
His rating is (7.6) with 31 passes (96% accurate) and 1 key pass. He was won 7 duels out of 9.
Results of the day
These are the results of the day in the Eredivisie.​