LE HAVRE. Le Havre had a surprising win over Annecy with a 2-0 win with a penalty scored by N. Alioui (74′) and a goal from Q. Cornette (83′). Le Havre was surely better in terms of ball possession (68%) and that was among the factors of its victory.​
The match was played at the Stade Océane stadium in Le Havre on Saturday and it started at 7:00 pm local time. The referee was Guillaume Paradis with the support of Quentin Guidou and Nicolas Durand. The 4th official was Aurélien Grizon. The weather was cloudy. The temperature was cold at 14.5 degrees Celsius or 58.12 Fahrenheit. The humidity was 62%.​
Match Statistics​
Ball possession
Le Havre was in firm control of the ball 68% while Annecy was struggling with a 32% ball possession.
Attitude and shots
Le Havre was more aggressive with 52 dangerous attacks and 12 shots of which 5 were on target. This is one of the reasons why Le Havre won the match​.
Le Havre shot 12 times, 5 on target, 7 off target. On the opposite side, Annecy shot 3 times, 0 on target, 3 off target.
Cards
Le Havre received 2 yellow cards (Y. Kechta and J. Casimir). Regarding the opposition, Annecy received 4 yellow cards (M. Bastian, K. Mouanga, V. Pajot and I. Balde).
Also, Annecy didn't end the match with 11 players after M. Bastian (Annecy) was sent off after receiving a second yellow card (63′).
Match Timeline
N. Mbemba
- sub ->
V. Lekhal
46'
Q. Cornette
- sub ->
Y. Kitala
71'
72'
S. Shamal
- sub ->
M. S. Dion
A. Confais
- sub ->
Y. Kechta
80'
E. Mahmoud
- sub ->
J. Casimir
80'
80'
J. Rocchi
- sub ->
A. Bosetti
80'
I. Balde
- sub ->
C. Billemaz
Y. Gomes
- sub ->
N. Alioui
86'
Standings
After playing this contest, Le Havre will have 18 points to hold in the 2nd place. On the opposite side, Annecy will stay with 9 points like Rodez to hold in the 15th place.
Next matches
In the next match in the Ligue 2, Le Havre will play away with Dijon on the 1st of October with a 9-6 head to head record in favor of Le Havre (5 draws).
Annecy will host Bastia on the 1st of October with a 1-0 head to head stats in favor of Bastia (0 draws).
Le Havre – Formation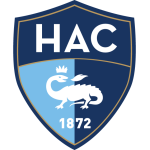 Le Havre
Substitutes
Le Havre started with a aggressive line-up (4-3-3).
The manager Luka Elsner decided to play with the following team: Arthur Desmas (6.8), Oualid El Hajjam (7.1), Arouna Sangante (6.8), Gautier Lloris (7.4), Christopher Operi (7.8), Amir Richardson (7.0), Victor Lekhal (7.5), Yassine Kechta (6.4), Josué Casimir (7.3), Yann Kitala (6.5) and Nabil Alioui (7.5).
The home team had on the bench: Elies Mahmoud (6.9), Ylan Gomes (6.2), Z. Diallo, Quentin Cornette (7.4), Nolan Mbemba (7.0), Alois Confais (6.2) and M. Gorgelin.
Substitutions
Le Havre made 5 changes: V. Lekhal for N. Mbemba (46′), Y. Kitala for Q. Cornette (71′), Y. Kechta for A. Confais (80′), J. Casimir for E. Mahmoud (80′) and N. Alioui for Y. Gomes (86′).
Best player: Christopher Operi​
The player that probably impressed the most for Le Havre was Christopher Operi even if he didn't score any goal.
His rating is (7.8) with 52 passes (86% accurate) and 1 key pass. He was won 9 duels out of 14. He performed 3 crosses.
Annecy – Formation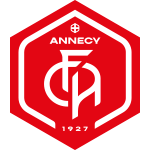 Annecy
Substitutes
Annecy started with a 3-5-2 line-up (3-5-2).
Laurent Guyot played with: Florian Escales (6.6), Francois Lajugie (6.3), Kevin Mouanga (6.4), Gaby Jean (6.4), Kevin Testud (6.7), Arnold Temanfo (6.3), Vincent Pajot (6.1), Clement Billemaz (5.7), Maxime Bastian (5.9), Dion Moise Sahi (6.8) and Alexy Bosetti (6.9).
They had on the bench: M. El Jaouhari, J. Ruque, Steve Shamal (6.3), J. Gonçalvés, Jean-Jacques Rocchi (6.2), Ibrahima Baldé (6.6) and T. Callens.
Substitutions
Annecy made 3 changes: M. S. Dion for S. Shamal (72′), A. Bosetti for J. Rocchi (80′) and C. Billemaz for I. Balde (80′).
Best player: Alexy Bosetti​
The most impressive player for Annecy was Alexy Bosetti.
His rating is (6.9) with 24 passes (58% accurate) and 2 key passes. He was won 2 duels out of 4. He performed 7 crosses.
Results of the day
These are the results of the day in the Ligue 2.​