SOFIA. Slavia Sofia tops Beroe with a 2-0 win with a goal from E. Stoev (45′) and a goal from K. Nguena (70′). Slavia Sofia capitalized on its better ball possession (59%).
The match was played at the Stadion Slavija stadium in Sofia on Saturday and it started at 7:45 pm local time. The weather was clear. The temperature was pleasant at 17.1 degrees Celsius or 62.82 Fahrenheit. The humidity was 87%.​
Match Statistics​
Shots
11

Total

3

6

On Target

1

5

Off Target

2

0

Shots blocked

0
126

Attack

95

84

Dangerous attack

46

0

Ball safe​

0
0

Penalties

0

11

Corners

2
Fouls
3

Yellow Cards

0

0

Double Yellow

0

0

Red Card

0
Other
Ball possession
Slavia Sofia was in firm control of the ball 59% while Beroe was struggling with a 41% ball possession.
Attitude and shots
Slavia Sofia was more aggressive with 84 dangerous attacks and 11 shots of which 6 were on target. This is one of the reasons why Slavia Sofia won the match​.
Slavia Sofia shot 11 times, 6 on target, 5 off target. On the opposite side, Beroe shot 3 times, 1 on target, 2 off target.
Cards
Slavia Sofia received 3 yellow cards (K. Cheshmedjiev, G. Valchev and E. Stoev). On the opposite side, Beroe didn't receive any yellow card.
Match Timeline
46'
L. Martins
- sub ->
A. Toungara
V. Kerchev
- sub ->
K. Cheshmedjiev
46'
K. Dobrev
- sub ->
E. Stoev
64'
75'
L. Silva
- sub ->
K. Krastev
E. Dost
- sub ->
I. Minchev
75'
75'
V. Pugliese
- sub ->
S. Traore
H. Popadiyn
- sub ->
G. Valchev
90'
M. Sorakov
- sub ->
T. Tasev
90'
Standings
After playing this match, Slavia Sofia will have 18 points like Lokomotiv Sofia 1929 to sit in the 6th place. On the other side, Beroe will stay with 11 points to remain in the 10th place.
Next matches
Slavia Sofia – Formation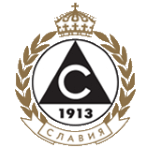 Slavia Sofia
Substitutes
Slavia Sofia started with a mid-fielder-oriented line-up (4-1-4-1).
The manager Zlatomir Zagorčić decided to play with the following team: Svetoslav Vutsov, Ertan Tombak, Emil Viyachki, Konstantin Cheshmedjiev, Ludovic Soares, Georgi Valchev, Emil Stoev, Kemelho Nguena, Ivan Minchev, Toni Tasev and Galin Ivanov.
The home team had on the bench: Nikolay Krastev, Ventsislav Kerchev, Hristo Popadiyn, Erol Dost, Darko Tasevski, Kristian Dobrev and Martin Sorakov.
Substitutions
Slavia Sofia made 5 changes: K. Cheshmedjiev for V. Kerchev (46′), E. Stoev for K. Dobrev (64′), I. Minchev for E. Dost (75′), G. Valchev for H. Popadiyn (90′) and T. Tasev for M. Sorakov (90′).
Beroe – Formation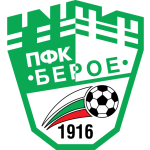 Beroe
Substitutes
Beroe started with a 4-2-3-1 line-up (4-2-3-1).
Nikolay Kirov played with: Ivan Goshev, Simeon Mechev, Dimitar Pirgov, Stiliyan Nikolov, Ruca, Anicet Abel, Serkan Ussein, Stiv Traore, Aboubacar Toungara, Spas Georgiev and Kaloyan Krastev.
The following players were sitting on the bench: Ivan Karadzhov, Georgi Dinkov, Lucas Willian, Nikolaj Nikolaev, Valentino Pugliese, Dimitar Stoyanov and Luizinho Da Silva.
Substitutions
Beroe made 3 changes: A. Toungara for L. Martins (46′), K. Krastev for L. Silva (75′) and S. Traore for V. Pugliese (75′).
Results of the day
These are the results of the day in the Parva Liga.​