BOLTON. Bradford City was finally too much to handle for Stevenage with the goal of A. Cook (6′), A. Cook (56′) and T. Wright (62′).
Bradford City remained in players after B. Halliday received a double yellow card in the 89′.
The match was played at the University of Bolton Stadium stadium in Bolton on Saturday and it started at 3:00 pm local time. The referee was Lee Swabey with the support of Wayne Grunnill and Steve Durnall. The 4th official was Richard Woodward. The weather was cloudy. The temperature was cold at 14.9 degrees Celsius or 58.77 Fahrenheit. The humidity was 59%.​
Match Statistics​
Shots
12

Total

16

3

On Target

2

9

Off Target

14

0

Shots blocked

0
58

Attack

110

35

Dangerous attack

66

0

Ball safe​

0
0

Penalties

0

2

Corners

11
Fouls
14

Total

14

3

Yellow Cards

1

0

Double Yellow

0

1

Red Card

0
Other
Ball possession
No teams had a vastly superior advantage in terms of ball possession. Bradford City was in possession of the ball for 54% of the time vs. Stevenage that controlled the ball for 46% of the time.
Attitude and shots
Stevenage was more aggressive with 66 dangerous attacks and 16 shots of which 2 were on target. Notwithstanding, Bradford City found a way to find the solution to win this match.​
Bradford City shot 12 times, 3 on target, 9 off target. Talking about the opposition, Stevenage shot 16 times, 2 on target, 14 off target.
Cards
Bradford City received 2 yellow cards (B. Halliday and T. Odusina). On the other side, Stevenage received 1 yellow card (J. Roberts).
B. Halliday (Bradford City) was sent off after receiving a second yellow card (89′).
Match Timeline
A. Cook
(goal)
R. Smallwood
6'
61'
J. Taylor
- sub ->
J. Reeves
L. Sutton
- sub ->
S. Banks
67'
Y. Songo\'o
- sub ->
H. Chapman
67'
Standings
After playing this match, Bradford City will have 17 points like Salford City to sit in the 5th place. On the other side, Stevenage will stay with 19 points to sit in the 4th place.
Next matches
In the next match in the League Two, Bradford City will play away against Swindon Town on the 18th of April with a 6-5 head to head statistic in favor of Swindon Town (5 draws).
Stevenage will host Doncaster Rovers on the 18th of April with a 3-1 head to head stats in favor of Doncaster Rovers (1 draw).
Bradford City – Formation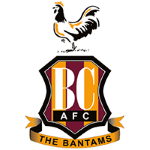 Bradford City
Substitutes
Bradford City started with a 4-2-3-1 line-up (4-2-3-1).
The manager Mark Hughes decided to play with the following team: Harry Lewis (7.4), Brad Halliday (6.8), Matthew Platt (7.3), Timi Odusina (6.9), Matthew Foulds (6.9), Richard Smallwood (7.8), Alex Gilliead (6.8), Scott Banks (6.8), Harrison Chapman (7.1), Tyreik Wright (7.8) and Andy Cook (7.5).
The home team had on the bench: J. Young, Vadaine Oliver (6.5), K. Harratt, Levi Sutton (6.2), C. Doyle, Yann Songo'o (6.5) and L. Angol.
Substitutions
Bradford City made 3 changes: S. Banks for L. Sutton (67′), H. Chapman for Y. Songo'o (67′) and A. Cook for V. Oliver (77′).
Best player: Richard Smallwood​
The most impressive player for Bradford City was Richard Smallwood even if he didn't score any goal.
His rating is (7.8) with 40 passes (72% accurate) and 1 key pass. He was won 4 duels out of 7. He performed 2 crosses.
Stevenage – Formation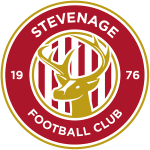 Stevenage
Substitutes
Stevenage started with a 3-4-1-2 line-up (3-4-1-2).
Steve Evans played with: Taye Ashby-Hammond (6.2), Dan Sweeney (6.7), Terence Vancooten (6.3), Carl Piergianni (6.2), Luther James-Wildin (6.8), Alex Gilbey (6.5), Jake Reeves (6.5), Saxon Earley (6.8), Jordan Roberts (7.0), Luke Norris (6.8) and Jamie Reid (6.8).
These were the players on the bench: K. Smith, Danny Rose (6.9), M. Clark, Jake Taylor (6.8), A. Chapman, D. Campbell and A. Read.
Substitutions
Stevenage made 2 changes: L. Norris for D. Rose (61′) and J. Reeves for J. Taylor (61′).
Best player: Jordan Roberts​
Following our analysis, the most impressive player for Stevenage was Jordan Roberts.
His rating is (7.0) with 27 passes (48% accurate) and 0 key passes. He was won 8 duels out of 14. He performed 1 cross.
Results of the day
These are the results of the day in the League Two.​