KRAKóW. Pogoń Szczecin and Cracovia Kraków draw 1-1. K. Grosicki scored the first goal (70′) for Pogoń Szczecin. B. Kallman settled the score (74′). Pogoń Szczecin was much better in terms of ball possession (64%)​
The match was played at the Stadion Cracovii im. Józefa Piłsudskiego stadium in Kraków on Saturday and it started at 8:00 pm local time. In front of 7,259 spectators.​ The referee was Tomasz Kwiatkowski with the assistance of Michal Obukowicz and Tomasz Niemirowski. The 4th official was Leszek Lewandowski. The weather was cloudy. The temperature was cold at 11.3 degrees Celsius or 52.34 Fahrenheit. The humidity was 86%.​
Match Statistics​
Shots
10

Total

11

2

On Target

3

8

Off Target

8

1

Shots blocked

5
77

Attack

124

56

Dangerous attack

75

90

Ball safe​

93
0

Penalties

0

3

Corners

4
Fouls
8

Total

6

0

Yellow Cards

0

0

Double Yellow

0

0

Red Card

0
Other
Ball possession
Pogoń Szczecin had a superior ball possession 64% while Cracovia Kraków was struggling with a 36% ball possession.
Attitude and shots
Pogoń Szczecin was more aggressive with 75 dangerous attacks and 11 shots of which 3 were on target. Notwithstanding, that was not enough Pogoń Szczecin to win the match​.
Cracovia Kraków shot 10 times, 2 on target, 8 off target. Talking about the opposition, Pogoń Szczecin shot 11 times, 3 on target, 8 off target.
Cards
None of the teams received any yellow card.
Match Timeline
61'
M. Kucharczyk
- sub ->
Jean Carlos
P. Makuch
- sub ->
M. Rakoczy
68'
72'
K. Drygas
- sub ->
M. Legowski
72'
V. Bichakhchyan
- sub ->
S. Kowalczyk
E. Konoplyanka
- sub ->
J. Myszor
78'
M. Siplak
- sub ->
P. Jaroszynski
78'
M. Rasmussen
- sub ->
B. Kallman
82'
86'
M. Fornalczyk
- sub ->
L. Zahovic
Standings
After this match, Cracovia Kraków will have 14 points like Radomiak Radom to hold in the 6th place. On the other side, Pogoń Szczecin will have 18 points to sit in the 3rd place.
Next matches
In the next match in the Ekstraklasa, Cracovia Kraków will play away against Miedź Legnica on the 16th of October with a 1-0 head to head stats in favor of Miedź Legnica (1 draw).
Pogoń Szczecin will host Piast Gliwice on the 15th of October with a 11-6 head to head record in favor of Pogoń Szczecin (8 draws).
Cracovia Kraków – Formation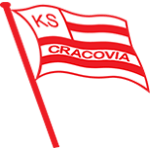 Cracovia Kraków
Substitutes
Cracovia Kraków started with a 3-4-2-1 line-up (3-4-2-1).
The manager Jacek Zielinski decided to play with the following team: Karol Niemczycki (6.6), Jakub Jugas (6.5), Matej Rodin (7.4), Virgil Ghiță (7.3), Otar Kakabadze (7.4), Takuto Oshima (7.1), Florian Loshaj (7.0), Paweł Jaroszyński (6.3), Jakub Myszor (7.9), Michał Rakoczy (6.2) and Benjamin Källman (7.1).
The home team had on the bench: Adam Wilk, Cornel Râpă, David Jablonsky, Mathias Hebo Rasmussen (6.4), Karol Knap, Michal Siplak (6.6), Yevhen Konoplyanka (6.8), Przemysław Kapek and Patryk Makuch (7.0).
Cracovia Kraków could not rely on the presence of M. Rasmussen (injured).
Substitutions
Cracovia Kraków made 4 changes: M. Rakoczy for P. Makuch (68′), J. Myszor for E. Konoplyanka (78′), P. Jaroszynski for M. Siplak (78′) and B. Kallman for M. Rasmussen (82′).
Best player: Jakub Myszor​
Following our analysis, the most impressive player for Cracovia Kraków was Jakub Myszor.
His rating is (7.9) with 10 passes (50% accurate) and 3 key passes. He was won 6 duels out of 8. He performed 2 crosses.
Pogoń Szczecin – Formation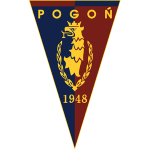 Pogoń Szczecin
Substitutes
Pogoń Szczecin started with a mid-fielder-oriented line-up (4-1-4-1).
Jens Gustafsson played with: Dante Stipica (6.6), Jakub Bartkowski (6.6), Konstantinos Triantafyllopoulos (6.8), Benedikt Zech (7.1), Luís Mata (7.1), Damian Dąbrowski (6.8), Jean Carlos (7.6), Mateusz Łęgowski (6.7), Sebastian Kowalczyk (6.6), Kamil Grosicki (7.7) and Luka Zahović (6.8).
The following players were sitting on the bench: Bartosz Klebaniuk, Paweł Stolarski, Mariusz Malec, Vahan Bichakhchyan (6.7), Stanislaw Wawrzynowicz, Marcel Wedrychowski, Michał Kucharczyk (6.6), Kamil Drygas (6.4) and Mariusz Fornalczyk (6.4).
Substitutions
Pogoń Szczecin made 4 changes: Jean Carlos for M. Kucharczyk (61′), M. Legowski for K. Drygas (72′), S. Kowalczyk for V. Bichakhchyan (72′) and L. Zahovic for M. Fornalczyk (86′).
Best player: Kamil Grosicki​
The player that probably impressed the most for Pogoń Szczecin was Kamil Grosicki.
His rating is (7.7) with 1 goal, 22 passes (77% accurate) and 1 key pass. He was won 1 duel out of 1. He performed 3 crosses.
Results of the day
These are the results of the day in the Ekstraklasa.​