LUBARTóW. Widzew Lodz was finally too good for Stal Mielec with the goal of J. Sanchez (53′), D. Kun (82′) and J. Sypek (87′). Stal Mielec lost this match even if it was better in terms of ball possession (57%).
The match was played at the Stadion Miejski w Lubartowie stadium in Lubartów on Saturday and it started at 12:30 pm local time. In front of 4,953 spectators.​ The referee was Krzysztof Jakubik who had the assistance of Arkadiusz Wójcik and Bolesław Rosa. The 4th official was Karol Iwanowicz. The weather was cloudy. The temperature was pleasant at 16.5 degrees Celsius or 61.75 Fahrenheit. The humidity was 55%.​
Match Statistics​
Shots
15

Total

9

6

On Target

4

9

Off Target

5

4

Shots blocked

3
111

Attack

66

107

Dangerous attack

44

72

Ball safe​

82
0

Penalties

0

11

Corners

3
Fouls
10

Total

11

1

Yellow Cards

1

0

Double Yellow

0

0

Red Card

0
Other
Ball possession
Stal Mielec was in firm control of the ball 57% while Widzew Lodz was struggling with a 43% ball possession.
Attitude and shots
Stal Mielec had a more offensive attitude with 107 dangerous attacks and 15 shots of which 6 were on target. Nevertheless, Widzew Lodz managed to find the solution to win this contest.​
Stal Mielec shot 15 times, 6 on target, 9 off target. On the opposite side, Widzew Lodz shot 9 times, 4 on target, 5 off target.
Cards
Stal Mielec received 1 yellow card (M. Flis). On the opposite side, Widzew Lodz received 1 yellow card (S. Szota).
Match Timeline
46'
P. Lipski
- sub ->
M. Hanousek
53'
J. Sanchez
(goal)
P. Zielinski
A. Ratajczyk
- sub ->
F. Hiszpanski
60'
62'
K. Danielak
- sub ->
J. Letniowski
71'
J. Sypek
- sub ->
L. Zjawinski
B. Vastsuk
- sub ->
F. Gerbowski
78'
D. Barauskas
- sub ->
M. Domanski
85'
88'
B. Chorbadzhiyski
- sub ->
M. Kreuzriegler
88'
A. Debinski
- sub ->
D. Kun
Standings
After playing this contest, Stal Mielec will stay with 13 points like Jagiellonia Białystok and Śląsk Wrocław to remain in the 10th place. Regarding the opposition, Widzew Lodz will have 16 points to remain in the 5th place.
Next matches
In the next match in the Ekstraklasa, Stal Mielec will host Pogoń Szczecin on the 7th of October with a 3-1 head to head record in favor of Pogoń Szczecin (0 draws).
Widzew Lodz will host Zagłębie Lubin on the 16th of October with a 6-3 head to head in favor of Zagłębie Lubin (5 draws).
Stal Mielec – Formation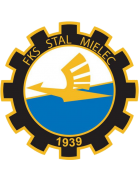 Stal Mielec
Substitutes
Stal Mielec adopted the 3-4-2-1 line-up (3-4-2-1).
The manager Adam Majewski decided to play with the following team: Bartosz Mrozek (6.1), Arkadiusz Kasperkiewicz (7.1), Mateusz Matras (7.1), Marcin Flis (6.2), Fabian Hiszpański (6.7), Maciej Domański (7.3), Piotr Wlazło (7.1), Krystian Getinger (7.6), Mikołaj Lebedyński (6.7), Fryderyk Gerbowski (7.3) and Said Hamulic (6.1).
The home team had on the bench: Mateusz Dudek, Kamil Kruk, Leândro, Dominykas Barauskas (6.4), Paweł Żyra, Michael Wyparło, Bogdan Vastsuk (6.1), Adam Ratajczyk (6.1) and David Poreba.
Substitutions
Stal Mielec made 3 changes: F. Hiszpanski for A. Ratajczyk (60′), F. Gerbowski for B. Vastsuk (78′) and M. Domanski for D. Barauskas (85′).
Best player: Krystian Getinger​
The most impressive player for Stal Mielec was Krystian Getinger.
His rating is (7.6) with 26 passes (80% accurate) and 2 key passes. He performed 9 crosses.
Widzew Lodz – Formation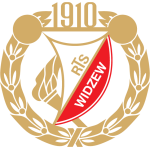 Widzew Lodz
Substitutes
Also Widzew Lodz adopted the 3-4-2-1 line-up (3-4-2-1).
Janusz Niedźwiedź played with: Henrich Ravas (7.3), Patryk Stępiński (7.1), Serafin Szota (7.4), Martin Kreuzriegler (7.5), Pawel Zielinski (7.3), Dominik Kun (8.1), Marek Hanousek (6.9), Mato Miloš (7.0), Łukasz Zjawiński (6.7), Juliusz Letniowski (7.3) and Jordi Sánchez (7.2).
These were the players on the bench: Vasil Litvinenko, Bozhidar Chorbadzhiyski, Karol Danielak (6.6), Bartłomiej Pawłowski, Patryk Lipski (7.2), Jakub Sypek (7.2), Adam Debinski, Ignacy Dawid and Kristoffer Normann Hansen.
Widzew Lodz could not rely on the presence of P. Lipski (injured).
Substitutions
Widzew Lodz made 5 changes: M. Hanousek for P. Lipski (46′), J. Letniowski for K. Danielak (62′), L. Zjawinski for J. Sypek (71′), M. Kreuzriegler for B. Chorbadzhiyski (88′) and D. Kun for A. Debinski (88′).
Best player: Dominik Kun​
The most impressive player for Widzew Lodz was Dominik Kun.
His rating is (8.1) with 1 goal, 42 passes (76% accurate) and 1 key pass. He was won 3 duels out of 10. He performed 1 cross.
Results of the day
These are the results of the day in the Ekstraklasa.​