ÅRHUS. AGF beats AaB 3-1. AGF was just to good to grab a decisive 3-0 lead with P. Mortensen (52′), P. Mortensen (64′) and K. Yakob (72′). AaB reduced the distance with a goal (76′) by J. Pedersen, but there was not much to do for them.
The match was played at the Ceres Park & Arena (Århus) stadium in Århus on Saturday and it started at 5:00 pm local time. The referee was Aydin Uslu with the support of Jesper Dahl and Danny Kolding. The 4th official was Nils Heer. The weather was cloudy. The temperature was cold at 13.9 degrees Celsius or 57.04 Fahrenheit. The humidity was 75%.​
Match Statistics​
Ball possession
AGF was in firm control of the ball 55% while AaB was struggling with a 45% ball possession.
Attitude and shots
AGF was putting more pressure with 65 dangerous attacks and 16 shots of which 7 were on target. This is one of the reasons why AGF won the match​.
AGF shot 16 times, 7 on target, 9 off target. Talking about the opposition, AaB shot 3 times, 2 on target, 1 off target.
Cards
AGF received 1 yellow card (N. Poulsen). Regarding the opposition, AaB received 1 yellow card (L. Prip).
Match Timeline
P. Mortensen
(goal)
K. Yakob
52'
P. Mortensen
(goal)
K. Yakob
64'
66'
O. Ross
- sub ->
L. Andersen
67'
J. Ahlmann
- sub ->
A. Poulsen
T. Molgaard
- sub ->
E. Kahl
68'
G. Links
- sub ->
A. D\'Alberto
68'
75'
J. Pedersen
- sub ->
Y. Bakiz
S. Gronning
- sub ->
S. Haugen
75'
F. Brandhof
- sub ->
K. Yakob
76'
J. Duin
- sub ->
P. Mortensen
85'
Standings
After this match, AGF will have 16 points like Silkeborg to hold in the 5th place. On the opposite side, AaB will stay with 9 points to remain in the 11th place.
Next matches
In the next match in the Superliga, AGF will host København on the 13th of November with a 22-4 head to head stats in favor of København (15 draws).
AaB will play away agasint Nordsjælland on the 13th of November with a 17-16 head to head stats in favor of Nordsjælland (18 draws).
AGF – Formation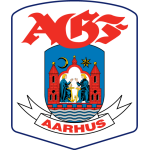 AGF
Substitutes
AGF started with a 3-5-2 line-up (3-5-2).
The manager Uwe Rösler decided to play with the following team: Jesper Hansen (6.7), Thomas Kristensen (7.3), Frederik Tingager (6.8), Yann Bisseck (7.1), Anthony D'Alberto (6.9), Kevin Yakob (9.0), Nicolai Poulsen (6.4), Mikael Anderson (6.9), Eric Kahl (6.9), Patrick Mortensen (8.6) and Sigurd Haugen (7.1).
The home team had on the bench: Per Kristian Bråtveit, Alexander Munksgaard, Sebastian Hausner, Gift Links (7.2), Tobias Mølgaard (6.4), Benjamin Hvidt, Frederik Brandhof (6.6), Jelle Duin (6.2) and Sebastian Grønning (6.6).
Substitutions
AGF made 5 changes: E. Kahl for T. Molgaard (68′), A. D'Alberto for G. Links (68′), S. Haugen for S. Gronning (75′), K. Yakob for F. Brandhof (76′) and P. Mortensen for J. Duin (85′).
Best player: Kevin Yakob​
The most impressive player for AGF was Kevin Yakob.
His rating is (9.0) with 1 goal, 38 passes (86% accurate) and 5 key passes. He was won 3 duels out of 8. He performed 3 crosses.
AaB – Formation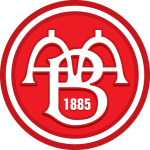 AaB
Substitutes
AaB started with a conservative line-up (4-5-1).
Lars Friis played with: Josip Posavec (7.3), Kilian Ludewig (6.2), Kristoffer Pallesen (6.6), Lars Kramer (7.1), Andreas Poulsen (6.4), Allan Sousa (7.0), Iver Fossum (7.1), Malthe Højholt (6.5), Louka Prip (6.3), Younes Bakiz (6.5) and Lucas Andersen (6.6).
These were the players on the bench: Theo Sander, Sebastian Otoa, Jeppe Pedersen (7.4), Jakob Ahlmann (6.6), Anosike Ementa, Oliver Ross (6.2) and Anders Noshe.
Substitutions
AaB made 3 changes: L. Andersen for O. Ross (66′), A. Poulsen for J. Ahlmann (67′) and Y. Bakiz for J. Pedersen (75′).
Best player: Jeppe Pedersen​
Following our analysis, the most impressive player for AaB was Jeppe Pedersen.
His rating is (7.4) with 1 goal, 5 passes (60% accurate) and 0 key passes. He was won 2 duels out of 2.
His performance was remarkable also because he started the match from the bench before entering the filed in the 75′.
Results of the day
These are the results of the day in the Superliga.​