VELIKA GORICA. Osijek defeats Gorica 1-0 after S. Grzan scored just 1 goal (19′).
M. Raspopovic received a red card (90′)​. This red card was one of the reason why Gorica lost the match.
The match was played at the ŠRC Velika Gorica stadium in Velika Gorica on Saturday and it started at 4:55 pm local time. The referee was Duje Strukan assisted by Alen Jakšić and Vice Vidović. The 4th official was Ante Terzić. The weather was rainy. The temperature was cold at 10.2 degrees Celsius or 50.41 Fahrenheit. The humidity was 89%.​
Match Statistics​
Ball possession
Gorica was in firm control of the ball 55% while Osijek was struggling with a 45% ball possession.
Attitude and shots
Gorica was putting more pressure with 79 dangerous attacks and 11 shots of which 3 were on target. Still, Osijek managed to find the solution to win this match.​
Gorica shot 11 times, 3 on target, 8 off target. Regarding the opposition, Osijek shot 6 times, 4 on target, 2 off target.
Cards
Gorica received 5 yellow cards (J. Suk, M. Steenvoorden, P. Golubickas, A. Jovicic and I. Banic). On the other side, Osijek received 3 yellow cards (Barri, R. Mierez and D. Loncar).
(Gorica) was sent off after receiving a red card in the (90′).
Match Timeline
M. Raspopovic
- sub ->
M. Wague
46'
J. Mitrovic
- sub ->
M. Ndockyt
56'
64'
L. Kleinheisler
- sub ->
Barri
64'
V. Jugovic
- sub ->
D. Drena Beljo
P. Golubickas
- sub ->
J. Prsir
68'
M. Vojtko
- sub ->
K. Krizmanic
68'
C. Da Cruz
- sub ->
T. Francois
75'
78'
S. Bralic
- sub ->
S. Grzan
Standings
After playing this match, Gorica will stay with 5 points like Rijeka to hold in the 9th place. On the opposite side, Osijek will have 15 points like Varaždin to hold in the 4th place.
Next matches
In the next match in the 1. HNL, Gorica will play away against Dinamo Zagreb on the 3rd of June with a 16-1 head to head stats in favor of Dinamo Zagreb (1 draw).
Osijek will play away agasint Gorica on the 8th of April with a 7-5 head to head record in favor of Osijek (6 draws).
Gorica – Formation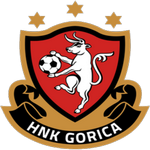 Gorica
Substitutes
Gorica started with a 4-2-3-1 line-up (4-2-3-1).
The manager Samir Toplak decided to play with the following team: Ivan Banić (6.6), Moussa Wagué (6.6), Matthew Steenvoorden (6.9), Aleksandar Jovičić (7.4), Krešimir Krizmanić (6.4), Tyrese Francois (6.2), Jurica Pršir (6.4), Merveil Ndockyt (6.7), Joey Suk (5.2), Toni Fruk (6.4) and Deni Jurić (6.7).
The home team had on the bench: Karlo Žiger, Amet Korça, Momčilo Raspopović (6.3), Matúš Vojtko (6.6), Edin Julardžija, Josip Mitrović (6.5), Paulius Golubickas (6.7), Dominik Prokop, Fran Tomek, Wallace, Caio Cruz (6.7) and Nikola Vujnović.
Substitutions
Gorica made 5 changes: M. Wague for M. Raspopovic (46′), M. Ndockyt for J. Mitrovic (56′), J. Prsir for P. Golubickas (68′), K. Krizmanic for M. Vojtko (68′) and T. Francois for C. Da Cruz (75′).
Best player: Aleksandar Jovičić​
The most impressive player for Gorica was Aleksandar Jovičić.
His rating is (7.4) with 28 passes (39% accurate) and 1 key pass. He was won 11 duels out of 14.
Osijek – Formation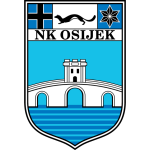 Osijek
Substitutes
Osijek started with a 4-3-1-2 line-up (4-3-1-2).
Nenad Bjelica played with: Ivica Ivušić (7.6), Šime Gržan (7.8), Danijel Lončar (7.0), Yevgen Cheberko (7.1), Marin Leovac (7.0), Mihael Žaper (7.5), Darko Nejašmić (7.0), Diego Barri (6.2), Mijo Caktaš (6.4), Ramón Miérez (6.9) and Dion Drena Beljo (6.8).
They had on the bench: Marko Malenica, Karlo Bartolec, Mario Jurčevič, Slavko Bralić (6.6), László Kleinheisler (6.4), Vedran Jugović (6.2), Amer Hiroš, Ivan Fiolić, Petar Brlek, Ognjen Bakić, Kristian Fućak and Mihret Topčagić.
Substitutions
Osijek made 3 changes: Barri for L. Kleinheisler (64′), D. Drena Beljo for V. Jugovic (64′) and S. Grzan for S. Bralic (78′).
Best player: Šime Gržan​
As per our analysis, the most impressive player for Osijek was Šime Gržan.
His rating is (7.8) with 1 goal, 14 passes (35% accurate) and 0 key passes. He was won 6 duels out of 7.
Results of the day
These are the results of the day in the 1. HNL.​