WAREGEM. Sint-Truiden was in the end too good for Zulte-Waregem with the goal of G. Bruno was the key player of the match after he scored in the 1st and 58th minute. G. Bruno (1′), S. Okazaki (50′) and G. Bruno (58′ pen).
The match was played at the Elindus Arena stadium in Waregem on Saturday and it started at 6:15 pm local time. The referee was Brent Staessens with the assistance of Dirk Gilon and Koen Thijs. The 4th official was Wim Smet. The weather was cloudy. The temperature was cold at 12.6 degrees Celsius or 54.73 Fahrenheit. The humidity was 83%.​
Match Statistics​
Shots
3

Total

18

2

On Target

3

1

Off Target

15

0

Shots blocked

0
100

Attack

123

40

Dangerous attack

59

0

Ball safe​

0
0

Penalties

1

0

Corners

4
Fouls
13

Total

15

1

Yellow Cards

3

0

Double Yellow

0

1

Red Card

0
Other
Ball possession
There was not much difference in terms of ball possession. Zulte-Waregem was in possession of the ball for 48% of the time vs. Sint-Truiden that controlled the ball for 52% of the time.
Attitude and shots
Sint-Truiden was putting more pressure with 59 dangerous attacks and 18 shots of which 3 were on target. This is one of the reasons why Sint-Truiden won the match.​
Zulte-Waregem shot 3 times, 2 on target, 1 off target. Talking about the opposition, Sint-Truiden shot 18 times, 3 on target, 15 off target.
Cards
Zulte-Waregem received 1 yellow card (C. Offor). Talking about the opposition, Sint-Truiden received 3 yellow cards (W. Janssens, G. Bruno and S. Okazaki).
(Zulte-Waregem) was sent off after receiving a red card in the (18′).
Match Timeline
29'
A. Koita
- sub ->
W. Janssens
N. Miroshi
- sub ->
A. Ciranni
59'
T. Derijck
- sub ->
A. Ndour
59'
L. Vigen
- sub ->
N. Rommens
65'
J. Vossen
- sub ->
A. Fadera
65'
Standings
After this match, Zulte-Waregem will stay with 5 points to hold in the 18th place. Regarding the opposition, Sint-Truiden will have 13 points like Standard Liège and Union Saint-Gilloise to hold in the 6th place.
Next matches
In the next match in the Pro League, Zulte-Waregem will host OH Leuven on the 8th of October with a 7-4 head to head record in favor of Zulte-Waregem (5 draws).
Sint-Truiden will host Sporting Charleroi on the 14th of October with a 11-5 head to head statistic in favor of Sporting Charleroi (12 draws).
Zulte-Waregem – Formation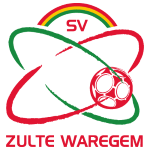 Zulte-Waregem
Substitutes
Zulte-Waregem started with an extremely aggressive line-up (3-4-3).
The manager M'Baye Leye decided to play with the following team: Sammy Bossut (6.6), Ravy Tsouka (6.8), Moudou Tambedou (6.8), Borja López (6.0), Alessandro Ciranni (6.7), Abdoulaye Sissako (6.8), Nicolas Rommens (6.5), Oleksandr Drambaev (6.8), Alioune Ndour (6.2), Dani Ramirez (3.4) and Alieu Fadera (6.3).
The home team had on the bench: Kevor Palumets, Louis Bostyn, Novatus Dismas (6.7), Jelle Vossen (6.8), Timothy Derijck (7.1), Mamadou Sangare, Lasse Vigen Christensen (6.6), Nnamdi Chinonso Offor (6.8) and Stan Braem.
Substitutions
Zulte-Waregem made 5 changes: A. Ciranni for N. Miroshi (59′), B. Lopez for C. Offor (59′), A. Ndour for T. Derijck (59′), N. Rommens for L. Vigen (65′) and A. Fadera for J. Vossen (65′).
Best player: Timothy Derijck​
The player that probably impressed the most for Zulte-Waregem was Timothy Derijck.
His rating is (7.1) with 28 passes (92% accurate) and 1 key pass. He was won 3 duels out of 4.
His performance was remarkable also because he started the match from the bench before entering the filed in the 59′.
Sint-Truiden – Formation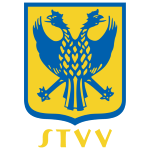 Sint-Truiden
Substitutes
Sint-Truiden started with a 3-5-2 line-up (3-5-2).
Bernd Hollerbach played with: Daniel Schmidt (6.5), Ameen Al-Dakhil (6.9), Toni Leistner (7.3), Robert Bauer (6.8), Daiki Hashioka (6.9), Mory Konate (6.9), Christian Brüls (8.0), Frank Boya (6.8), Wolke Janssens (6.2), Gianni Bruno (8.7) and Shinji Okazaki (7.1).
They had on the bench: Aboubakary Koita (7.4), Stan Van Dessel, Shinji Kagawa, Eric Bocat, Jo Coppens, Daichi Hayashi and Jorge Teixeira.
Substitutions
Sint-Truiden made only 1 change substituting W. Janssens for A. Koita (29′)​.
Best player: Gianni Bruno​
Following our analysis, the most impressive player for Sint-Truiden was Gianni Bruno.
His rating is (8.7) with 2 goals, 33 passes (81% accurate) and 2 key passes. He was won 4 duels out of 6.
Results of the day
These are the results of the day in the Pro League.​