STADION GEORGI BENKOVSKI. Botev Vratsa beats Hebar 1918 with a 2-0 win with an own goal from G. Bukhal (40′) and a goal from B. Perea (45′).
The match was played at the Stadion Georgi Benkovski stadium in Stadion Georgi Benkovski on Friday and it started at 5:15 pm local time. The referee was Georgi Kabakov with the help of Martin Margaritov and Diyan Valkov. The 4th official was Stoyan Arsov. The weather was cloudy. The temperature was pleasant at 24.4 degrees Celsius or 75.87 Fahrenheit. The humidity was 56%.​
Match Statistics​
Shots
8

Total

14

4

On Target

4

4

Off Target

10

0

Shots blocked

0
92

Attack

121

36

Dangerous attack

77

0

Ball safe​

0
0

Penalties

0

1

Corners

6
Fouls
1

Yellow Cards

5

0

Double Yellow

0

0

Red Card

0
Other
Ball possession
No teams had a vastly superior advantage in terms of ball possession. Hebar 1918 was in possession of the ball for 46% of the time vs. Botev Vratsa that controlled the ball for 54% of the time.
Attitude and shots
Botev Vratsa was more pushing with 77 dangerous attacks and 14 shots of which 4 were on target. This is one of the reasons why Botev Vratsa won the match.​
Hebar 1918 shot 8 times, 4 on target, 4 off target. On the other side, Botev Vratsa shot 14 times, 4 on target, 10 off target.
Cards
Hebar 1918 received 1 yellow card (). On the opposite side, Botev Vratsa received 5 yellow cards (J. Da Silva, C. Ivaylov, B. Perea, S. Gavrilov and T. Rapnouil).
Match Timeline
45'
B. Perea
(goal)
Y. Valbuena
A. Valpoort
- sub ->
I. Mihaylov
59'
B. Bozhurkin
- sub ->
C. Bonanni
59'
75'
V. Hristov
- sub ->
B. Perea
A. Eseola
- sub ->
G. Tartov
78'
80'
A. Georgiev
- sub ->
C. Ivaylov
80'
S. Montoya
- sub ->
S. Gavrilov
83'
K. Serber
- sub ->
J. Da Silva
84'
D. Genov
- sub ->
M. Marinov
Standings
After playing this contest, Hebar 1918 will stay with 7 points like Botev Plovdiv and OFK Pirin to sit in the 15th place. On the other side, Botev Vratsa will have 10 points to remain in the 11th place.
Next matches
Hebar 1918 – Formation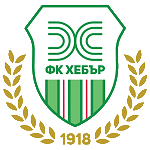 Hebar 1918
Substitutes
Hebar 1918 started with a 3-4-1-2 line-up (3-4-1-2).
The manager Fulvio Pea decided to play with the following team: Petar Debarliev, Hlib Buhal, Kornel Osyra, Martin Mihaylov, Georgi Tartov, Claudio Bonanni, Oleksiy Lobov, Tsvetelin Tonev, Marcel Jean- Pierre, Oktay Hamdiev and Ivaylo Mihaylov.
The home team had on the bench: Khadim Ndiaye, Plamen Krumov, Róbert Mazáň, Moussa Sylla, Aderinsola Habib Eseola, Arsenio Valpoort and Bogomil Bojurkin.
Substitutions
Hebar 1918 made 4 changes: I. Mihaylov for A. Valpoort (59′), C. Bonanni for B. Bozhurkin (59′), G. Tartov for A. Eseola (78′) and T. Tonev for R. Mazan (78′).
Botev Vratsa – Formation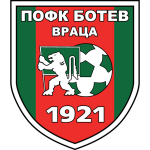 Botev Vratsa
Substitutes
Botev Vratsa started with a aggressive line-up (4-3-3).
Vladislav Vutov played with: Krasimir Kostov, Bryan Mendoza, Messie Biatoumoussoka, Tom Rapnouil, Diego Ferraresso, Chavdar Ivaylov, Stefan Emilov Gavrilov, Jhojan Valbuena, Brayan Perea, Miroslav Marinov and Jean-Pierre Da Sylva.
The following players were sitting on the bench: Federico Barrios, Martin Atanasov, Antonio Georgiev, Santiago Montoya, Kleri Serber, Daniel Genov and Ventsislav Hristov.
Substitutions
Botev Vratsa made 5 changes: B. Perea for V. Hristov (75′), C. Ivaylov for A. Georgiev (80′), S. Gavrilov for S. Montoya (80′), J. Da Silva for K. Serber (83′) and M. Marinov for D. Genov (84′).
Results of the day
These are the results of the day in the Parva Liga.​