MAIDSTONE. Wealdstone was capable to clinch a draw against Maidstone United with a late goal from J. Cook scored in the (90′) after Maidstone United got a lead with a goal from S. Corne (80′).
The match was played at the Gallagher Stadium stadium in Maidstone on Tuesday and it started at 7:45 pm local time. The referee was Alan Dale. The weather was rainy. The temperature was pleasant at 15.5 degrees Celsius or 59.83 Fahrenheit. The humidity was 75%.​
Match Statistics​
Shots
10

Total

6

6

On Target

1

4

Off Target

5

0

Shots blocked

0
60

Attack

54

38

Dangerous attack

33

0

Ball safe​

0
0

Penalties

0

4

Corners

0
Fouls
1

Yellow Cards

0

0

Double Yellow

0

0

Red Card

0
Other
Ball possession
There was not much difference in terms of ball possession. Maidstone United was in possession of the ball for 53% of the time vs. Wealdstone that controlled the ball for 47% of the time.
Attitude and shots
Maidstone United was more pushing with 38 dangerous attacks and 10 shots of which 6 were on target. Notwithstanding, that was not enough Maidstone United to win the match​.
Maidstone United shot 10 times, 6 on target, 4 off target. Regarding the opposition, Wealdstone shot 6 times, 1 on target, 5 off target.
Cards
Maidstone United received 1 yellow card (G. Fowler). On the other side, Wealdstone didn't receive any yellow card.
Match Timeline
62'
T. Allarakhia
- sub ->
M. Kretzschmar
J. Fawole
- sub ->
J. Barham
73'
76'
D. Hutchinson
- sub ->
O. Olomola
Standings
After this match, Maidstone United will have 11 points like Eastleigh to sit in the 12th place. On the opposite side, Wealdstone will have 15 points to sit in the 6th place.
Next matches
In the next match in the National League, Maidstone United will play away with Chesterfield on the 29th of April with a 1-0 head to head stats in favor of Chesterfield (1 draw).
Wealdstone will play away agasint Southend United on the 29th of April with a 1-0 head to head statistic in favor of Wealdstone (1 draw).
Maidstone United – Formation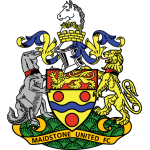 Maidstone United
Substitutes
The manager Hakan Ramis-Hayrettin decided to play with the following team: Y. Mersin, G. Hoyte, K. Lyons-Foster, G. Fowler, R. Galvin, R. Deacon, S. Corne, R. Booty, C. Pattison, B. Gurung and J. Barham.
The home team had on the bench: J. Fawole, T. Hadler, J. Alabi, P. Iandolo and J. Cawley.
Substitutions
Maidstone United made only 1 change substituting J. Barham for J. Fawole (73′)​.
Wealdstone – Formation

Wealdstone
Substitutes
Stuart Maynard played with: S. Howes, S. Habergham, J. Mundle-Smith, J. Cook, D. Sesay, D. Elerewe, M. Kretzschmar, N. Ferguson, R. Browne, A. Charles and O. Olomola.
The following players were sitting on the bench: T. Allarakhia, D. Hutchinson, M. Napa, M. Barrett and A. Dyer.
Substitutions
Wealdstone made 3 changes: M. Kretzschmar for T. Allarakhia (62′), O. Olomola for D. Hutchinson (76′) and D. Sesay for M. Napa (84′).
Results of the day
These are the results of the day in the National League.​