MIOVENI. Universitatea Cluj overcomes Mioveni 1-0 after E. Fernandes scored just 1 goal (35′). Mioveni was definitely better in terms of ball possession (64%).​
The match was played at the Stadionul Orăşenesc stadium in Mioveni on Monday and it started at 6:00 pm local time. The referee was Radu Petrescu with the help of Mircea Mihail Grigoriu and Mircea Cristian Orbuleț. The 4th official was Andrei Moroiţă. The weather was cloudy. The temperature was pleasant at 15.2 degrees Celsius or 59.4 Fahrenheit. The humidity was 60%.​
Match Statistics​
Shots
13

Total

6

4

On Target

3

9

Off Target

3

0

Shots blocked

0
138

Attack

90

78

Dangerous attack

33

0

Ball safe​

0
0

Penalties

0

8

Corners

3
Fouls
0

Yellow Cards

4

0

Double Yellow

0

0

Red Card

0
Other
Ball possession
Mioveni had a superior ball possession 64% while Universitatea Cluj was struggling with a 36% ball possession.
Attitude and shots
Mioveni was putting more pressure with 78 dangerous attacks and 13 shots of which 4 were on target. Anyway, Universitatea Cluj was able to find the solution to win this match.​
Mioveni shot 13 times, 4 on target, 9 off target. On the opposite side, Universitatea Cluj shot 6 times, 3 on target, 3 off target.
Cards
Mioveni didn't receive any yellow card. On the other side, Universitatea Cluj received 4 yellow cards (I. Filip, F. Haita, O. Horsia and Romario).
Match Timeline
35'
E. Fernandes
(goal)
Romario
N. Carnat
- sub ->
S. Blanaru
46'
L. Antal
- sub ->
A. Buziuc
46'
57'
O. Horsia
- sub ->
F. Haita
J. Kabananga
- sub ->
A. Iacob
66'
D. Toma
- sub ->
M. Lixandru
75'
V. Cosereanu
- sub ->
L. Antal
75'
82'
S. Vladoiu
- sub ->
E. Fernandes
Standings
After this contest, Mioveni will stay with 6 points to sit in the 15th place. Regarding the opposition, Universitatea Cluj will have 7 points to sit in the 14th place.
Next matches
In the next match in the Liga 1, Mioveni will play away with Rapid Bucuresti on the 17th of September with a 7-2 head to head record in favor of Rapid Bucuresti (1 draw).
Universitatea Cluj will host Chindia Târgovişte on the 18th of September with a 0-0 head to head.
Mioveni – Formation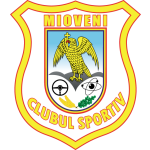 Mioveni
Substitutes
Mioveni started with an extremely aggressive line-up (3-4-3).
The manager Flavius Vladimir Stoican decided to play with the following team: F. Croitoru, A. Scarlatache, A. Iacob, Garutti, D. Oancea, D. Şerbănică, V. Pop, M. Lixandru, Ș. Blănaru, A. Buziuc, B. Krasniqi and I. Popescu.
The home team had on the bench: N. Cârnat, L. Antal, I. Balaur, I. Rădescu, V. Coșereanu, J. Kabananga, A. Burlacu and D. Toma.
Substitutions
Mioveni made 5 changes: S. Blanaru for N. Carnat (46′), A. Buziuc for L. Antal (46′), A. Iacob for J. Kabananga (66′), M. Lixandru for D. Toma (75′) and L. Antal for V. Cosereanu (75′).
Universitatea Cluj – Formation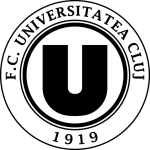 Universitatea Cluj
Substitutes
Universitatea Cluj started with a aggressive line-up (4-3-3).
Eugen Neagoe played with: P. Iliev, M. Briceag, F. Ilie, D. Ispas, A. Chipciu, Romário Pires, I. Filip, O. Bic, F. Haită, A. Bălan, Ely Fernandes.
These were the players on the bench: L. Fülöp, G. Simion, Ș. Vlădoiu, M. Moraru, M. Remacle, O. Horșia, A. Gorcea, F. Purece and A. Hofman.
Substitutions
Universitatea Cluj made 4 changes: F. Haita for O. Horsia (57′), O. Bic for F. Purece (69′), A. Balan for L. Fulop (69′) and E. Fernandes for S. Vladoiu (82′).
Results of the day
These are the results of the day in the Liga 1.​