XUZHOU. Hangzhou was capable to snatch a draw against Shanghai Shenhua with a late goal from N. Mushekwi scored in the (89′) after Shanghai Shenhua got a lead with a goal from Y. Hanchao (11′). Hangzhou was decisively superior in terms of ball possession (69%)​
The match was played at the Xuzhou Olympic Sports Centre Stadium stadium in Xuzhou on Saturday and it started at 7:30 pm local time. The referee was Yi Huang with the collaboration of Xiang Shi and Xing Liu. The 4th official was Zhiliang Jia. The weather was cloudy. The temperature was pleasant at 23 degrees Celsius or 73.31 Fahrenheit. The humidity was 56%.​
Match Statistics​
Shots
18

Total

2

6

On Target

1

12

Off Target

1

2

Shots blocked

0
121

Attack

78

44

Dangerous attack

21

73

Ball safe​

68
1

Penalties

0

6

Corners

1

3

Off Sides

3
Fouls
12

Total

20

2

Yellow Cards

4

0

Double Yellow

0

0

Red Card

0
Other
Ball possession
Hangzhou was in firm control of the ball 69% while Shanghai Shenhua was struggling with a 31% ball possession.
Attitude and shots
Hangzhou was putting more pressure with 44 dangerous attacks and 18 shots of which 6 were on target. Nonetheless, that was not enough Hangzhou to win the match​.
Hangzhou shot 18 times, 6 on target, 12 off target. Regarding the opposition, Shanghai Shenhua shot 2 times, 1 on target, 1 off target.
Cards
Hangzhou received 2 yellow cards (Yue Xin and Gao Di). On the other side, Shanghai Shenhua received 4 yellow cards (Jin Yangyang, Zhu Baojie, Zhu Baojie and Fulangxisi Aidi).
Match Timeline
Yao Junsheng
- sub ->
Gu Bin
66'
66'
Cao Yunding
- sub ->
Liu Ruofan
66'
Zhu Jianrong
- sub ->
Yu Hanchao
U. D. Ewolo
- sub ->
Matheus
66'
Gao Di
- sub ->
Zhang Jiaqi
86'
Gao Di
- sub ->
Zhang Jiaqi
86'
Standings
After this encounter, Hangzhou will have 28 points to sit in the 6th place. On the opposite side, Shanghai Shenhua will have 30 points like Henan Jianye to sit in the 4th place.
Next matches
In the next match in the Super League, Hangzhou will play away against Chengdu Rongcheng on the 18th of September with a 0-0 head to head stats.
Shanghai Shenhua will host Guangzhou R&F on the 19th of September with a 8-5 head to head in favor of Shanghai Shenhua (5 draws).
Hangzhou – Formation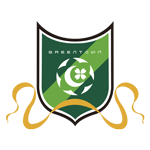 Hangzhou
Substitutes
Hangzhou started with a mid-fielder-oriented line-up (4-1-4-1).
The manager Jordi Vinyals Martori decided to play with the following team: Chao Gu (6.3), Yu Dong (6.8), Nok Hang Leung (6.8), Lucas Possignolo (7.5), Yue Xin (7.1), Jiaqi Zhang (6.9), Matheus (6.6), Bin Gu (6.3), Franko Andrijašević (7.3), Cheng Jin (6.8) and Nyasha Mushekwi (7.4).
The home team had on the bench: Wang Chang, Kurban Eysajan, Dongsheng Wang (6.8), Ulrich Ewolo (6.6), Junsheng Yao (7.1), Haoran Zhong, Abdusalam Ablikim, Wei Long, Di Gao (6.5), Bo Zhao, Jinfeng Lai and Sun Zheng'ao.
Substitutions
Hangzhou made 5 changes: Dong Yu for D. Wang (46′), Gu Bin for Yao Junsheng (66′), Matheus for U. D. Ewolo (66′), Zhang Jiaqi for Gao Di (86′) and Zhang Jiaqi for Gao Di (86′).
Best player: Lucas Possignolo​
The player that probably impressed the most for Hangzhou was Lucas Possignolo.
His rating is (7.5) with 73 passes (87% accurate) and 1 key pass. He was won 5 duels out of 7.
Shanghai Shenhua – Formation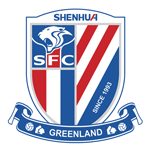 Shanghai Shenhua
Substitutes
Shanghai Shenhua started with a conservative line-up (4-5-1).
Jingui Wu played with: Cheng Zeng (7.1), Lu Zhang (6.4), Aidi Fulang Xisi (6.5), Yangyang Jin (6.6), Denny Wang Yi (6.8), Baojie Zhu (6.7), Alexander N'Doumbou (6.9), Xi Wu (7.4), Haijian Wang (6.6), Hanchao Yu (6.7) and Ruofan Liu (6.2).
The following players were sitting on the bench: Xu Yougang, ZeXiang Yang, Jiabao Wen (6.4), Shilin Sun, Xiaoting Feng (6.1), Zhen Ma, Zhen Cong, Miller Bolaños, Jianrong Zhu (6.7), Xinli Peng, Xue Qinghao and Yunding Cao (5.2).
Shanghai Shenhua could not rely on the presence of Zhu Baojie (injured), J. Wen (injured) and Fulangxisi Aidi (injured).
Substitutions
Shanghai Shenhua made 3 changes: Liu Ruofan for Cao Yunding (66′), Yu Hanchao for Zhu Jianrong (66′) and D. Wang Yi for J. Wen (76′).
Best player: Xi Wu​
The player that probably impressed the most for Shanghai Shenhua was Xi Wu.
His rating is (7.4) with 25 passes (80% accurate) and 1 key pass. He was won 6 duels out of 11.
Results of the day
These are the results of the day in the Super League.​