HALIFAX. Halifax Town had a surprising win over Weymouth with a 2-0 win with a goal from K. Spence (81′) and a goal from J. Slew (33′).
The match was played at the The Shay Stadium stadium in Halifax on Saturday and it started at 2:00 pm local time. The referee was Lewis Smith. The weather was clear. The temperature was cold at 12.6 degrees Celsius or 54.66 Fahrenheit. The humidity was 58%.​
Match Statistics​
Shots
16

Total

2

5

On Target

0

11

Off Target

2

0

Shots blocked

0
122

Attack

121

52

Dangerous attack

26

105

Ball safe​

108
0

Penalties

0

5

Corners

1
Fouls
2

Yellow Cards

2

0

Double Yellow

0

0

Red Card

0
Other
There was not much difference in terms of ball possession. Halifax Town was in possession of the ball for 53% of the time vs. Weymouth that controlled the ball for 47% of the time.
Halifax Town was more aggressive with 52 dangerous attacks and 16 shots of which 5 were on target. This is one of the reasons why Halifax Town won the match​.
Halifax Town shot 16 times, 5 on target, 11 off target. On the other side, Weymouth shot 2 times, 0 on target, 2 off target.
Cards
Halifax Town received 2 yellow cards (K. Spence and J. Senior). On the opposite side, Weymouth received 2 yellow cards (T. Cordner and C. Murray).
Match Timeline
56'
Alexander McBurnie
- sub ->
A. Robinson
67'
Bradley Ash
- sub ->
S. Shields
Martin Woods
- sub ->
M. Warburton
80'
Standings
After this match, Halifax Town will have 23 points to stay in the 3rd place. On the other side, Weymouth will stay with 8 points like Maidenhead United and Southend United to move up in the 21st place.
Next matches
In the next match in the National League, Halifax Town will play away with Solihull Moors on the 23rd of October with a 5-1 head to head record in favor of Halifax Town (2 draws).
Weymouth will host Wealdstone on the 23rd of October with a 1-1 head to head record.
Halifax Town – Formation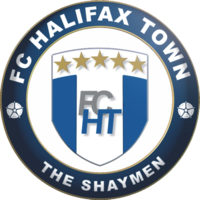 Halifax Town
Substitutes
The manager Peter Wild decided to play with the following team: S. Johnson, N. Maher, T. Warren, J. Senior, J. Slew, K. Green, K. Spence, H. Gilmour, B. Waters, M. Warburton and J. Debrah.
The home team had on the bench: J. Allen, E. Newby, M. Woods, L. Summerfield and G. McDonagh.
Substitutions
Halifax Town made 3 changes: H. Gilmour for E. Newby (77′), B. Waters for J. Allen (77′) and M. Warburton for M. Woods (80′).
Weymouth – Formation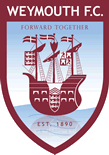 Weymouth
Substitutes
On the other side, Brian Stock played with: R. Fitzsimons, O. Harfield, J. Leslie-Smith, T. Cordner, S. Shields, C. Brooks, A. Robinson, C. Murray, O. Mussa, B. Goodship and T. Bearwish.
They had on the bench: A. McBurnie, J. McQuoid, B. Ash, A. Rose and T. Olomowewe.
Substitutions
Weymouth made 3 changes: A. Robinson for A. McBurnie (56′), C. Murray for J. McQuoid (60′) and S. Shields for B. Ash (67′).
Results of the day
These are the results of the day in the National League.​