ARAD. UTA Arad and Dinamo Bucureşti didn't manage to score any goal on Sunday. UTA Arad was unquestionably superior in terms of ball possession (64%)​.
The match was played at the Stadionul Francisc von Neumann stadium in Arad on Sunday and it started at 5:00 pm local time. The referee was Cătălin Popa with the collaboration of Adrian Vornicu and Romică Bîrdeș. The 4th official was Florin Andrei. The weather was cloudy. The temperature was quite cold at 4.9 degrees Celsius or 40.87 Fahrenheit. The humidity was 63%.​
Match Statistics​
!

64

Ball Possession

36
Shots
14

Total

2

3

On Target

1

11

Off Target

1

2

Shots blocked

0
151

Attack

82

96

Dangerous attack

30

96

Ball safe​

87
0

Penalties

0

7

Corners

1

4

Off Sides

1
Fouls
20

Total

12

1

Yellow Cards

3

0

Double Yellow

2

0

Red Card

2
Other
Ball possession
UTA Arad was in firm control of the ball 64% while Dinamo Bucureşti was struggling with a 36% ball possession.
Attitude and shots
UTA Arad had a more offensive attitude with 96 dangerous attacks and 14 shots of which 3 were on target. Nonetheless, that was not enough UTA Arad to win the match​.
UTA Arad shot 14 times, 3 on target, 11 off target. On the opposite side, Dinamo Bucureşti shot 2 times, 1 on target, 1 off target.
Cards
UTA Arad received 1 yellow card (E. Shlyakov). On the opposite side, Dinamo Bucureşti received 3 yellow cards (M. Ehmann, A. Rauta and C. Figueiredo).
Also, Dinamo Bucureşti didn't finish the match with 11 players after
Dinamo Bucureşti had 2 players sent off: M. Ehmann (41′ for double yellow card) and A. Rauta (78′ for double yellow card).
Match Timeline
Philip Otele
- sub ->
K. Laukzemis
56'
87'
Ioan Borcea
- sub ->
C. Matei
Standings
After playing this match, UTA Arad will have 33 points like Sepsi to hold in the 10th place. Regarding the opposition, Dinamo Bucureşti will have 13 points to hold in the 15th place.
Next matches
In the next match in the Liga 1, UTA Arad will play away against U Craiova 1948 on the 18th of February with a 1-0 head to head in favor of UTA Arad (0 draws).
Dinamo Bucureşti will host Gaz Metan Mediaş on the 18th of February with a 16-8 head to head stats in favor of Dinamo Bucureşti (6 draws).
UTA Arad – Formation

UTA Arad
Substitutes
UTA Arad started with a 4-2-3-1 line-up (4-2-3-1).
The manager Ionuţ Badea decided to play with the following team: Florin Iacob, Marko Vukčević, Erico da Silva, Alexandru Benga, Evgeni Shlyakov, Damian Isac, Idriz Batha, Desley Ubbink, Roger, Filip Dangubić and Karolis Laukžemis.
The home team had on the bench: Dragoş Balauru, Rolandas Baravykas, Constantin Dima, Vinko Međimorec, Nicolao Dumitru, Denis Lucian Hrezdac, Modestas Vorobjovas, Philip Otele and Paul Marcel Mercioiu.
Substitutions
UTA Arad made 2 changes: K. Laukzemis for P. Otele (56′) and F. Dangubic for N. Dumitru (71′).
Dinamo Bucureşti – Formation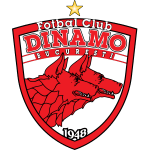 Dinamo Bucureşti
Substitutes
Dinamo Bucureşti started with a 5-3-2 line-up (5-3-2).
Flavius Vladimir Stoican played with: Cristiano Pereira, Alin Buleica, Răzvan Patriche, Igor Jovanović, Marco Ehmann, Andrei Radu, Antoni Ivanov, Alexandru Răuță, Balthazar Pierret, Cosmin Matei and Mirko Ivanovski.
The following players were sitting on the bench: Costin Amzar, Deniz Giafer, Ricardo Grigore, Ahmed Bani, Ioan Borcea, Geani Creţu, Antonio Alexandru Bordusanu, Dusan Celar and Stefan Brian Fara.
Substitutions
Dinamo Bucureşti made 3 changes: I. Jovanovic for G. Cretu (60′), C. Matei for I. Borcea (87′) and M. Ivanovski for R. Grigore (90′).
Results of the day
These are the results of the day in the Liga 1.​