ANKARA. Adanaspor was ultimately too much to handle for Gençlerbirliği with the goal of S. Tetteh was the star player of the match after he scored in the 51st and 70th minute. S. Tetteh (51′), T. Bruns (57′) and S. Tetteh (70′). Adanaspor took advantage of its better ball possession (57%).
The match was played at the Eryaman Stadyumu stadium in Ankara. The referee was Abdulkadir Bitigen with the help of Kemal Mavi and Erkan Akbulut. The 4th official was Süleyman Bahadır. The weather was clear. The temperature was freezing at -2.1 degrees Celsius or 28.22 Fahrenheit. The humidity was 71%.​
Match Statistics​
Shots
16

Total

6

9

On Target

5

7

Off Target

1

0

Shots blocked

0
89

Attack

97

75

Dangerous attack

69

0

Ball safe​

0
0

Penalties

0

8

Corners

3

1

Off Sides

1
Fouls
19

Total

11

4

Yellow Cards

1

0

Double Yellow

0

0

Red Card

0
Other
Ball possession
Adanaspor had a superior ball possession 57% while Gençlerbirliği was struggling with a 43% ball possession.
Attitude and shots
Gençlerbirliği was more aggressive with 75 dangerous attacks and 16 shots of which 9 were on target. Still, Adanaspor managed to find the solution to win this contest.​
Gençlerbirliği shot 16 times, 9 on target, 7 off target. Talking about the opposition, Adanaspor shot 6 times, 5 on target, 1 off target.
Cards
Gençlerbirliği received 5 yellow cards (K. Akyuz, M. Diyadin, S. Eralp, B. Eleke and M. Kula). Talking about the opposition, Adanaspor received 1 yellow card (F. Uzum).
Match Timeline
Sami Altıparmak
- sub ->
Serdarcan Eralp
56'
Baran Başyiğit
- sub ->
Mert Kula
80'
Musa Şahindere
- sub ->
Kerem Can Akyüz
80'
90'
Rüştü Hanlı
- sub ->
Hıfsullah Erdoğan
90'
Rüştü Hanlı
- sub ->
I. Erdogan
Standings
After playing this match, Gençlerbirliği will stay with 26 points to hold in the 10th place. On the other side, Adanaspor will have 32 points to hold in the 7th place.
Next matches
In the next match in the 1. Lig, Gençlerbirliği will play away against Manisa BBSK on the 22nd of January with a 1-0 head to head in favor of Manisa BBSK (0 draws).
Adanaspor will host Keçiörengücü on the 23rd of January with a 3-0 head to head stats in favor of Keçiörengücü (2 draws).
Gençlerbirliği – Formation
Gençlerbirliği
Substitutes
Gençlerbirliği started with a 4-2-3-1 line-up (4-2-3-1).
The manager Metin Diyadin decided to play with the following team: Ü. Adıyaman, K. Akyüz, M. Kula, G. Gül, M. Mert, Ö. Artan, A. Tshibola, B. Alıcı, S. Eralp, Sandro Lima and B. Eleke.
The home team had on the bench: B. Başyiğit, G. Altıparmak, M. Şahindere, A. Şahindere, S. Sallalich, O. Belyaev, F. Şeker, R. Köse, M. Bayır and A. Gökçe.
Substitutions
Gençlerbirliği made 4 changes: B. Eleke for O. Belyaev (56′), S. Eralp for S. Altiparmak (56′), M. Kula for B. Basyigit (80′) and K. Akyuz for M. Sahindere (80′).
Adanaspor – Formation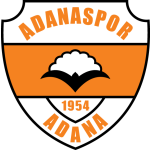 Adanaspor
Substitutes
Adanaspor started with a 3-4-2-1 line-up (3-4-2-1).
Sait Karafırtınalar played with: G. Karačić, I. Donkor, H. Erdoğan, Y. Roche, E. Korkmaz, U. Yazğılı, C. Özdemir, Y. Aït Bennasser, C. Yüksel, F. Üzüm and S. Tetteh.
The following players were sitting on the bench: Harun Kaya, T. Bruns, U. Zengin, E. Karadağ, I. Kingsley, R. Hanlı, Ö. Soylu and B. Çapkınoğlu.
Substitutions
Adanaspor made 5 changes: I. Donkor for T. Bruns (46′), C. Ozdemir for E. Karadag (46′), C. Yuksel for U. Zengin (86′), S. Tetteh for K. Innocent (88′) and I. Erdogan for R. Hanli (90′).
Results of the day
These are the results of the day in the 1. Lig.​