VEEN. DVS '33 tops Achilles Veen with a 2-0 win with a goal from N. van (6′) and a goal from A. Akla (48′). DVS '33 took advantage of its superior ball possession (56%).
The match was played at the Sportpark De Hanen Weide stadium in Veen on Thursday and it started at 8:00 pm local time. The referee was Luuk Timmer assisted by Luc de Koning and Michael Rasch. The 4th official was Thomas Hardeman. The weather was cloudy. The temperature was cold at 8.2 degrees Celsius or 46.78 Fahrenheit. The humidity was 98%.​
Match Statistics​
Shots
12

Total

13

5

On Target

11

7

Off Target

2

0

Shots blocked

0
128

Attack

122

72

Dangerous attack

76

101

Ball safe​

98
0

Penalties

0

6

Corners

5
Fouls
3

Yellow Cards

1

0

Double Yellow

0

0

Red Card

0
Other
Ball possession
DVS '33 had a strong ball possession 56% while Achilles Veen was struggling with a 44% ball possession.
Attitude and shots
DVS '33 was more pushing with 76 dangerous attacks and 13 shots of which 11 were on target. This is one of the reasons why DVS '33 won the encounter.​
Achilles Veen shot 12 times, 5 on target, 7 off target. Regarding the opposition, DVS '33 shot 13 times, 11 on target, 2 off target.
Cards
Achilles Veen received 3 yellow cards (T. Van den Berg, and R. Geeroms). Talking about the opposition, DVS '33 received 1 yellow card (A. Akla).
Match Timeline
6'
Nicky van Hilten
(goal)
A. Kruisheer
82'
Nassim El Ablak
- sub ->
A. Kruisheer
Standings
After this encounter, Achilles Veen stays with points to occupy the 0th place in the standings. Talking about the opposition, DVS '33 has points (0th).
Next matches
Achilles Veen – Formation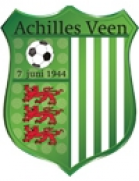 Achilles Veen
G J. Zielschot
1.
Netherlands

Substitutes
Achilles Veen adopted the aggressive line-up (4-3-3).
The manager John Karelse decided to play with the following team: Jordy Zielschot.
The home team had on the bench: Jay-Jay Meierdres.
Substitutions
Achilles Veen made 3 changes: N. Wilborts for G. Dix (66′), T. Schilders for S. Aerts (66′) and V. van Hoof for R. Geeroms (66′).
DVS '33 – Formation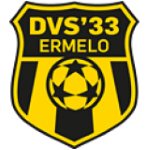 DVS \'33
Substitutes
Also DVS '33 adopted the aggressive line-up (4-3-3).
Peter Wesselink played with: Daan Huiskamp, Nicky Van Hilten, Tarik Evre, Tim van de Berg, Finn Kluiver, Coen Vloedgraven, Maarten van Dijk, Lars Dekker, Ali Akla, Adriaan Kruisheer, Benjamin Roemeon.
These were the players on the bench: Eren Turan Yavuz, Melvin van de Beeten, Lorenzo van Slimming, Nassim El Ablak, Quincy Veenhof, Stefan Nijland, Jeremy Jonker, Eren Turan Yavuz, Kenneth Aninkora, Matijs Valstar and Jonathan Waterberg.
Substitutions
DVS '33 made 2 changes: M. van Dijk for Q. Veenhof (66′) and A. Kruisheer for N. el Ablak (82′).
Results of the day
These are the results of the day in the KNVB Beker.​