SARóN. Huesca prevails over Cayon with a 2-0 win with a goal from M. Mateu (59′) and a goal from (90′). Huesca was decisively better in terms of ball possession (74%) was among the factors of its victory.​
The match was played at the Estadio Fernando Astobiza stadium in Sarón. The referee was Oliver De La Fuente Ramos. The weather was cloudy. The temperature was cold at 12.3 degrees Celsius or 54.1 Fahrenheit. The humidity was 76%.​
Match Statistics​
Ball possession
Huesca had a strong ball possession 74% while Cayon was struggling with a 26% ball possession.
Attitude and shots
Huesca was more pushing with 41 dangerous attacks and 16 shots of which 6 were on target. This is one of the reasons why Huesca won the match.​
Cayon shot 5 times, 2 on target, 3 off target. On the other side, Huesca shot 16 times, 6 on target, 10 off target.
Cards
Cayon received 4 yellow cards (J. Turrado Garrido, F. Resines, and C. Cagigas). Talking about the opposition, Huesca didn't receive any yellow card.
F. Resines (Cayon) was sent off after receiving a second yellow card (54′).
Match Timeline
Javier Turrado Garrido
- Yellow
40'
46'
Kevin Carlos Omoruyi Benjamin
- sub ->
Esteban
46'
Marc Mateu
- sub ->
I. Pitta
Fernando Resines Gil
- Yellow
51'
Fernando Resines Gil
(yellowred)
54'
59'
Marc Mateu
(goal)
J. Buffarini
Marcos Fernández Alvarez
- sub ->
M. Saez Humara
74'
Víctor Fernández Maza
- sub ->
M. Angel
74'
Pablo Goñi Gallego
- sub ->
C. S. Quitora Espinosa
74'
81'
Joaquín Muñoz
- sub ->
R. Barba
81'
Florian Miguel
- sub ->
E. Lombardo
Pablo Rodríguez Ramos
- sub ->
Chili
84'
Carlos Cagigas Ballesteros
- Yellow
89'
90'
Kevin Carlos Omoruyi Benjamin
(goal)
M. Mateu
Standings
After playing this encounter, Cayon stays with points to occupy the 0th place in the table. Regarding the opposition, Huesca has points (0th).
Next matches
Cayon – Formation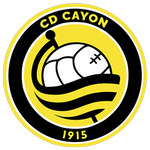 Cayon
Substitutes
Cayon started with a 4-2-3-1 line-up (4-2-3-1).
The manager Luis Fernandez Gutierrez decided to play with the following team: Pablo Rodríguez, Riki Fernández, Resines, Javier Turrado, Pablo Bolado, Chili, Miguel Angel Garcia Alonso, Carlos Cagigas, Marcos Sáez, Borja Lázaro, Cristian Quitora and Laredo.
The home team had on the bench: Diego Pelayo, Álex Bolado, Víctor Gálvez, Álvaro Rodríguez, Marcos Fernández, Raúl Tirilonte, Pablo Goñi, Víctor Fernández and Mario Canales.
Substitutions
Cayon made 5 changes: Chus Laredo for D. Pelayo (58′), M. Saez Humara for M. Fernandez (74′), M. Angel for V. Fernandez (74′), C. S. Quitora Espinosa for P. Gallego (74′) and Chili for A. Rodriguez (84′).
Huesca – Formation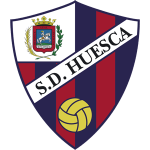 Huesca
Substitutes
Huesca started with a conservative line-up (4-4-2).
Francisco Javier Muñoz Llompart played with: Miguel San Roman, Julio Buffarini, Gerard Barri, Pablo Insúa, Roberto Barba, Esteban Aparicio, Mikel Rico, Roberto Barba, Kelechi Nwakali, Enzo Lombardo, Dani Escriche and Isidro Pitta.
These were the players on the bench: Manu Rico, Andrés Fernández, Jorge Pulido, Andrei Rațiu, Florian Miguel, Marc Mateu, Joaquín Muñoz, Adolfo Gaich, Eusebio Monzó, Manu Rico and Carlos Kevin.
Substitutions
Huesca made 5 changes: Esteban for Kevin (46′), I. Pitta for M. Mateu (46′), E. Lombardo for F. Miguel (81′), R. Barba for J. Munoz (81′) and D. Esriche for M. Rico (88′).
Results of the day
These are the results of the day in the Copa Del Rey.​