EXETER. Exeter City was able to turn the tables against Bradford City to win 2-1. It was Bradford City to strike first with a goal of L. Angol at the 11′. Then it was a goal in the 51′ minute to make things even for 1-1. Eventually, G. Ray gave the win to Exeter City in the 81′ minute with a goal.
L. Angol received a red card (105′)​. This double yellow card was one of the reason why Bradford City lost the match.
The match was played at the St James Park stadium in Exeter on Tuesday and it started at 7:45 pm local time. The referee was Charles Breakspear who was helped by Mark Derrien and Alex James. The 4th official was Scott Jackson. The weather was rainy. The temperature was cold at 10.6 degrees Celsius or 51.13 Fahrenheit. The humidity was 90%.​
Match Statistics​
Shots
5

Total

4

4

On Target

3

1

Off Target

1

0

Shots blocked

0
66

Attack

51

33

Dangerous attack

28

84

Ball safe​

86
0

Penalties

0

5

Corners

8
Fouls
0

Yellow Cards

3

0

Double Yellow

0

0

Red Card

0
Other
The overall ball possession was just identical with both teams controlling the ball for 50% of the time.
Ball possession
There was not much difference in terms of ball possession. Exeter City was in possession of the ball for 50% of the time vs. Bradford City that controlled the ball for 50% of the time.
Attitude and shots
Exeter City was was more aggressive with 33 dangerous attacks and 5 shots of which 4 were on target. This is one of the reasons why Exeter City won the match​.
Exeter City shot 5 times, 4 on target, 1 off target. Regarding the opposition, Bradford City shot 4 times, 3 on target, 1 off target.
Cards
Exeter City received 1 yellow card (J. Key). On the opposite side, Bradford City received 3 yellow cards (N. Canavan, P. O'Connor and E. Watt).
Also, Bradford City didn't finish the match with 11 players after L. Angol (Bradford City) was sent off after receiving a second yellow card (105′).
Match Timeline
Archie Collins
- sub ->
K. Taylor
56'
Sam Nombe
- sub ->
J. Coley
69'
90'
Gareth Evans
- sub ->
L. Sutton
Jonathan Grounds
- sub ->
J. Brown
90'
Standings
After playing this contest, Exeter City has points to occupy the 0th place in the table. On the opposite side, Bradford City stays with points (0th).
Next matches
In the next match in the FA Cup, Exeter City will play away against Cambridge United on the 4th of December with a 16-4 head to head record in favor of Exeter City (3 draws).
Exeter City – Formation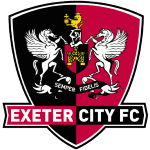 Exeter City
Substitutes
The manager Matthew Taylor decided to play with the following team: C. Dawson, T. Dieng, A. Hartridge, C. Daniel, H. Kite, J. Coley, O. Edwards, J. Brown, S. Stubbs, J. Key, K. Taylor and Pierce Sweeney.
The home team had on the bench: G. Ray, A. Collins, S. Nombe, J. Grounds, Scott P. Brown, Nigel Atangana, J. Caprice, J. Sparkes, M. Jay and S. Cox.
Substitutions
Exeter City made 6 changes: O. Edwards for M. Jay (68′), S. Stubbs for G. Ray (69′), J. Coley for S. Nombe (69′), A. Collins for N. Atangana (89′), S. Nombe for J. Key (90′) and J. Brown for J. Grounds (90′).
Bradford City – Formation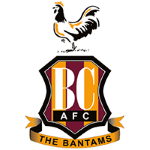 Bradford City
Substitutes
Derek Adams played with: R. O'Donnell, N. Canavan, O. Threlkeld, P. O'Connor, Y. Songo'o, A. Gilliead, L. Sutton, E. Watt, L. Angol, C. Cooke, L. Ridehalgh and Charles Vernam.
The following players were sitting on the bench: M. Foulds, T. Robinson, G. Evans, F. Kelleher, Caolan Lavery, Sam Hornby, Abo Eisa and F. Cousin-Dawson.
Bradford City could not rely on the presence of G. Evans (injured).
Substitutions
Bradford City made 4 changes: T. Robinson for L. Angol (64′), A. Gilliead for Abobaker Eisa (90′), L. Sutton for G. Evans (90′) and P. O'Connor for F. Kelleher (105′).
Results of the day
These are the results of the day in the FA Cup.​