SEOGWIPO. Jeju United prevails over Suwon Bluewings 2-0 after J. Min-Kyu scores a double.
The match was played at the Jeju World Cup Stadium (Seogwipo) stadium in Seogwipo on Saturday and it started at 5:00 am local time. The referee was Min-Seok Song with the collaboration of Jong-Pil Jang and Ji-Wook Kim. The 4th official was Dong-Jin Seo.
Match Statistics​
Shots
11

Total

14

8

On Target

2

2

Off Target

7

1

Shots blocked

5
71

Attack

90

31

Dangerous attack

48

65

Ball safe​

72
1

Penalties

0

2

Corners

4

1

Off Sides

1
Fouls
12

Total

13

2

Yellow Cards

3

0

Double Yellow

0

0

Red Card

0
Other
Ball possession
Suwon Bluewings had a superior ball possession 60% while Jeju United was struggling with a 40% ball possession.
Attitude and shots
Suwon Bluewings was more pushing with 48 dangerous attacks and 13 shots of which 2 were on target. Nevertheless, Jeju United managed to find the solution to win this match.​
Jeju United shot 11 times, 8 on target, 2 off target. Talking about the opposition, Suwon Bluewings shot 13 times, 2 on target, 7 off target.
Cards
Jeju United received 2 yellow cards (Kim Kyeong-Jae and J. Lee). On the opposite side, Suwon Bluewings received 3 yellow cards (Jang Ho-Ik, Yang Sang-Min and Kim Min-Woo).
Match Timeline
Seong-Joon Jo
- sub ->
Lee Dong-Ryul
54'
61'
Hyun-Muk Kang
- sub ->
Jeon Se-Jin
Bong-Soo Kim
- sub ->
Lee Dong-Su
68'
Won-Jae Park
- sub ->
Jeong Woo-Jae
82'
83'
Yeom Ki-Hun
- sub ->
Kim Min-Woo
Standings
After this encounter, Jeju United will have 51 points to sit in the 7th place. On the other side, Suwon Bluewings will stay with 45 points like Pohang Steelers and Suwon to remain in the 11th place.
Next matches
In the next match in the K-League 1, Jeju United will host Suwon on the 27th of November with a 4-1 head to head stats in favor of Suwon (1 draw).
Suwon Bluewings will host Ulsan on the 28th of November with a 17-12 head to head record in favor of Ulsan (16 draws).
Jeju United – Formation

Jeju United
Substitutes
Jeju United started with an extremely aggressive line-up (3-4-3).
The manager Ki-Il Nam decided to play with the following team: Lee Chang-Geun (6.8), Oh-kyu Kim (7.8), Kyeong-jae Kim (6.4), Chung Woon (7.0), Hyeon-beom Ahn (6.9), Dong-su Lee (6.9), Yeong-uk Kim (7.8), Uh-jae Jeong (6.1), Dong-ryul Lee (7.3), Min-kyu Ju (8.4) and Gerso Fernandes (7.6).
The home team had on the bench: Jung-mun Lee (7.1), Yeon-su Yu, Jun-ho Hong, Kim Bong-Soo (6.6), Seong-jun Jo (6.6), Won-jae Park (6.4) and Kweon Hang-Jin (6.2).
Substitutions
Jeju United made 5 changes: Lee Dong-Ryul for Jo Seong-Joon (54′), Lee Dong-Su for Kim Bong-soo (68′), Jeong Woo-Jae for Park Won-Jae (81′), Joo Min-Kyu for J. Lee (81′) and Jo Seong-Joon for Gwon Han-Jin (81′).
Best player: Min-kyu Ju​
The most impressive player for Jeju United was Min-kyu Ju.
His rating is (8.4) with 2 goals, 21 passes (57% accurate) and 2 key passes. He was won 8 duels out of 12.
Suwon Bluewings – Formation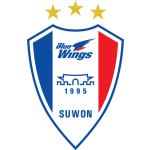 Suwon Bluewings
Substitutes
Suwon Bluewings started with a 3-5-2 line-up (3-5-2).
Regarding the opposition, Kun-Ha Park played with: Dong-geon No (7.1), Ho-ik Jang (7.2), Doneil Henry (5.8), Sang-min Yang (6.4), Tae-hwan Kim (6.4), Yoo Ju-An (6.7), Seok-jong Han (7.0), Min-woo Kim (6.1), Ki Je Lee (6.5), Geon-heui Kim (6.8) and Se-jin Jeon (6.2).
They had on the bench: Hyun-muk Kang (7.0), Daewon Park, Dae-yeong Ku, Seong-jin Jo, Chang-Hoon Kwon (7.0), Ki-hun Yeom (6.6) and Hyeong-mo Yang.
Substitutions
Suwon Bluewings made 3 changes: You Juan for Kwon Chang-Hoon (61′), Jeon Se-Jin for Kang Hyun-Muk (61′) and Kim Min-Woo for Yeom Ki-Hun (83′).
Best player: Ho-ik Jang​
The most impressive player for Suwon Bluewings was Ho-ik Jang.
His rating is (7.2) with 60 passes (88% accurate) and 1 key pass. He was won 7 duels out of 9.
Results of the day
These are the results of the day in the K-League 1.​