BEKKESTUA. Stabæk found a way to turn the table against Haugesund to win 2-1. All goals were scored in the second half.​ It was Haugesund to strike first with a goal of K. Velde at the 70′. Then it was a goal in the 77′ minute to make things even for 1-1. Eventually, M. Bolly gave the win to Stabæk in the 84′ minute with a goal. Stabæk took advantage of its superior ball possession (56%).
The match was played at the Nadderud Stadion stadium in Bekkestua on Sunday and it started at 5:00 pm local time. The referee was Sigurd Smehus Kringstad with the assistance of Runar Langseth and Anders Michael Velo. The 4th official was Herman Holte. The weather was cloudy. The temperature was cold at 7.9 degrees Celsius or 46.18 Fahrenheit. The humidity was 46%.​
Match Statistics​
Ball possession
Stabæk had a superior ball possession 56% while Haugesund was struggling with a 44% ball possession.
Attitude and shots
Stabæk was more aggressive with 52 dangerous attacks and 14 shots of which 4 were on target. This is one of the reasons why Stabæk won the match​.
Stabæk shot 14 times, 4 on target, 10 off target. Talking about the opposition, Haugesund shot 13 times, 6 on target, 7 off target.
Cards
Stabæk received 4 yellow cards (I. Mesik, T. Podstawski, O. Edvardsen and S. Wangberg). On the other side, Haugesund didn't receive any yellow card.
Match Timeline
Tomas Martins Podstawski
- Yellow
63'
67'
Alexander Søderlund
- sub ->
M. Samuelsen
Kaloyan Kostadinov
- sub ->
M. Solbakken
75'
Sturla Ottesen
(goal)
O. Edvardsen
77'
88'
Mads Sande
- sub ->
P. Therkildsen
Standings
After playing this encounter, Stabæk will have 21 points to stay in the 14th place. On the other side, Haugesund will stay with 32 points like Sarpsborg 08 to stay in the 9th place.
Next matches
In the next match in the Eliteserien, Stabæk will play away against Sarpsborg 08 on the 6th of November with a 5-5 head to head record.
Haugesund will host Bodø / Glimt on the 7th of November with a 6-5 head to head in favor of Bodø / Glimt (2 draws).
Stabæk – Formation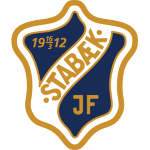 Stabæk
Substitutes
Stabæk started with a 5-4-1 line-up (5-4-1).
The manager Eirik Kjönö decided to play with the following team: Marcus Sandberg (7.1), Sturla Ottesen (7.1), Kasper Pedersen (7.1), Simen Wangberg (7.0), Ivan Mesík (7.1), Jeppe Moe (7.0), Oliver Valaker Edvardsen (7.9), Fredrik Haugen (6.2), Markus Solbakken (6.8), Tomás Podstawski (6.8) and Fitim Azemi (7.3).
The home team had on the bench: Marius Amundsen Ulla, Nicolas Pignatel Jenssen, Victor Wernersson (6.3), Kornelius Hansen, Martin Höyland, Kaloyan Kalinov Kostadinov (6.5), Mathis Bolly (7.2), Herman Geelmuyden and Pål Alexander Kirkevold.
Substitutions
Stabæk made 5 changes: M. Solbakken for K. K. Kostadinov (75′), J. Moe for V. Wernersson (75′), F. Azemi for M. Bolly (81′), T. Podstawski for M. Hoyland (90′) and O. Edvardsen for P. Kirkevold (90′).
Best player: Oliver Valaker Edvardsen​
The most impressive player for Stabæk was Oliver Valaker Edvardsen even if he didn't score any goal.
His rating is (7.9) with 24 passes (79% accurate) and 5 key passes. He was won 7 duels out of 16. He performed 5 crosses.
Haugesund – Formation
Haugesund
Substitutes
Haugesund started with a 4-2-3-1 line-up (4-2-3-1).
On the opposite side, Jostein Grindhaug played with: Egil Selvik (6.4), Ulrik Tillung Fredriksen (6.8), Anders Baertelsen (6.9), Benjamin Hansen (6.8), Thore Baardsen Pedersen (6.4), Peter Therkildsen (6.2), Kevin Martin Krygard (7.4), Alioune Ndour (6.2), Sondre Liseth (7.1), Kristoffer Velde (7.4) and Martin Samuelsen (6.4).
The following players were sitting on the bench: Asbjorn Hagland Engenes, Alexander Stolaas (6.4), Torje Naustdal (6.4), Mads Berg Sande, Niklas Sandberg (7.1) and Alexander Søderlund (6.4).
Substitutions
Haugesund made 5 changes: A. Ndour for N. Sandberg (46′), M. Samuelsen for A. Soderlund (67′), S. Liseth for T. Naustdal (84′), K. Velde for A. Stolas (84′) and P. Therkildsen for M. Sande (88′).
Best player: Kevin Martin Krygard​
As per our analysis, the most impressive player for Haugesund was Kevin Martin Krygard.
His rating is (7.4) with 35 passes (80% accurate) and 2 key passes. He was won 9 duels out of 15.
Results of the day
These are the results of the day in the Eliteserien.​