ASTRAKHAN'. Volgar Astrakhan overcomes Akron 1-0 after D. Lesnikov scored just 1 goal (68′). Akron lost this match even if it was superior in terms of ball possession (57%).
The match was played at the Central'nyj Stadion Astrakhan'gazprom stadium in Astrakhan' on Sunday and it started at 12:00 pm local time. The referee was Sergey Tsyganok who was helped by Yuri Yarushkin and Stepan Shcherbakov. The 4th official was Stanislav Matveev. The weather was clear. The temperature was cold at 8.8 degrees Celsius or 47.91 Fahrenheit. The humidity was 81%.​
Match Statistics​
Shots
8

Total

10

3

On Target

4

5

Off Target

6

0

Shots blocked

0
112

Attack

120

50

Dangerous attack

65

94

Ball safe​

97
0

Penalties

0

1

Corners

2
Fouls
2

Yellow Cards

0

0

Double Yellow

0

0

Red Card

0
Other
Ball possession
Akron had a strong ball possession 57% while Volgar Astrakhan was struggling with a 43% ball possession.
Attitude and shots
Akron was more aggressive with 65 dangerous attacks and 10 shots of which 4 were on target. Even so, Volgar Astrakhan was capable to find the solution to win this match.​
Volgar Astrakhan shot 8 times, 3 on target, 5 off target. Regarding the opposition, Akron shot 10 times, 4 on target, 6 off target.
Cards
Volgar Astrakhan received 2 yellow cards (A. Pavlishin and I. Stefanovich). Regarding the opposition, Akron didn't receive any yellow card.
Match Timeline
Dmitriy Lesnikov
- sub ->
I. Stefanovich
58'
Aleksey Pavlishin
- sub ->
V. Demianov
58'
Aleksey Pavlishin
- Yellow
60'
60'
Stanislav Biblyk
- sub ->
V. Babaev
61'
Vladimir Azarov
- sub ->
K. Bazelyuk
Aleksandr Butenko
- sub ->
A. Simonyan
90'
Standings
After this contest, Volgar Astrakhan will have 15 points to move up in the 21st place. Regarding the opposition, Akron will stay with 29 points to stay in the 9th place.
Next matches
In the next match in the FNL, Volgar Astrakhan will host Rotor Volgograd on the 13th of November with a 4-1 head to head in favor of Volgar Astrakhan (2 draws).
Volgar Astrakhan – Formation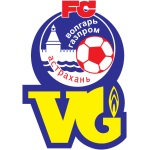 Volgar Astrakhan
Substitutes
The manager Andranik Babayan decided to play with the following team: O. Smirnov, R. Loktionov, N. Pechenkin, D. Kozlov, D. Vedernikov, A. Simonyan, N. Kaplenko, V. Demjanov, A. Gilyazetdinov, I. Stefanovich and A. Yusupov.
The home team had on the bench: A. Pavlishin, D. Lesnikov, A. Pogosov, A. Butenko, V. Yampolskiy, D. Gorovykh, A. Karpov and V. Zhironkin.
Substitutions
Volgar Astrakhan made 4 changes: I. Stefanovich for D. Lesnikov (58′), V. Demianov for A. Pavlishin (58′), A. Yusupov for A. Pogosov (83′) and A. Simonyan for A. Butenko (90′).
Akron – Formation Akron
Substitutes
Talking about the opposition, Vladimir Jăpălău played with: S. Volkov, I. Rogač, I. Zuev, I. Chudin, A. Kilin, D. Efremov, M. Palienko, V. Babaev, A. Bosov, A. Delkin and K. Bazelyuk.
These were the players on the bench: V. Azarov, S. Biblyk, K. Giraev, A. Potapov, A. Nesterov, N. Goylo, N. Chistyakov and V. Marukhin.
Substitutions
Akron made 5 changes: V. Babaev for S. Biblik (60′), K. Bazelyuk for V. Azarov (61′), A. Deljkin for A. Potapov (76′), S. Biblik for K. Giraev (77′) and M. Palienko for A. Nesterov (90′).
Results of the day
These are the results of the day in the FNL.​