INCHEON. Incheon United comes back against Suwon with a goal on the L. Veldwijk 57′ and a goal on the Y. Bit-Garam 86′.
The match was played at the Sungui Arena Park stadium in Incheon on Saturday and it started at 7:00 pm local time. The referee was Ki-Yeol Bang who was helped by Seung-Soon Kwak and Seung-Soon Kwak. The 4th official was Seung-Hwan Choi. The weather was clear. The temperature was pleasant at 19.9 degrees Celsius or 67.87 Fahrenheit. The humidity was 14%.​
Match Statistics​
Shots
16

Total

12

5

On Target

5

7

Off Target

5

4

Shots blocked

2
112

Attack

130

64

Dangerous attack

69

115

Ball safe​

112
0

Penalties

0

5

Corners

6

2

Off Sides

1
Fouls
10

Total

7

2

Yellow Cards

1

0

Double Yellow

0

0

Red Card

0
Other
Ball possession
None of the teams had a clear upper hand in terms of ball possession. Incheon United was in possession of the ball for 47% of the time vs. Suwon that controlled the ball for 53% of the time.
Attitude and shots
Suwon had a more offensive attitude with 69 dangerous attacks and 13 shots of which 6 were on target. Nevertheless, that was not enough Suwon to win the encounter​.
Incheon United shot 15 times, 5 on target, 7 off target. Regarding the opposition, Suwon shot 13 times, 6 on target, 5 off target.
Cards
Incheon United received 2 yellow cards (Kim Yeon-Soo and Sin Jin-Ho). On the opposite side, Suwon received 1 yellow card (Jeong Dong-Ho).
Match Timeline
17'
Inpyo Oh
- sub ->
Jang Jae-Woong
18'
Lee Seung-Woo
- sub ->
Dae-Gwang Lee
Cheon Seong-hoon
(goal)
Jeong Dong-Yun
19'
46'
Lee Gwang-Hyeok
- sub ->
Oh In-Pyo
57'
Lars Veldwijk
(goal)
Lee Seung-Woo
Cheon Seong-hoon
(goal)
Min Kyeong-Hyeon
60'
60'
Lachlan Jackson
- sub ->
Jae-sung Lee
71'
Kim Seon-Min
- sub ->
Park Joo-Ho
Kim Bo-Sub
- sub ->
Cheon Seong-hoon
77'
86'
Yoon Bit-Garam
(goal)
Murilo
Min-Seog Kim
- sub ->
Gerso Fernandes
90'
Standings
After this match, Incheon United will have 9 points like Daegu to soar in the 9th place. On the other side, Suwon will have 11 points to hold in the 6th place.
Next matches
In the next match in the K-League 1, Incheon United will play away with Ulsan on the 8th of October with a 22-9 head to head in favor of Ulsan (15 draws).
Suwon will play away agasint Daegu on the 8th of October with a 3-1 head to head record in favor of Daegu (4 draws).
Incheon United – Formation

Incheon United
Substitutes
Incheon United started with an extremely aggressive line-up (3-4-3).
The manager Sung-Hwan Cho decided to play with the following team: Seong-jun Min, Harrison Delbridge, Dong-min Kim, Yeon-su Kim, Kyeong-hyeon Min, Jin-ho Sin, Ji-hwan Mun, Jun-yeob Kim, Gerso Fernandes, Seong-Hoon Cheon and Hernandes.
The home team had on the bench: Dong-Yoon Jung, Bo-seob Kim, Dong-Su Lee, Kim Min-Seok, Do-Hyuk Kim, Tae-Hui Lee and Ban-Suk Oh.
Substitutions
Incheon United made 2 changes: Cheon Seong-hoon for Kim Bo-Sub (77′) and Gerso Fernandes for Min-Seog Kim (90′).
Suwon – Formation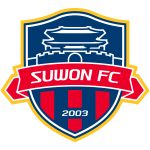 Suwon
Substitutes
Suwon started with a conservative line-up (4-4-2).
Do-Kyun Kim played with: Dong-geon No, Dong-ho Jeong, Se-gye Sin, Jae-seong Lee, Yong Lee, Murilo, Bit-garam Yoon, Ju-ho Park, Jang Jae-Woong, Lars Veldwijk and Dae-kwang Lee.
They had on the bench: Inpyo Oh, Seung-Woo Lee, Jackson Lachlan, Cheol-Woo Park, Hyung-Soon Park, Seon-min Kim and Kwang-hyeok Lee.
Substitutions
Suwon made 5 changes: Jang Jae-Woong for Inpyo Oh (17′), Dae-Gwang Lee for Lee Seung-Woo (18′), Oh In-Pyo for Lee Gwang-Hyeok (46′), Jae-sung Lee for Lachlan Jackson (60′) and Park Joo-Ho for Kim Seon-Min (71′).
Results of the day
These are the results of the day in the K-League 1.​