DAEGU. Daegu tops Daejeon Citizen 1-0 after Cesinha scored a penalty (19′). Daejeon Citizen lost this match even if it was superior in terms of ball possession (58%).
The match was played at the DGB Arena stadium in Daegu on Saturday and it started at 4:30 pm local time. The referee was Min-Seok Song who was helped by Seung-Min Ji and Gyun-Yong Park. The 4th official was Ji-eum Jo. The weather was cloudy. The temperature was pleasant at 15.4 degrees Celsius or 59.65 Fahrenheit. The humidity was 42%.​
Match Statistics​
!

33

Ball Possession

67
Shots
14

Total

16

5

On Target

4

6

Off Target

7

3

Shots blocked

5
111

Attack

148

80

Dangerous attack

97

124

Ball safe​

140
1

Penalties

0

8

Corners

5
Fouls
13

Total

9

4

Yellow Cards

5

0

Double Yellow

0

0

Red Card

0
Other
Ball possession
Daejeon Citizen had a superior ball possession 58% while Daegu was struggling with a 42% ball possession.
Attitude and shots
Daejeon Citizen was putting more pressure with 97 dangerous attacks and 16 shots of which 3 were on target. Even so, Daegu managed to find the solution to win this contest.​
Daegu shot 10 times, 6 on target, 2 off target. Regarding the opposition, Daejeon Citizen shot 16 times, 3 on target, 4 off target.
Cards
Daegu received 4 yellow cards (Jo Jin-Woo, Edgar, K. Suzuki and Lee Jin-Yong). Talking about the opposition, Daejeon Citizen received 5 yellow cards (Yu-min Cho, Hyeon-sik Lee, Se-jong Ju, Tiago Orobó and Jun-soo Byeon).
Match Timeline
46'
Masatoshi Ishida
- sub ->
Se-jong Ju
46'
Kong Min-Hyu
- sub ->
Leandro Ribeiro
Sae-Jin Park
- sub ->
Lee Yong-Rae
62'
71'
Young-Jae Seo
- sub ->
Jae-suk Oh
Lee Keun-Ho
- sub ->
Lee Jin-Yong
85'
88'
Byung-Kwan Jeon
- sub ->
Joon-ho Bae
Standings
After this encounter, Daegu will have 9 points like Incheon United to gain in the 8th place. Regarding the opposition, Daejeon Citizen will stay with 14 points to remain in the 4th place.
Next matches
In the next match in the K-League 1, Daegu will host Suwon on the 8th of October with a 3-1 head to head statistic in favor of Daegu (4 draws).
Daejeon Citizen will host Jeju United on the 8th of October with a 10-3 head to head stats in favor of Jeju United (5 draws).
Daegu – Formation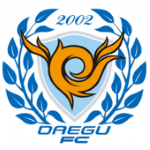 Daegu
Substitutes
Daegu started with an extremely aggressive line-up (3-4-3).
The manager Won-Kwon Choi decided to play with the following team: Yeong-eun Choi, Jin-hyeok Kim, Jin-hyeok Kim, Jeong-un Hong, Jin-woo Jo, Jae Won Hwang, Jin-yong Lee, Yong Rae Lee, Keita Suzuki, Jae-hyeon Ko, Cesinha and Edgar Silva.
The home team had on the bench: Park Se-jin, Chul Hong, Kim Kang-San, Lucas Barcellos, Keun-ho Lee, Marcos Serrato and Tae-hui Han.
Substitutions
Daegu made 3 changes: Lee Yong-Rae for Sae-Jin Park (62′), Lee Jin-Yong for Lee Keun-Ho (85′) and Edgar for G. Kim (90′).
Daejeon Citizen – Formation

Daejeon Citizen
Substitutes
Daejeon Citizen started with a aggressive line-up (4-3-3).
Min-Sung Lee played with: Lee Chang-Geun, Min-deok Kim, Byeon Jun-soo, Yu-min Jo, Jae Suk Oh, Jin-hyun Lee, Se-jong Ju, Hyeon-sik Lee, Leandro Ribeiro, Tiago Orobó, Bae Jun-Ho.
The following players were sitting on the bench: San Jeong, Hyeon-uh Kim, Jeon Byung-kwan, Masatoshi Ishida, Min-hyeon Kong, Deok-geun Lim and Young-Jae Seo.
Substitutions
Daejeon Citizen made 4 changes: Se-jong Ju for Masatoshi Ishida (46′), Leandro Ribeiro for Kong Min-Hyu (46′), Jae-suk Oh for Young-Jae Seo (71′) and Joon-ho Bae for Byung-Kwan Jeon (88′).
Results of the day
These are the results of the day in the K-League 1.​