SEOGWIPO. Seoul defeated Jeju United to win 2-1. A goal from S. Ju-Hun was decisive in the 90min. All goals were scored in the second half.​ It was Seoul to strike first with an own goal of Kim Bong-Soo at the 67′. Then A. Paločević scored again for Seoul in the 90′ minute. Eventually, Song Ju-Hun reduced the distance for Jeju United (90′). Finally, that was it, and the result remained 2-1.
The match was played at the Jeju World Cup Stadium (Seogwipo) stadium in Seogwipo on Saturday and it started at 4:30 pm local time. The referee was Jong-Hyeok Kim who had the assistance of Seung-Min Ji and Gyun-Yong Park. The 4th official was Oh-Hyeon Jeong.
Match Statistics​
Shots
11

Total

12

2

On Target

4

8

Off Target

5

1

Shots blocked

3
126

Attack

96

89

Dangerous attack

61

93

Ball safe​

100
0

Penalties

0

4

Corners

5

2

Off Sides

2
Fouls
6

Total

9

1

Yellow Cards

0

0

Double Yellow

0

0

Red Card

0
Other
Ball possession
There was not much difference in terms of ball possession. Jeju United was in possession of the ball for 51% of the time vs. Seoul that controlled the ball for 49% of the time.
Attitude and shots
Jeju United had a more offensive attitude with 89 dangerous attacks and 12 shots of which 2 were on target. Anyway, Seoul was able to find the solution to win this match.​
Jeju United shot 12 times, 2 on target, 9 off target. On the opposite side, Seoul shot 10 times, 4 on target, 5 off target.
Cards
Jeju United received 1 yellow card (Koo Ja-Cheol). On the other side, Seoul didn't receive any yellow card.
Match Timeline
Kim Seung-Sub
- sub ->
Kim Dae-Hwan
13'
Seo Jin-Su
- sub ->
Sang-wook Gi
13'
Joo-Hoon Song
- sub ->
Ahn Hyun-Beom
31'
46'
Shin-Jin Kim
- sub ->
S. Iljutcenko
62'
Park Soo-Il
- sub ->
Lim Sang-Hyub
80'
Hwang Hyun-Soo
- sub ->
Sang-ho Na
90'
Aleksandar Paločević
(goal)
Kim Jin-Ya
Standings
After playing this encounter, Jeju United will stay with 2 points like Daegu and Gangwon to remain in the 10th place. On the other side, Seoul will have 9 points like Ulsan to sit in the 1st place.
Next matches
In the next match in the K-League 1, Jeju United will play away against Daejeon Citizen on the 8th of October with a 10-3 head to head statistic in favor of Jeju United (5 draws).
Seoul will host Jeonbuk Motors on the 8th of October with a 25-9 head to head statistic in favor of Jeonbuk Motors (15 draws).
Jeju United – Formation

Jeju United
Substitutes
Jeju United started with an extremely aggressive line-up (3-4-3).
The manager Ki-Il Nam decided to play with the following team: Dong-jun Kim, Oh-kyu Kim, Joo-won Kim, Jun-su Kim, Chung Woon, Hyeon-beom Ahn, Koo Ja-Cheol, Kim Bong-Soo, Ju-yong Lee, Dae-hwan Kim, Reis and Gi Sang-wook.
The home team had on the bench: Keun-bae Kim, Joo-Hoon Song, Tae-hyeon Ahn, Jin-su Seo, Ju-kong Kim, Seung-seob Kim and Yuri.
Substitutions
Jeju United made 5 changes: Kim Dae-Hwan for Kim Seung-Sub (13′), Sang-wook Gi for Seo Jin-Su (13′), Ahn Hyun-Beom for Joo-Hoon Song (31′), Reis for Kim Ju-Gong (46′) and Kim Bong-Soo for Yuri (78′).
Seoul – Formation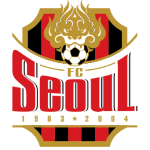 Seoul
Substitutes
Seoul started with a conservative line-up (4-4-2).
Ik-Soo Ahn played with: Cheol-won Choi, Jin-ya Kim, Osmar Barba, Ju-sung Kim, Tae-seok Lee, Sang-Ho Na, Sung-Yueng Ki, Aleksandar Paločević, Sang-hyeob Lim, Stanislav Iljutcenko, Ui-Jo Hwang.
The following players were sitting on the bench: Jong-beom Baek, Hyun-soo Hwang, Lee Siyoung, Su-il Park, Chan-hee Han, Kim Shin-jin and Dong-jin Park.
Substitutions
Seoul made 3 changes: S. Iljutcenko for Shin-Jin Kim (46′), Lim Sang-Hyub for Park Soo-Il (62′) and Sang-ho Na for Hwang Hyun-Soo (80′).
Results of the day
These are the results of the day in the K-League 1.​